72 Hour Gaza Ceasefire Collapses In Less Than Two Hours
A glimmer of hope in Gaza is quickly snuffed out.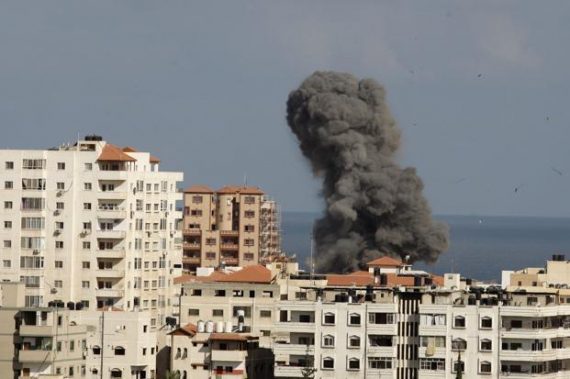 Late yesterday, there actually seemed to be some good news in the nearly month-long conflict between Israel and Hamas in Gaza that has resulted in the deaths of over 1,000 Gazans, the vast majority of them civilians, and dozens of Israeli soldiers. Seemingly out of nowhere, on a day when there had been comments from both sides that made it sound like the conflict was only going to get more intense, the United Nations and the United States announced a humanitarian ceasefire that seemed to have the promise of leading to wider talks:
NEW DELHI — A 72-hour humanitarian cease-fire in the Gaza conflict negotiated by the United States and the United Nations took effect Friday morning, a diplomatic bolt-from-the-blue that will suspend the bloody 24-day military campaign and set the stage for arduous negotiations between Israel and Hamas over a more lasting truce.

The announcement of the break in the fighting, made in the middle of the night in India with no warning by Secretary of State John Kerry, and also announced by Secretary General Ban Ki-moon in New York, attested to the complexity of the negotiations.

But it appeared to be more significant than a shorter cease-fire that fell apart. This time, Israeli and Palestinian negotiators will head to Cairo for formal talks on how to end the conflict, which has resulted in the deaths of more than 1,400 Palestinians and 64 on the Israeli side.

"During this time, the forces on the ground will remain in place," said the announcement, which means that Israeli troops can continue destroying the labyrinth of tunnels in Gaza that Prime Minister Benjamin Netanyahu has said are the prime target of the operation.

"We urge all parties to act with restraint until this humanitarian cease-fire begins, and to fully abide by their commitments during the cease-fire," Mr. Kerry and Mr. Ban said in the statement.

William J. Burns, the deputy secretary of state, is heading to Cairo to add more seniority and experience to the U.S. team and is expected to arrive on Saturday. Mr. Burns, a former U.S. ambassador to Jordan and Russia, is one of the State Department's most experienced diplomats and also led the back channel discussions with Iran that preceded the talks in Vienna over Tehran's nuclear program.

Jonathan Schwartz, a State Department legal expert who has worked on the Middle East peace talks, is also joining the American team in Cairo.

The Palestinians are expected to arrive in Cairo on Friday, and the Israelis will arrive on Saturday night after the Jewish Sabbath.

Given the time it may take to organize the Cairo talks, American officials have already begun to float the possibility of extending the 72-hour truce to give the negotiations time to bear fruit, a senior State Department official said. But that has not yet been agreed.

The announcement amounted to a striking reversal of fortune for Mr. Kerry, whose efforts to broker a seven-day cease-fire a week ago were rebuffed by the Israeli cabinet, though it did accept a 12-hour humanitarian pause last week and even renewed it for another day until Hamas balked. Mr. Kerry came under a hailstorm of criticism across the Israeli political spectrum and from supporters of Israel in the United States for pushing a deal which many Israelis said was tilted in favor of Hamas.

But Mr. Kerry kept at it, American and United Nations officials said, even as he was making the first visit of a senior American official to India since the election of Prime Minister Narendra Modi. Mr. Kerry made dozens of phone calls to the Israelis and Palestinians, as well as to Egypt, which has hosted envoys of both sides, and Qatar and Turkey, which have ties to Hamas.
The ceasefire was supposed to take effect at 8am local time, or 1am Eastern time in the United States and, at least for a few hours, it seemed to be holding. It didn't last for long, though:
Fighting between Israel and Hamas broke out Friday, hours after a three-day cease-fire took effect that was intended as a first step toward a lasting peace.

Israel Radio reported a clash between Palestinian militants and Israeli forces. Gaza's Health Ministry said Israeli tank fire killed four Palestinians in the southern city of Rafah, the Associated Press reported. The Israeli military had no immediate comment.

The sky over Gaza City, in the central part of the territory, was calm. Gazans ventured tentatively out of their homes as the truce took effect at 8 a.m. local time. Near the harbor, several children were swimming and a half dozen fishermen were on paddle boards casting nets. Horse carts and a few cars were seen on the streets.

U.S. Secretary of State John Kerry and U.N. Secretary-General Ban Ki-moon announced the deal Thursday night, giving Palestinians the chance to stock up on essentials, tend to the wounded and bury their dead after more than three weeks of fighting.

The reprieve is the fifth since Israel began a barrage of artillery and airstrikes on July 8that has pounded the Gaza Strip, reducing whole neighborhoods to rubble. Several of the previous cease-fires haven't held for their full duration.

Israel's offensive, its third in Gaza in six years, aims to degrade Hamas's arsenal of rockets. Almost 3,000 rockets have been fired from the Gaza Strip at Israel since the operation began, according to the Israeli military.

Israel's offensive, its third in Gaza in six years, aims to degrade Hamas's arsenal of rockets. Almost 3,000 rockets have been fired from the Gaza Strip at Israel since the operation began, according to the Israeli military.

Israel is also targeting tunnels that Hamas fighters use to infiltrate under the border.

Hamas, the Islamist group that governs Gaza, wants an end to an economic blockade by Israel and Egypt, while Israel wants to demilitarize and disarm the coastal enclave.

The Palestinian death toll from the fighting rose to 1,459 overnight, according to the local health ministry.

Israel has lost 61 soldiers and three civilians including one Thai agricultural worker since the conflict began. Five soldiers died in a mortar attack Thursday night, the Israeli military said.

Israel, Hamas and other Palestinian factions plan to meet for talks in Cairo to address unresolved differences and hammer out a longer-lasting peace deal, the U.N. and U.S. said in a statement Thursday. The Israelis aren't expected in Cairo until after the Jewish Sabbath on Saturday, according to a senior U.S. State Department official, although the Palestinians are expected to arrive Friday.
More details on the breakdown in the ceasefire from CNN, including reports that the attacks this morning resulted in an Israeli soldier being kidnapped:
Gaza City (CNN) – A cease-fire in Gaza unraveled Friday only hours after it took effect, with both sides accusing each other of violating the fledgling truce and the Israeli military saying one of its soldiers possibly was kidnapped.

Gaza Health Ministry spokesman Ashraf al-Qudra said an Israeli attack on Rafah in southern Gaza killed at least 27 people and wounded more than 100.

The official Palestinian news agency WAFA said assault involved Israeli artillery shelling, calling it a "violation of the cease-fire."

Hamas spokesman Osama Hamdan told CNN that the latest cease-fire attempt between Israel and Hamas made it clear that there was to be no military action whatsoever, and Israel violated it by attacking houses in Rafah. Hamas is still committed to the cease-fire, but will protect itself, he said.

Israeli forces were attacked in a "brutal incident" in the Rafah area that required them to defend themselves, Israeli spokesman Mark Regev told CNN. At the same time, rockets were launched into southern Israel from Gaza, he said.

"This clearly is Hamas violating this U.N.-sponsored cease-fire," he said.

Hamas has been attacking Israeli forces inside Gaza on Friday morning, which an Israeli official described as "a grave violation" of the cease-fire.

In fact, Regev told CNN, he does not know if a cease-fire can be revived. "You cannot have a situation where (Hamas) are shooting at us, and we are taking a time-out," he said.

The Israeli military says that one of its soldiers is missing after an attack by militants in Gaza. It is possible that the soldier has been kidnapped, according to a statement by Israel Defense Forces.
On some level, it doesn't matter which side was responsible for breaking the ceasefire. If the Israeli version of events is to be believed, though, it started with an attack from a group of Hamas fighters out of one of the many tunnels that the Israeli Defense Forces are still working on trying to destroy. Whether that's the case, or whether this is something that started by mistake as often happens when ceasefires are broken in war, hardly seems to matter. Absent some quick action in the coming hours, it would seem apparent that the effort to hold broader peace talks in Cairo while the two sides stopped fighting is not going to succeed. As a practical matter, though, the nature of the way in which the ceasefire was broken — a suicide attack by Hamas against Israeli soldiers clearing out one of Hamas's tunnels (as permitted by the terms of the ceasefire) and, according to some reports, the kidnapping of an Israeli soldier — makes it highly unlikely that the Cairo talks, assuming that they even go forward at this point, would have any chance of succeeding. For better or worse, this is going to give Israel all the incentive it needs to press its offensive forward.
Perhaps ore important than that, though, is the fact that no ceasefire would mean no ability for Gazans and outside groups such as the Red Cross and the United Nations to address the humanitarian crisis that the ongoing war is creating in Gaza. For several days now, large sections of Gaza have been without power due to strikes that hit Gaza City's main power plant. Lack of power means little relief from the heat in the area, and it is apparently also causing problems for water delivery. Aid workers are having difficulty getting to and treating the injured, and there are likely dead bodies hidden among the rubble of many collapsed buildings. Gaza is, in other words, on the verge of becoming a serious humanitarian disaster if it isn't there already. The humanitarian ceasefire would have provided at least some opportunity to alleviate some of the problems that the civilian population is suffering through.
At this point, it seems unlikely that we're going to see another ceasefire any time soon. Regardless of who is responsible for breaking it, this is the third announced or supported humanitarian ceasefire in a week that has been broken or refused, in each case by Hamas. Given that record, the level of trust between the parties is likely non-existent, which means that this war is going to continue for quite a bit longer.
Update:  As I noted in a comment below, the developing reports seem to indicate pretty strongly that the ceasefire broke when Hamas attacked an IDF platoon from a previously undiscovered tunnel. Additionally, an IDF spokesperson has confirmed that an Israeli officer has been captured by Hamas:
#IDF officer Second Lieutenant Hadar Goldin, 23 from Kfar Saba was abducted this am while #IDF was implementing the ceasefire.

— Peter Lerner (@LTCPeterLerner) August 1, 2014
This likely takes the prospect of a ceasefire, and perhaps the Cairo talks themselves, off the table.