George Allen Apologizes (Again) For Macaca Incident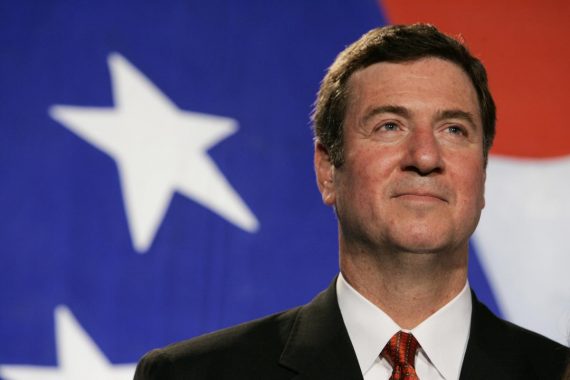 You may remember back during the 2006 mid-term elections when Virginia Senator George Allen, who had until then had a huge lead in the polls and was considered by some to be a potential Republican candidate for President in 2008, referred to a campaign worker for Jim Webb using the word 'macaca' which some took to be  reference to the worker's Indian heritage. The Washington Post famously kept pushing the story in the weeks that followed and, by the end of August, Allen's 18 point lead had evaporated. Allen went on to lose the election. Now, he's running to get that seat back in a race that is sure to be high profile in 2012 and, for some bizarre reason, he chose to bring the incident up again:
George Allen is really sorry about that macaca thing. Five years after he threw the slur at a Democratic tracker during the 2006 Senate campaign, Allen offered a long and emotional apology to a small crowd at the Faith and Family Conference.

"During our last campaign, I never should have singled out that young man working for my opponent calling him a name," said Allen, who's running again for the seat he lost in 2006. "He was just doing his job."

The incident became national news and arguably derailed Allen's run for another term in the Senate against challenger Jim Webb. Now, as he gears up his 2012 campaign, Allen is speaking about the incident with a sense of contrition that was absent from his 2006 bid.

"I was wrong to do that to him," Allen said of the macaca moment, "and it diverted our campaign away from the real issues that families care about."
Allen has apologized for this incident numerous times. It occurred five years ago, and it's not even clear that it was ultimately the reason he lost the election 2006. Why he would choose to remind people of this is something I don't quite understand.