George H.W. Bush Marks 90th Birthday With Skydiving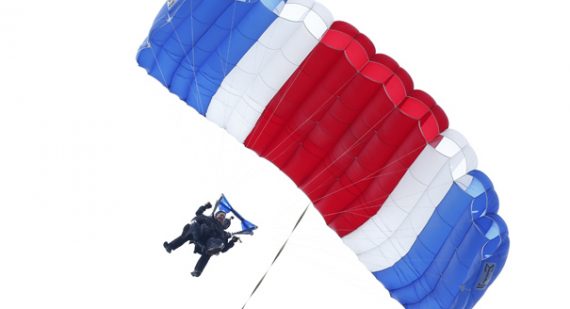 Continuing a tradition that started with his 80th birthday some 10 years ago, former President George H.W. Bush took to the air to celebrate his 90th birthday:
Former President George H.W. Bush has celebrated his 90th birthday as most people his age do — jumping out of a plane.

(…)

The former president was seen landing with a red, white and blue parachute. A Bush spokesman told the Associated Press that he landed safely.

Bush was scheduled to take off at 10:45 a.m. from Walker's Point in Kennebunkport, Maine, where the Bush family owns an estate. He performed a tandem jump with members of the All Veteran Group, former U.S. Army Golden Knights members, according to a press release.

Bush is no skydiving novice — the jump was his eighth, according to the release. He did a jump on his 80th and 85th birthdays, and said two years ago that this will be his last one.

"I've got one more in me," he told his granddaughter, Jenna Bush Hager, when he was 88.
Bush's first jump, of course, occurred under less than ideal conditions.  Incidentally, Bush is only the fifth former President to reach the age of 90.