George Takei Wonders What Happened To The Republicans Who Are Against Big Government
Hey GOP, Lt. Sulu has some questions for you.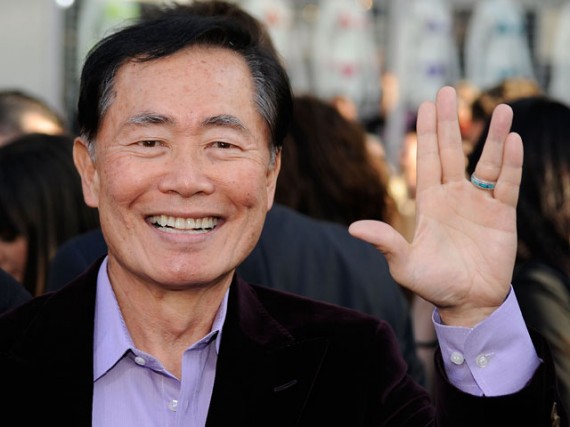 Star Trek's George Takei, who in recent years has made a name for himself as an outspoken advocate for gay rights and protector of the legacy of the World War II internment of Japanese-Americans (including a young man named George Takei, by the way), has an interesting post at his blog  sharing his thoughts regarding the current state of the Republican Party:
At their core, Republicans are for smaller government. That means LESS governmental intrusion into our lives, our affairs, our money. Consistently applied, this is a sound and important philosophy that acts as a counterweight to wasteful government spending, excessive taxation, and Big Brother intrusiveness. It is a "live and let live" attitude. Good people may disagree respectfully whether more or less government is needed in areas such as healthcare and education, whether a larger military or more international intervention is needed, and whether we should cut taxes on the wealthy or raise them. I personally can completely understand the economic rationales behind the GOP platform, even if I don't think we should retry them right now.

What I simply can't understand is why the GOP ignores the gorilla in their tent when it comes to social issues. For a party that prides itself on less government intrusion, it sure seems busy these days telling women and LGBT persons what they can and cannot do. This is not only inconsistent, it is a poor strategy for keeping the party strong, growing, and current. If religious fundamentalists want to push their extremist agendas, they should do it in some other party, so that I don't have sit there in awkward conversations with my Republican friends, secretly wondering how they can continue to pander to such drivel.

(…)

It's time for true Republicans to regain control of their party. For Republicans who believe in a woman's right to choose not to have to pretend that they don't. For those who believe that two people who love each other should be allowed to get married, who the hell cares, to say so. And for those who would like to see more Ron Pauls and fewer Mike Huckabees to stand up and say, "Actually, WE'RE the real Republicans. Now get off our lawn."
Takei begins the post by admitting the not surprising fact that he is a Democrat. Given his positions on issues like same-sex marriage, I would be surprised if he weren't. At the same time, though, he says that he doesn't forget that it was a Democrat, Franklin Roosevelt, who put him and his family in an internment camp without just cause, and points out that this act was an example of Big Government at its worst.  Which is perhaps why he finds the GOP's position on social issues so puzzling.
As for the merits of the post, he's absolutely right. The Republican Party likes to think of itself as the party of small government and individual liberty, but once you peel back the layers and look at what they actually advocate on a number of issues, you realize how much of a lie that actually is. Takei concentrates on social issues because that is an area of concern to him, and it is indeed the case that the Republican position on same-sex marriage is a sad affront to individual liberty. If the party at least held the opinion that gay and lesbian couples should have the right to the same rights as married couples through something akin to civil unions, then perhaps their opposition to same-sex "marriage" wouldn't be so offensive. As I noted during the Republican convention, though, the GOP's Platform Committee overwhelmingly rejected a plank that would have endorsed civil unions. Add to that the party's bizarre position on abortion, which would effectively ban the procedure under all circumstances for every woman in the United States, and it's hard to consider the GOP's claim to be a party of small government and individual liberty as anything but a lie.
Going beyond social issues, though, Republicans have demonstrated through policy and practice in other areas that their commitment to less intrusive government is, in reality, little more than lip service. As I noted during the GOP Convention, the party platform includes a call for a crackdown on adult pornography for no other apparent reason other than the fact that social conservatives don't like. In the area of civil liberties, it was a Republican President and Congress who gave us, overwhelmingly and with little serious debate, the PATRIOT Act, one of the most serious eviscerations of 4th Amendment rights in history. It was a Republican President who authorized warrantless wiretapping of American citizens in the name of "national security," and it was a Republican President who authorized torture in the name of "national security." These are not the actions of a party that believes in limited government and individual liberty.
None of this is to say that the Democrats are any better, of course, especially in the area of civil liberties where, int he wake of the War On Terror, they have become as bad as the GOP. It was, after all, a Democrat who authorized the assassination of an American citizen, and his son, without due process of law or a trial.
Takei, however, is talking about the GOP, and his words are well founded. Republicans would be wise to listen to him.