Get Ready For Another Three Months Of LeBron James Hype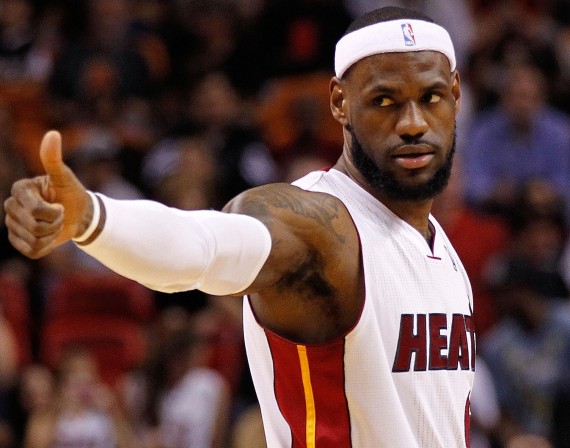 There had been some speculation during the NBA finals that LeBron James, who has led the Miami Heat to the NBA finals four times and won twice and been the leagues most valuable player three times, would apply for free agency after the season ended, and that's exactly what he's done:
Carmelo Anthony enjoyed the privilege of being the N.B.A.'s most coveted free agent for a little more than 36 hours. That ended Tuesday morning when it was revealed that LeBron James had informed the Miami Heat through his agent, Rich Paul, that he intends to exercise the early-termination option on his contract and become a free agent on July 1.

The news was not surprising — by opting out, James can explore other opportunities while putting leverage on the Heat to improve their roster — but it sent seismic tremors across the league, nonetheless. James, who has won two N.B.A. championships with the Heat, is widely regarded as the planet's best player, and any team would love to have him.

The problem for most potential suitors, as is often the case amid the frenzy of free agency, is salary cap space. Most teams lack the financial flexibility to absorb the type of contract that James is sure to command, although he could be wooed by the likes of the Cleveland Cavaliers (his former team), the Houston Rockets, the Chicago Bulls and the Los Angeles Lakers, who have oodles of cap space and have yet to hire a head coach.

The Heat, though, remain the favorite to retain his services. James, 29, has made four trips to the N.B.A. finals in four seasons in Miami, and he seems to enjoy playing there.
I can't say I follow the NBA closely, but it seems clear that if James doesn't stay in Miami, then he'll end up someplace like New York or Los Angeles. The hopes of Cavaliers fans notwithstanding,  there's pretty much no chance he'll be returning to Cleveland.
Whatever the decision, though, one can expect that this will lead to months of speculation from sports writers and hype on the level of that which preceded his decision to sign with Miami four years ago. Heck, ESPN may turn into the LeBron Network for the next three months.