LeBron James Is Returning To Cleveland
'The Decision' is undecided.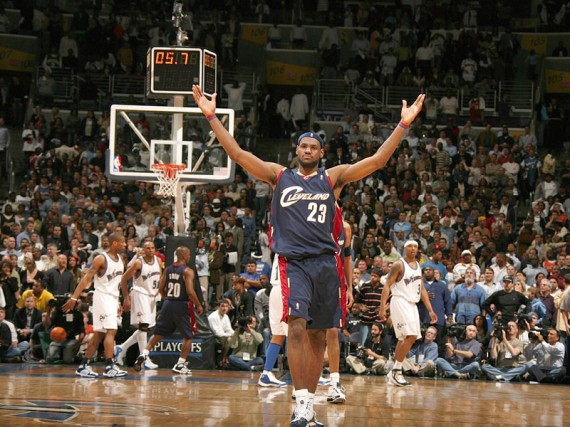 Four years after announcing that he was leaving the Cleveland Cavaliers for the Miami Heat after a long, drawn out, and over hyped period orchestrated by ESPN and his own agents, LeBron James is coming back to his hometown team:
LAS VEGAS — Four years after he bolted from Cleveland to Miami in pursuit of the N.B.A. championships that had eluded him, LeBron James is returning home.

At age 29 and with two N.B.A. titles now in his possession, James decided Friday to rejoin the Cavaliers, for whom he played in the first seven seasons of his storied professional career. Vilified in Cleveland when he decided to leave for the Heat, James is likely to find that all is forgiven, and more, as he embarks on an effort to bring a championship to a city that has not celebrated one in any major sport in 50 years.

James, who grew up in nearby Akron, Ohio, and is widely regarded as the greatest basketball player of his generation, made the announcementthrough Sports Illustrated's website, saying: "My relationship with northeast Ohio is bigger than basketball. I didn't realize that four years ago. I do now."

In the fairly elaborate statement, which he prepared with the sportswriter Lee Jenkins, James went on to add: "I'm not promising a championship. I know how hard that is to deliver. We're not ready right now. No way. Of course, I want to win next year, but I'm realistic. It will be a long process, much longer than it was in 2010."

In his four-year absence, the Cavaliers were one of the league's worst franchises, compiling a 97-215 record without making a single playoff appearance. But by choosing to return, James positioned the team to become a championship contender in the years ahead. Cleveland features a young, talented core that includes Kyrie Irving, a 22-year-old point guard who recently signed a long-term extension with the team, and Andrew Wiggins, a forward who was the top overall pick in last month's draft.

It is also possible that the Cavaliers will now move aggressively to bolster the roster with veteran players, perhaps even a star from another team, in an effort to fast track the team's chances to compete for a title. In his statement, James referred to his new teammates, saying, "I think I can help Kyrie Irving become one of the best point guards in our league. I think I can help elevate Tristan Thompson and Dion Waiters, and I can't wait to reunite with Anderson Varejao, one of my favorite teammates."

James, however, did not cite Wiggins in the statement, perhaps a clue that the Cavaliers would be willing to trade him this summer for an established player.

James's departure from Cleveland in 2010 left deep psychic wounds on the city, and they were apparent almost immediately. On the night of his televised decision, fans burned replicas of his jersey and tossed memorabilia in Dumpsters. Dan Gilbert, the Cavaliers' owner, posted a vitriolic letter to the city on the team's website in which he referred to James as "our former hero" and described his move to Miami as a "cowardly betrayal." Gilbert also pledged that the Cavaliers would win a championship before James ever did.

Gilbert, of course, was incorrect. But the letter, which gained additional notoriety for being written in Comic Sans, remained online until early this week, when it was removed. That action left many to wonder whether James was, in fact, returning, and there were other clues: photographs of James posing with friends from Akron on his Instagram account; a convoy of moving vans parked outside his home in Miami (although James always ships his cars to Ohio for the summer); and perhaps most important, his silence about his intentions.
The hometown coverage of the decision is, of course, decidedly optimistic:
CLEVELAND, Ohio — King James has reclaimed his throne in Cleveland.

LeBron James stunned the NBA on Friday around noon when he announced his long-awaited free agency decision, choosing to return to the Cleveland Cavaliers and leaving the Miami Heat.

James made the announcement on Sports Illustrated's website in a letter, writing "In Northeast Ohio, nothing is given. Everything is earned. You work for what you have. I'm ready to accept the challenge. I'm coming home."

James also wrote: "My relationship with Northeast Ohio is bigger than basketball. I didn't realize that four years ago. I do now."

James tried to take a subdued approach to free agency this offseason. He chose to have his agent Rich Paul handle initial meetings with teams. Despite James' silence, rumors and speculation ran rampant during the process. People constantly refreshed Twitter accounts and websites for any morsel of information or clue to his decision.

James met with Heat president Pat Riley in Las Vegas on Wednesday. The smooth-talking executive from Miami attempted to show James the stability in the Heat organization compared to what has gone on in Cleveland recently, with coaching and front office changes, but this time, Riley wasn't able to convince James to keep his talents in South Beach.

"When I left Cleveland, I was on a mission. I was seeking championships, and we won two," James wrote. "But Miami already knew that feeling. Our city hasn't had that feeling in a long, long, long time. My goal is still to win as many titles as possible, no question. But what's most important for me is bringing one trophy back to Northeast Ohio."

James joins a talented young roster, at least for now, with No. 1 overall picks Kyrie Irving, Anthony Bennett and Andrew Wiggins, as well as Dion Waiters, Tristan Thompson and former teammate Anderson Varejao.

James singled out many in his letter: "I see myself as a mentor now and I'm excited to lead some of these talented young guys. I think I can help Kyrie Irving become one of the best point guards in our league. I think I can help elevate Tristan Thompson and Dion Waiters. And I can't wait to reunite with Anderson Varejao, one of my favorite teammates."

"Welcome Home @kingjames," Cavaliers owner Dan Gilbert wrote on Twitter. "I am excited for the fans and people of Cleveland and Ohio. No fans and people deserve a winner more than them."
In all honestly, I'm not sure that the decision is as much of a surprise as the media coverage is making it out to be. Certainly, the Cavaliers don't seem at the moment to be a team built to return to the NBA Championship, where James ended up in each of his four seasons in Miami, winning the title twice and winning the MVP award for the series twice. At the same time, though, there have been hints ever since James first announced he was seeking free agency that he was looking at a return to Ohio if a deal could be negotiated. On a personal level, it makes sense only because he still lives in a massive home outside Akron during most of the off-season. Additionally, notwithstanding the reactions of Cleveland fans after "The Decision", which aired four years and three days ago, there has always been a tremendous amount of goodwill for James in Cleveland and the hope that, someday, he would return to the team that he started his NBA career with.
It is worth noting that James seems to have handled the entire announcement of his decision much better than he did four years ago. No doubt, he made a lot of money in 2010 with the anticipation and the ESPN special but it also created ill will with fans around the league. This decision was much more understated, perhaps reflecting what four years of maturity will do. In any case, I don't think I am incorrect in thinking that the work day in Northeast Ohio came to an abrupt end when the news became public, and that Clevelanders are much more happy about this news than they were earlier this week about the announcement that their city had been selected as the site of the 2016 Republican National Convention.