LeBron James Brings A Championship Home To Cleveland For The First Time Since 1964
Congratulations Cleveland! Next month, you get Donald Trump.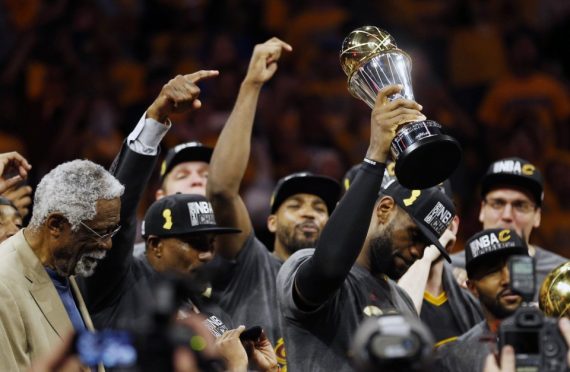 It took fifty-two years, but Cleveland, Ohio is a Championship town once again:
OAKLAND, Calif. — Vilified when he left and celebrated when he returned, LeBron James had spent the past two seasons lugging his city's championship dreams like a bag of rocks. The weight had only grown more cumbersome — the weight of history, of disappointment, of missed opportunities.

James could feel it all on his sturdy shoulders.

On Sunday night, before a dazed and defeated crowd at Oracle Arena, James delivered on the grandest stage of his superhuman career, leading the Cleveland Cavaliers to their first championship in franchise history with a 93-89 victory over the Golden State Warriors in Game 7 of the N.B.A. finals.

"I came back for a reason," James said. "I came back to bring a championship to our city."

James collected 27 points, 11 rebounds and 11 assists to punctuate one of the most remarkable individual performances in finals history. James, who was named the finals' most valuable player, got ample help from his teammate Kyrie Irving, whose 3-pointer with 53 seconds remaining gave the Cavaliers the lead — and an improbable title.

Improbable because the Cavaliers became the first team to rally from a 3-1 series deficit to win a championship. Improbable because the Warriors, after setting an N.B.A. record with 73 victories in the regular season, had spent months making the case that they were the most dominant team since Dr. James Naismith first affixed a peach basket to a wall.

And improbable, above all, because of Cleveland's ragtag history as an also-ran. Not since 1964, when the Browns won the N.F.L. championship, had the city claimed a major sports title.

James, who grew up in nearby Akron, has forever changed all of that. He stuffed the series with thunderous dunks and fadeaway jumpers, blocked shots and glowering expressions, towing his teammates along in his ferocious wake. James won two championships with the Miami Heat, but this was his first with the Cavaliers — and his first for Ohio.

Not even the Warriors, who were pursuing back-to-back championships in a repeat of last year's finals matchup, could slow his march.

"The game always gives back to people that are true to the game," James said. "I've watched it. I know the history of the game, and I was just calm. I was calm."

Irving finished with 26 points for the Cavaliers, who survived three elimination games. In Cleveland, fans jammed the streets around Quicken Loans Arena for a watch party from afar.

Draymond Green had 32 points, 15 rebounds and 9 assists for the Warriors, and Stephen Curry scored 17 points but shot just 6 of 19 from the field. In the final minute, Curry missed a 3-point attempt that would have tied the game. With 10.6 seconds left, James made 1 of 2 free throws to seal the win.

The Cavaliers formed a raucous mob at the buzzer — joy and disbelief, all at once. On the postgame dais, James clutched the championship trophy to his chest and choked back tears. At his news conference, he wore one of the nets around his neck. he said he was looking forward to the victory parade, scheduled for Wednesday. He invited everyone, including the media.

"It's going to be the biggest party that Cleveland has ever seen," said James, who averaged 29.7 points, 11.3 rebounds and 8.9 assists during the series. "If you guys still have a little money left over in your budget, you guys better make a trip to Cleveland and get a little piece of it."
I'm hardly a die-hard NBA fan, but heading into this year's Championship it seemed clear that the Golden State Warriors were heavily favored in what turned out to be a rematch of last year's Championship Series from which the Warriors had emerged victorious. This year, it seemed, the Warriors were even stronger. They emerged from the regular season 73-9 record, breaking a record set twenty years earlier for the best regular season in the history of the league, and seemingly plowed through the early rounds of the playoffs mostly with ease even when faced with injuries to key players. Over in the Eastern Conference, though, the Cavaliers were having another stellar season of their own thanks mostly to LeBron James and the singular will to do this season what he had failed to do the year before, bring a Championship home to Cleveland for the first time since 1964, when Lyndon Johnson was President and four guys from Liverpool, England had come seemingly out of nowhere to rocket to the top of the music world. It was that year that the Cleveland Browns won the NFL Championship over, ironically enough as it would turn out just a few decades later, the Baltimore Colts. The Cavaliers didn't even exist at that point, and the Indians had not been to the World Series since 1954 and hadn't won since 1948. For decades, Cleveland sports became synonymous with losing, and it only seemed to get worse as the city slid into economic decline in the 1970s and, fittingly enough, became known as the city where the river caught on fire.
This year, it seemed as though history was going to repeat itself when the Cavaliers fell behind 3 games to 1 in the Championship Series. Given the strengths on the Warriors, at least on paper, the outcome seemed inevitable. Led by LeBron James, though, Cleveland pulled off the seemingly impossible, and in the NBA unprecedented, by winning three straight games, including two on the road, to win the Championship. And, yes, basketball is a team sport but it was clear that much of this success can be attributed to LeBron James seemingly carrying his team across the finish line to third crucial win, which is why it was entirely appropriate for him to win his third Championship Series MVP along with his third title. In the process, he's confirmed his status as one of the greatest NBA players of the post-Jordan era. This is what all the years of hope during James's first stint in Cleveland, and his return after defecting to Miami, was all about, and one suspects it will only serve to solidify James's reputation as a Cleveland sports legend right up there with Jim Brown.
They'll be partying in Cleveland through Wednesday, no doubt, and talking about this season for years to come. Enjoy it Clevelanders, because next month you get to deal with Donald Trump.