Gingrich is Done
Gingrich is beyond toast.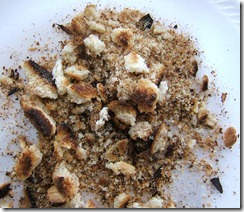 Back during the 2008 campaign, one of the categories I used in the Toast-o-Meter (an example)was "crumbs at the bottom of the toaster" to signify that candidates wasn't just toast or burnt toast, but that they were beyond done.
Speaker Grinch, you sir, are crumbs at the bottom of the toaster.
Via the AP:  Gingrich campaign fundraisers quit
Newt Gingrich's top two fundraising advisers resigned on Tuesday, and officials said the Republican candidate's hobbling presidential campaign carried more than $1 million in debt.

The departures of fundraising director Jody Thomas and fundraising consultant Mary Heitman were the latest blow for the former House speaker who watched 16 top advisers abandon his campaign en masse earlier this month, partly because of what people familiar with the campaign spending described as a dire financial situation.

These people, who spoke on the condition of anonymity because they were not authorized to discuss the campaign inner workings, said the former Georgia lawmaker racked up massive travel bills but money had only trickled in since he got into the race earlier this spring.
Hmm, perhaps he needs to pull out his Tiffany's card…
The only serious question at the moment is how long he continues with the charade that he has an actual, functional campaign.
The dire state of his situation does beg the question of why he went on a cruise with his wife.  Or, at least, it brings his judgment into question.
Update: I noted the Tiffany's card above as a bit of a joke, but Chris Cillizza at WaPo reports:  Newt Gingrich had second line of credit at Tiffany and Co. It should be noted, that the balance was zero.  Still, none of this looks especially good for a presidential campaign.  Of course, now it looks is pretty moot.