Gitmo Not Closing After All
Despite repeated promises to the contrary, the detention facility at Guantanamo Bay will be remaining open indefinitely.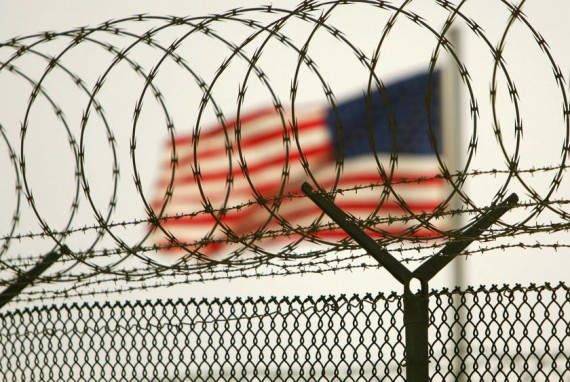 The NYT is reporting what has been obvious for some time:  the detention facility at Guantanamo Bay will be remaining open indefinitely.
Stymied by political opposition and focused on competing priorities, the Obama administration has sidelined efforts to close the Guantánamo prison, making it unlikely that President Obama will fulfill his promise to close it before his term ends in 2013.
Note that he initially promised to close it within a year. He's now breaking his revised promise.
When the White House acknowledged last year that it would miss Mr. Obama's initial January 2010 deadline for shutting the prison, it also declared that the detainees would eventually be moved to one in Illinois. But impediments to that plan have mounted in Congress, and the administration is doing little to overcome them.

"There is a lot of inertia" against closing the prison, "and the administration is not putting a lot of energy behind their position that I can see," said Senator Carl Levin, the Michigan Democrat who is chairman of the Senate Armed Services Committee and supports the Illinois plan. He added that "the odds are that it will still be open" by the next presidential inauguration.

And Senator Lindsey Graham, a South Carolina Republican who also supports shutting it, said the effort is "on life support and it's unlikely to close any time soon." He attributed the collapse to some fellow Republicans' "demagoguery" and the administration's poor planning and decision-making "paralysis."
In fairness, it's not just Republican opposition but a political re-calculation on the part of the administration.
The politics of closing the prison have clearly soured following the attempted bombings on a plane on Dec. 25 and in Times Square in May, as well as Republican criticism that imprisoning detainees in the United States would endanger Americans. When Mr. Obama took office a slight majority supported closing it. By a March 2010 poll, 60 percent wanted it to stay open.

One administration official argued that the White House was still trying. On May 26, Mr. Obama's national security adviser, James Jones, sent a letter to the House Appropriations Committee reiterating the case.

But Mr. Levin portrayed the administration as unwilling to make a serious effort to exert its influence, contrasting its muted response to legislative hurdles to closing Guantánamo with "very vocal" threats to veto financing for a fighter jet engine it opposes.

Last year, for example, the administration stood aside as lawmakers restricted the transfer of detainees into the United States except for prosecution. And its response was silence several weeks ago, Mr. Levin said, as the House and Senate Armed Services Committees voted to block money for renovating the Illinois prison to accommodate detainees, and to restrict transfers from Guantánamo to other countries — including, in the Senate version, a bar on Yemen, Saudi Arabia, Afghanistan, Pakistan and Somalia. About 130 of the 181 detainees are from those countries.

"They are not really putting their shoulder to the wheel on this issue," Mr. Levin said of White House officials. "It's pretty dormant in terms of their public positions."
But it's actually much more than running into domestic political obstacles.  There's a real question as to what to do with some of the people at Gitmo. But that issue appears to be coming to resolution:
One category — detainees cleared for release who cannot be repatriated for their own safety — is on a path to extinction: allies have accepted 33, and just 22 await resettlement. Another — those who will be held without trials — has been narrowed to 48.

Still, the administration has faced a worsening problem in dealing with the prison's large Yemeni population, including 58 low-level detainees who would already have been repatriated had they been from a more stable country, officials say.

The administration asked Saudi Arabia to put some Yemenis through a program aimed at rehabilitating jihadists but was rebuffed, officials said. And Mr. Obama imposed a moratorium on Yemen transfers after the failed Dec. 25 attack, planned by a Yemen-based branch of Al Qaeda whose members include two former Guantánamo detainees from Saudi Arabia.
The bottom line is that this is just very hard. It's debatable as to whether the Bush Administration should ever have transferred jihadists and alleged jihadists from Afghanistan to Gitmo. But, once they did, reversing it became very difficult.