Giuliani in 2012?
Might Rudy do better in 2012 than he did in 2008?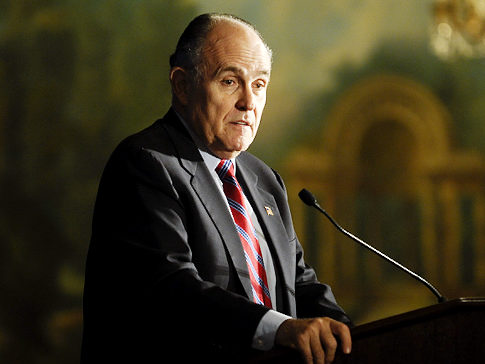 So speculates Christian Heinze at The Hill:  Is Rudy Giuliani a 2012 dark horse?
As a 2008 primary front-runner, former New York City Mayor Rudy Giuliani tanked. But as a 2012 dark horse, he could do surprisingly well.
I find this to be a highly dubious proposition.  Heinze's argument is that the GOP is less focused on social conservatism these day, therefore Giuliani's fiscal conservatism, could propel him forward.  I have some sincere doubts.
First, while it is true that social conservative issues have receded a bit from center stage within GOP politics of late, it cannot be said that they have utterly disappeared (DADT, anyone?  Gay marriage?  Abortion is hardly a forgotten issue).   And one suspects that they will be more central in the 2012 presidential primaries than they were in the 2010 congressional elections.
Second, if we look back at 2008, the best Giuliani did was in Florida, where he came in 3rd with 15% of the vote.  Outside of that he did not bust into double-digits.  In Iowa he came in 6th with 4% and in New Hampshire also 4th with 8%.
Meanwhile, two of his potential opponents (Huckabee and Romney) did considerably better in IA and Romney well outpaced him in NH.  Huckabee won Iowa with 35% and Romney came in second with 25%.  In NH, Romney came in second with 32% although Huckabee only won 11%.  They both had respectable showings overall.
In any event, Romney and Huckabee have more to build off of than Giuliani.  And while, yes, a lot can change in four years, I am not at all certain that anything has changed that would suggest Giuliani is likely to make a 2012 showing be especially better than that of 2008.  Giuliani has two basic claims to fame:  the general success of his tenure at mayor of NYC and his specific behavior on 9/11.  These are both fairly ancient events in terms of politics.  Remarkable as it may sound, 9/11 itself will be over a decade old by the time the 2012 nomination process officially starts.  Giuliani's heyday as mayor is even older than that.
Third, there is the question of exactly where Giuliani's constituency in the GOP selectorate is supposed to be.  This was his problem in 2008 and it will be moreso in 2012.