Glen A. Larson, Creator Of Battlestar Galactica, Magnum P.I.,, Knight Rider Dies At 77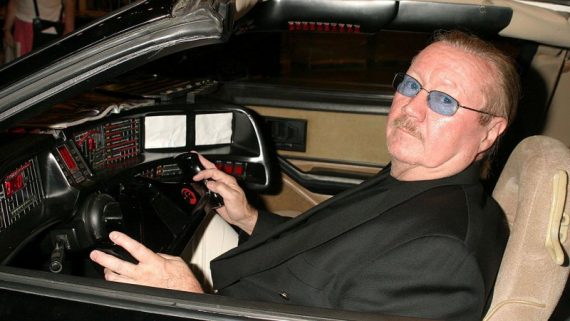 Glen A. Larson, a writer-producer who was behind some of the biggest television hits of the 1970s and 80s, has died at the age of 77:
Glen A. Larson, the writer-producer behind such indelible TV dramas as "Battlestar Galactica," "Magnum, P.I.," "Knight Rider" and "Quincy M.E.," has died, the Los Angeles Times reports. He was 77.

His son James told the Times that Larson died of complications from esophageal cancer on Friday night at UCLA Medical Center.

Larson had a string of TV hits in the 1970s and '80s, and dozens of writing and producing credits to his name. His shows were rarely favored by critics, but his biggest hits enjoyed long runs in primetime and in syndication.

In reflecting on his long career, Larson credited his success to having a strong sense of the type of shows that would click with Middle America.

Larson said his milieu was defined as shows that were "enjoyable, they had a pretty decent dose of humor and they all struck a chord out there in the mainstream," Larson told the Archive of American Television in 2009. "What we weren't going to win … was a shelf full of Emmys. Ours were not the shows that were doing anything more than reaching a core audience. I would like to think that they brought a lot of entertainment into the living room."

After growing up in Los Angeles, Larson got his start in the biz as a singer and a member of the pop vocal group the Four Preps, and he also worked as an NBC page. (Larson's earliest mention inVariety is an item from the Aug. 7, 1957, edition of Daily Variety noting that the Four Preps were set for a guest shot on "The Adventures of Ozzie and Harriet.")

By the mid-1960s he had segued into TV writing and in 1969 he began a long tenure at Universal TV, starting with a spec script that he sold to "It Takes a Thief," which starred Robert Wagner, whom Larson had known since his days at Hollywood High School. During his early Universal years, Larson was a key producer on "McCloud" with Dennis Weaver.

Larson created his first show, "Alias Smith and Jones," in 1971, but left the ABC Western right after star Peter Duel committed suicide.

Larson also co-created "Quincy M.E." with Lou Shaw. The NBC forensic drama starring Jack Klugman had an eight-season run from 1976-83, although Larson was ousted from the series early on.

He created "Battlestar Galactica" a few years later, after "Star Wars" ignited showbiz interest in space operas. Although the original series lasted only one season — ABC cut the cord in 1979 after two dozen episodes partly because of its hefty production cost — it had a "Star Trek"-like rebirth in the mid-2000s on Syfy.

Writers Ronald D. Moore and David Eick steered the Syfy revival that began as a miniseries in 2003 and expanded to a regular series that garnered critical acclaim for stars Edward James Olmos, Mary McConnell, Katie Sackhoff and Tricia Helfer.

"Magnum, P.I." was a smash hit for CBS that launched Tom Selleck into stardom and ran from 1980-88. Larson created the show with Donald Bellisario, with whom he had already worked with on "Quincy M.E." and "Battlestar Galactica." Selleck played a Vietnam vet turned private investigator in Hawaii.

Larson was a key player in the career of TV leading man Lee Majors, who starred in the Larson-created ABC series "The Six Million Dollar Man" (1974-78) and "The Fall Guy" (1981-86).

Larson wrote and exec produced NBC's "Knight Rider" (1982-86), starring David Hasselhoff as a crime-fighter whose work was aided by a talking car and supercomputer, K.I.T.T., voiced by William Daniels.

Larson earned three Emmy nominations during his long career, all for producing. "McCloud" was nommed for limited series in 1974 and 1975, while "Quincy" grabbed a best drama series bid in 1978
More from The Hollywood Reporter:
 With Lou Shaw, Larson conceived Quincy M.E., which starred Jack Klugman — coming off his stint on The Odd Couple — as a murder-solving Los Angeles medical examiner. A forerunner to such "forensic" dramas as CSI, the series ran for 148 episodes over eight seasons on NBC from 1976-83.

CBS' Magnum, P.I., toplined by Tom Selleck as a charismatic Ferrari-driving private instigator based in Oahu, Hawaii, also aired eight seasons, running from 1980-88 with 162 installments. Larson created the ratings hit with Donald Bellisario, with whom he had worked on Quincy and Battlestar.

NBC's Knight Rider, starring David Hasselhoff as a crime fighter aided by a Pontiac Trans-Am with artificial intelligence (K.I.T.T., drolly voiced by William Daniels), lasted four seasons and 90 episodes from 1982-86. And ABC's Fall Guy, with Majors as a stuntman who moonlights as a bounty hunter, prevailed for five seasons and 113 episodes spanning 1981-86.

If you're counting, Quincy, Magnum, Knight Rider and Fall Guy accounted for 513 hours of television and 21 combined seasons from 1976-88.

During a 2009 interview with the Archive of American Television, Larson was asked how he could possibly keep up with such a workload.

"I tried to stay with things until I thought they were on their feet and they learned to walk and talk," he said.

"If you believe in something, you must will it through, because everything gets in the way. Everyone tries to steer the ship off course."

Battlestar Galactica lasted just one season on ABC from 1978-79, yet the show had an astronomical impact. Starring Lorne Greene and Richard Hatch as leaders of a homeless fleet wandering through space, featuring special effects supervised by Star Wars' John Dykstra and influenced by Larson's Mormon beliefs, Battlestar premiered as a top 10 show and finished the year in the top 25. But it was axed after 24 episodes because, Larson said, each episode cost "well over" $1 million.

"I was vested emotionally in Battlestar, I really loved the thematic things. I don't feel it really got its shot, and I can't blame anyone else, I was at the center of that," said Larson, who years early had written a sci-fi script, Adam's Ark, with a theme similar to Battlestar's and had been mentored by Star Trek's Gene Coon. "But circumstances weren't in our favor to be able to make it cheaper or to insist we make two of three two-hour movies [instead of a weekly one-hour series] to get our sea legs."

Much like Star Trek before it, Battlestar became much more beloved after it was canceled. Universal packaged episodes into two-hour telefilms and added a "Battle of Galactica" attraction to its studio tour that proved hugely popular. A new version debuted in 2004 on the Sci-Fi Channel, followed by a spinoff,Caprica.

Yet for all his success, Larson had his share of critics.

Writer Harlan Ellison, in a 1996 book about his Star Trek teleplay for the famous episode "City on the Edge of Forever," infamously called him "Glen Larceny," accusing him of using movie concepts for his TV shows.

It often has been noted that Battlestar premiered soon after Star Wars, that Alias Smith & Jones arrived shortly after Butch Cassidy & the Sundance Kid and that the setups for McCloud and B.J. and The Bearbore similarities to the Clint Eastwood films Coogan's Bluff and Every Which Way But Loose, respectively.

"Larson is undeniably a controversial figure in TV history because of his reputation for producing video facsimiles of popular films, but scholars, fans and critics should also consider that 'similarity' is the name of the game in the fast world of TV productions," John Kenneth Muir wrote in his 2005 book, An Analytical Guide to Television's Battlestar Galactica. "Shows are frequently purchased, produced and promoted by networks not for their differences from popular productions, but because of their similarities."

(…)

Glen Albert Larson was born an only child on Jan. 3, 1937, in Long Beach, Calif. He and his parents moved to Los Angeles when he was young, and he became enthralled with the art of storytelling while listening to hour after hour of radio shows.

He met Wagner while hitchhiking to Hollywood High and landed a job as a page at NBC, then home to such live anthologies as Lux Video Theatre and Matinee Theatre.

Music took over when Capitol Records A&R exec Nik Venet signed The Four Preps to a long-term contract in 1956, and the wholesome youngsters recorded such hits as "Twenty Six Miles (Santa Catalina)," "Big Man," "Dreamy Eyes" and "Down by the Station."

"Ultimately, The Four Preps' biggest influence can be heard via their impact on Brian Wilson, whose harmony-driven production for The Beach Boys was a direct antecedent of The Four Preps' sound," or so says a biography of the group on AllMusic.com.

The Preps appeared on The Adventures of Ozzie & Harriet, The Ed Sullivan Show and American Bandstand, played college campuses around the country and toured the world. But with a new wife and child, Larson wanted to get off the road, so he pursued a career in television and sold a story idea for a 1966 episode of The Fugitive.

Larson then wrote an episode of It Takes a Thief, and within the short span of a season he went from story editor to producing the series.

He created his first show, the ABC Western Alias Smith and Jones, which starred Peter Duel and Ben Murphy as outlaw cousins trying to go straight. He exited the series soon after Duel died of a self-inflicted gunshot on New Year's Eve in 1971.

He did not get along with Klugman on Quincy and eventually left the show in the hands of Bellisario.

Selleck, who was under contract at Universal and had done a couple of pilots that had not made it to series, was obligated to do Magnum, whose pilot was written by Bellisario.

"We got the star, it was a perfect fit," said Larson, who was a fan of the 1960s CBS series Hawaiian Eye, which centered on a detective agency. "I had a house over there [in Hawaii] and a guy [like Selleck's character] who lived in a guest house and took care of it."

Larson based the unseen novelist character Robin Masters, the owner of the home, on author Harold Robbins.

After years at Universal — where he also did The Hardy Boys/Nancy Drew Mysteries for ABC and Buck Rogers in the 25th Century for NBC — Larson left for Fox. But to get out of his Universal deal, he had to give the studio one more show, and that would be Knight Rider.

"Michael Knight [Hasselhoff's character] in a way is prototyped by the Lone Ranger," Larson said. "If you think about him riding across the plains and going from one town to another to help law and order, then K.I.T.T. becomes Tonto."
If you grew up in the 70s and 80s, then, you probably watched a show that Larson had a hand in at some point along the way. For me, the iconic show was Battlestar Galatica, but I was also a fan of Knight Rider and Magnum P.I., all three of which lived on in popular culture long after they were taken off the air. I was unaware of Larson's career in pop music before he entered television, though, although it's not surprising considering he was involved in some way in composing the theme songs for most of the shows he was involved in, including the Battlestar theme, which I've embedded below for old times sake.