Glen Coffee, Former Alabama and 49er Football Star, Graduates Airborne School
When Glen Coffee abruptly retired from a promising NFL career, most wondered what he was up to. Now we know.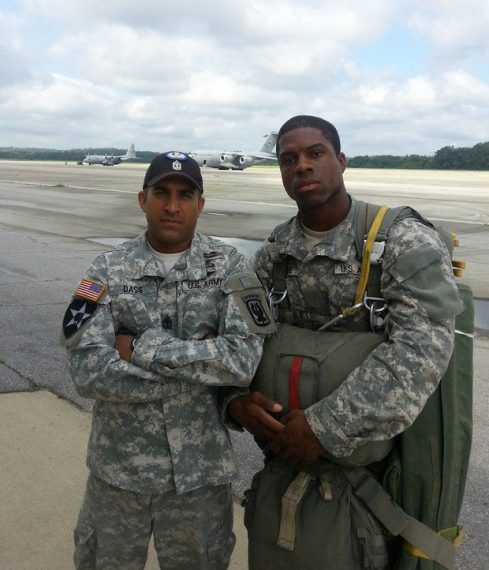 When Glen Coffee abruptly retired from a promising NFL career three years ago, most wondered what he was up to. Now we know.
AL.com ("With brief NFL career behind him, former Alabama RB Glen Coffee to graduate from Airborne School"):
As he talked Thursday, Coffee was moments away from completing his fifth and final jump required to complete Airborne School at Fort Benning in Georgia. He graduates Friday and hopes to be on his way soon to Fort Bragg in North Carolina, where his goal of becoming a member of the U.S. Army Special Forces eventually could be realized.

"I know my motivation and I know my focus," Coffee said. "I just felt like being in an elite unit would pretty much weed out anybody who didn't have the drive and focus that I believe I have. I feel like if I make it in (Special Forces), that guy to my left and my right is somebody I could depend on with my life and visa versa."

[…]

As a junior, Coffee was the driving force behind an Alabama offense that bulldozed its way to an undefeated regular season. The 6-foot, 210-pound Coffee led the Crimson Tide with 1,383 yards and 10 touchdowns — a 14-game performance that made his decision to leave with one year of eligibility on the table seem like an easy one.

Coffee might have fallen out of love with football, but he specifically enjoyed what he was doing. He relished the contact and hard hits that came from being running back and the physicality that was required to play it. The competition, both internally and externally, provided a natural high.

"Just being around other people who were trying to work and trying to get your position because you know that if you slack off, you could be second-string or third-string," Coffee said. "Just the challenge and competition is what I'm in love with."

Though Coffee rushed for just 226 yards and a touchdown during his rookie season with the 49ers, his unexpected retirement made national headlines because his reasons were based on his Christian faith. In a 2010 interview with the Mobile Press-Register, Coffee admitted that he regretted leaving Alabama one year earlier than he had to and said he never should have entered the NFL.

"A lot of people aren't going to understand and realize because they don't have the wisdom to understand," Coffee said in 2010. "Their eyes aren't open like mine are open. True happiness is glorifying God and glorifying Christ. That's what true happiness is. … And for me, that wasn't the NFL. That wasn't where I needed to be."

[…]

"I've always considered myself a warrior, somebody who would fight for what he believed in," he said. "It hit me like, 'What do you think the military does and what do you think the military is full of? Warriors. All of a sudden, I had this respect for the military and I just realized that there is no America without the men and women who serve this country.

"I figured that if I'm able, the Lord's blessed me with an able body while I'm young, to get out there and get dirty."

Coffee said he has had no second thoughts and no regrets about his decision to leave the NFL. He eventually wants to become a minister, but considers that to be more of a long-term goal.

In the short-term, Coffee is focused on the next jump.

"I expect it to be the hardest thing I've done in my life physically and mentally," Coffee said, "but I'm looking forward to the challenge."
It's an unfathomable choice for most people, given the wealth and glory available to an NFL star. But it's a brutal way to make a living, especially if your heart's not in it.
I'm a graduate of both the University of Alabama (PhD, 1995) and the Airborne Course (16 June 1989). But I never had the athletic talent to dream of playing in the NFL, much less do it.
s