Gold Star Widow Speaks About Trump's Condolence Call, Trump Calls Her A Liar
The widow of Sgt. La David Johnson spoke out about the death of her husband and the controversy over the phone call she received from President Trump. And Trump proceeded to attack her and call her a liar.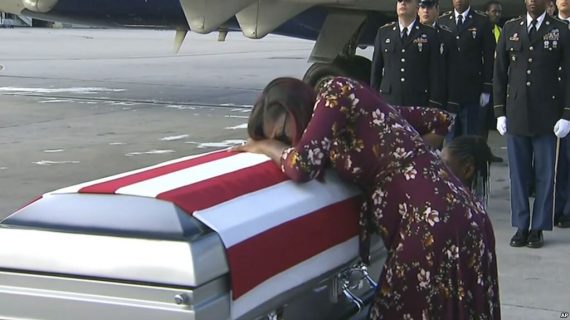 Less than forty-eight hours after she buried her husband, Myeisha Johnson, the widow of Sgt. La David Johnson, one of the four Green Berets killed in an incident that the Pentagon has yet to fully explain, spoke to the media this morning and basically confirmed everything that Florida Congresswoman Frederica Wilson had said last week about President Trump's condolence call to her after her husband's death. Her first appearance came in an interview with George Stephanopolous on Good Morning America:
WASHINGTON — The widow of one of four soldiers killed in Niger went on television on Monday to criticize President Trump for how he spoke to her during a condolence call last week, saying the president blundered through the conversation and only deepened her grief because he did not seem to know her husband's name.

Myeshia Johnson, the widow of Sgt. La David T. Johnson, who was killed early this month, spoke in an interview with ABC News' George Stephanopoulos and also offered words of support for Representative Frederica S. Wilson, Democrat of Florida, who has been feuding with both Mr. Trump and John F. Kelly, the White House chief of staff, over the call.

"The president said, 'He knew what he signed up for,'" Ms. Johnson said during the interview. "But, it hurts anyway. It made me cry because I was angry at the tone in his voice and how he said it." She added that Mr. Trump's memory seemed to falter during their exchange.

"He couldn't remember my husband's name," Ms. Johnson said. "The only way he remembered my husband's name is because he had my husband's report in front of him and that's when he actually said 'La David.' I heard him stumbling on trying to remember my husband's name. And that's what hurt me the most. If my husband is out here fighting for our country, and he risked his life for our country, why can't you remember his name?"

She went on and said, "Whatever Ms. Wilson said was not fabricated. What she said was 100 percent correct."'

(…)

Ms. Johnson said on Monday that she let Mr. Trump do most of the talking as her anger grew during the call. When asked if she wanted to say anything to Mr. Trump, the young widow decided against delivering a message.

She did, however, say that she was desperate to know more details about the disappearance and death of her husband, and described him as "caring" and a "great soldier." The couple had known each other since she was 6 years old.

"I want to know why it took them 48 hours to find my husband," Ms. Johnson said.

The back and forth began after Mr. Johnson and three Americans were killed in an Oct. 4 ambush in Niger. The president called Ms. Johnson and said that her husband "knew what he signed up for," and referred to the soldier as "your guy." Ms. Wilson, a longtime family friend who accompanied Ms. Johnson and heard the call, recounted what the president said to several reporters and lamented that the president had offended the young widow, who was upset that the president did not seem to know Sergeant Johnson's name.

Mr. Trump angrily disputed that account, saying that he "had a very nice conversation with the woman, with the wife, who sounded like a lovely woman." The White House then accused Ms. Wilson, a well-known figure in South Florida for her work with local communities and for often donning decorative hats, of politicizing a sacred ritual after Mr. Trump initially said she "fabricated" it.

In a White House briefing, Mr. Kelly harshly criticized Ms. Wilson, who had known Sergeant Johnson's family since he was in elementary school, for listening to the call. Mr. Kelly called the lawmaker an "empty barrel" and also misrepresented her remarks when he accused her of bragging about securing $20 million for an F.B.I. building in South Florida and twisting President Barack Obama's arm.

Video of Ms. Wilson's speech, released by The Sun Sentinel, a newspaper in South Florida, showed that during her nine-minute speech, Ms. Wilson never took credit for getting the money for the building, only for helping pass legislation to name the building after two fallen federal agents. She also never mentioned pleading with Mr. Obama, and she acknowledged the help of several Republicans, including John A. Boehner, then the House speaker; Representatives Mario Diaz-Balart and Carlos Curbelo; and Senator Marco Rubio.

On Monday, Ms. Johnson also pushed back against Mr. Kelly's criticism of Ms. Wilson for hearing the call. The widow said she had asked the military official accompanying her family to put the call from President Trump on speakerphone so others could also hear his words.
You can read the transcript of Mrs. Johnson's interview, and watch the video:
FULL INTERVIEW between @GStephanopoulos and Myeshia Johnson, widow of fallen soldier Sgt. La David Johnson: https://t.co/8fRPhejRl8 pic.twitter.com/8UzCwVDGVp

— Good Morning America (@GMA) October 23, 2017
As noted, Mrs. Johnson's statements came less than forty-eight hours after she buried her husband in a solemn ceremony where photographs showed family members of Johnson's "Bush Hog" battallion breaking down in tears throughout the ceremony. There really isn't very much one can say about what she had to say. By and large, she confirmed everything that Florida Congressman Frederica Wilson said about the phone call last week, after which both President Trump and White House Chief of Staff called her a liar, and Kelly falsely attacked the Congresswoman for what he called a 'grandstanding' speech during the dedication of an F.B.I. Building in Miami in honor of two former agents killed in the line of duty. Lies that Kelly has yet to apologize for. Johnson is also correct to demand answers from the Pentagon about what happened in this October 4th incident in Niger, including the answers to such questions as why we're in this country that, until last week, most Americans had probably never heard of, why her husband's patrol was sent out in unarmored vehicles with only light weapons to defend themselves, what happened that led to the death of Johnson and his three fellow soldiers.
Given that this is Donald Trump we're talking about, it didn't take long for Trump to call Mrs. Johnson a liar:
I had a very respectful conversation with the widow of Sgt. La David Johnson, and spoke his name from beginning, without hesitation!

— Donald J. Trump (@realDonaldTrump) October 23, 2017
To be honest, from the moment it was announced yesterday on Twitter that Mrs. Johnson would be appearing on television this morning I knew that Trump would be unable to resist attacking her if she ended up confirmed what Congresswoman Wilson said. There's also no doubt that the staff in the White House was as aware of her impending interview as anyone else who saw that announcement. If they were at all competent, or had any control over this President and the Twitter habit that sometimes seems as though he is consciously seeking to undermine his own agenda, they would have taken steps to ensure that Trump didn't say something stupid in response to the words of a woman who had lost her husband just nineteen days ago, and who buried him less than two days ago, all while being six months pregnant with their third child. Of course, we know that this White House staff has no such control over the President, and so it was inevitable that Donald Trump would once again prove to be his own worst enemy.
I'd say that all of this is surprising, but it really isn't. Trump has demonstrated for some time now that he will sink to any level and that he will attack anyone who disagrees with him, including the families of men and women who have died in service to their countries. We knew this at least as far back as last July when he attacked the parents Capt. Humayun Khan of after their appearance at the Democratic National Convention. We knew this when he made  outrageous comments about a Federal Judge, attacked Hillary Clinton that accomplished nothing except to regurgitate the arguments of the 90s, and who continues to stand behind his Muslim immigration ban, We knew when he insinuated that President Obama secretly sympathizes with ISIS and Islamic terrorists, and when was making disparaging comments about Mexicans and Muslims, mocking disabled people, attacking women like Megyn Kelly and Carly Fiorina in the most crass and demeaning manner, encouraging his supporters to engage in violence against supporters, and demonstrating utter disdain for the Rule of Law and Freedom of the Press. The fact that he is now attacking a widow less than two days after she buried her husband is, unfortunately, par for the course.