Good News For Democrats In Virginia?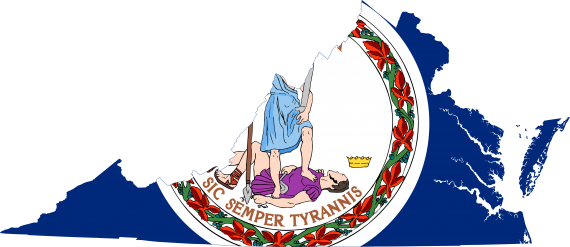 The University of Virginia's Larry Sabato, who should be counted among the best political analysts in the business especially when it comes to Virginia, has named Democratic nominee Terry McAuliffe as the current favorite in the race for Virginia Governor:
As the calendar turns to September, the nation's marquee race in 2013 is coming into focus: Terry McAuliffe (D) now has an edge over Ken Cuccinelli (R) in the Virginia gubernatorial race, and we're changing our rating in the contest from toss-up to LEANS DEMOCRATIC.

The decision is based on several factors, all of which seem to suggest that the former Democratic National Committee chairman is leading the state attorney general.

McAuliffe has managed to make the prospect of a Governor Cuccinelli seem scary, while Cuccinelli has "only" succeeded in making McAuliffe look like a run-of-the-mill, self-interested wealthy political hack. In this wholly negative race, that sad distinction matters.

What's kept Cuccinelli from painting McAuliffe in even less favorable colors? The Bob McDonnell scandal (to which Cuccinelli is connected by the GOP party label and gifts from the same supplicant), his substantially lesser fundraising, E.W. Jackson's nomination for lieutenant governor, and the defection of a sizable number of moderate Republicans led by the lieutenant governor he left as road kill, Bill Bolling.
As Sabato notes, the polls over the summer have been slowly moving in McAuliffe's favor:
Recent polling from Quinnipiac shows the McAuliffe up 48%-42% over Cuccinelli, and an internal poll from the Democratic Party of Virginia showed a similar margin (48%-44%). That is backed up by other polling. The respected HuffPost Pollster average shows McAuliffe up by eight points (45.1% to 37.1%). That average also shows Robert Sarvis, a Libertarian candidate, at 9.5%. Despite the damaged nature of both major-party nominees, it would be surprising if Sarvis maintained that level of support — third-party candidates often poll much better than they actually perform on Election Day. Aside from Henry Howell's independent run in 1973 (49.3%), no independent or third-party gubernatorial candidate has done better than Russ Potts' 2.2% in 2005 in the modern era of Virginia politics (dating back to the start of true two-party competition in 1969).
Pollster's chart of the race shows how these polls have slowly shifted in McAuliffe's favor as well: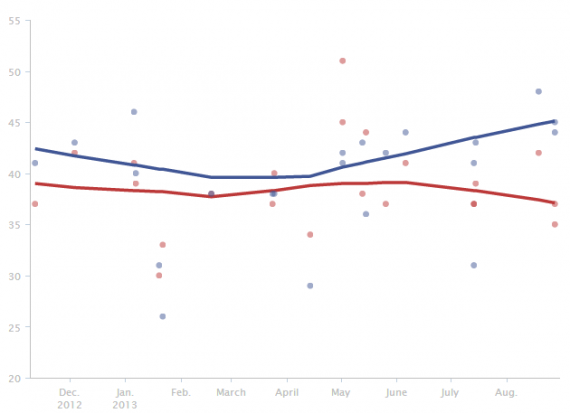 The Libertarian candidate Robert Sarvis is currently at 9.5% in the Pollster average, while McAuliffe is at 45.1% and Cuccinelli is at 37.1%. This leaves some 8.3% of the respondents undecided at the moment, although it's probably that at least some portion of that "undecided" vote is saying they support Sarvis simply because he isn't one of the two major party candidates. Many of these people will likely end up voting for either McAuliffe or Cuccinelli in November.
In reality, of course, most Virginia voters have not been paying much attention to this race over the summer, and there's really only been limited television advertising by either of the two candidates. That's likely to change after Labor Day when the campaign goes into full gear. At the moment, though, it looks like Democrats have the upper hand in this election.