GOP Congressman: My Idea To Force Poor Kids To Work For Lunch Not Directed At Poor Kids
A GOP Senate Candidate in Georgia attempts to back track, and runs off the rails in the process.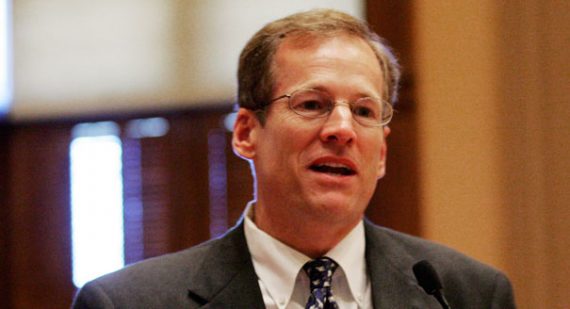 Congressman Jack Kingston, who just a few days ago said that children who received subsidized lunches should be forced to work, now says wasn't really talking about poor kids:

Georgia Rep. Jack Kingston, who suggested children should sweep cafeteria floors to earn meals from the federal school lunch program, is clarifying his comments Friday, saying he meant all children should be instilled with a work ethic.

"This was a discussion about the work ethic in America and I think all kids of all socioeconomic brackets could prosper and learn a lot by having some sort of chores," Kingston said Friday on CNN's "New Day."

The Republican lawmaker added that he never said "poor kids" and acknowledged that "I could have clarified that a lot better."

Kingston, who is seeking the GOP nomination in Georgia's Senate race next year, sparked backlash after he made comments Saturday during a meeting for the Jackson County Republican Party, in which, he suggested children "pay a dime, pay a nickel" or work for the subsidized meals by sweeping cafeteria floors.

"I understand that that would be an administrative problem, and I understand that it would probably lose you money. But think what we would gain as a society in getting people — getting the myth out of their head that there is such a thing as a free lunch," Kingston said at the meeting.

However, while Kingston told CNN it was a larger discussion on work ethic that started with a question about what lessons people learned from jobs they had when they were younger, in the video, he says the program has a 16 percent error rate and is very expensive.

Kingston cited other schools who require community service before graduation or clean tables and said it wasn't an indictment of low-income families.

"This wasn't anything in a back room. This wasn't a policy statement. This was a discussion," Kingston said, slamming Democrats who he said planted a tracker to film his comments and then fundraise off of them.
There's just one problem with Kingston's quite obvious attempt to walk back his comments in the manner he does above is that what he's saying now bears absolutely no resemblance to what he said earlier this week:
On Saturday, Kingston came out against free lunches, saying that children should have to pay at least a nominal amount or do some work like sweeping cafeteria floors.

"But one of the things I've talked to the secretary of agriculture about: Why don't you have the kids pay a dime, pay a nickel to instill in them that there is, in fact, no such thing as a free lunch? Or maybe sweep the floor of the cafeteria — and yes, I understand that that would be an administrative problem, and I understand that it would probably lose you money. But think what we would gain as a society in getting people — getting the myth out of their head that there is such a thing as a free lunch," he said.
As I noted when I wrote about this earlier this week, Kingston's original comments were quite obviously directed at children who receive free or subsidized lunches at school, which typically if not universally means children who come from poor and lower middle class families. That strikes me as being fundamentally different than the idea of requiring all students to perform some kind of task around the school, which he suggests is what he was really talking about. Now, of course, I'm willing to concede that there is a part of the remarks that Kingston made at the meeting in question that haven't been made public and perhaps there was a broader discussion of just that point. Even if that's true, though, it doesn't really change what Kingston actually said about children who receive subsidized lunches at school and the extent to which it singles them out for different treatment from their fellow classmates.
Moreover, as I noted in my earlier post on this issue, what he suggests is really nothing less that singling out the children in families in economic difficulty and suggesting that they are the ones who don't know the value of a dollar or the importance of hard work. Isn't this something that, arguably, couldn't also be said of children in rich and upper middle class families too? If you grow up in a family where you get pretty much everything you want, and everything you don't want, handed to you — whether its every toy in the world when you're young, the latest iPhone when you get into the Middle School years, or an expensive brand new car that even many adults who go to work every day couldn't afford on their own — are you really "learning the value" of a dollar or hard work? It strikes me that the answer to that question is a pretty emphatic no. Indeed, one could make the argument that children who grow up in that kind of environment potentially end up learning less about those values than a child from a poor family who, very early on, begins to notice the real world impact of living on a lower income or in a family going through financial difficulties. That's not to say that parents who have the means to provide extras for their kids shouldn't do so, but it does suggest that there comes a time when being over indulgent sends a message that may not be in the long term interests of the child.
That's not to say, of course, that every child in a well-to-do family will end up becoming a lazy elitist with an over inflated sense of their own self-entitlement to whatever they want, or that every child in a poor family will end up becoming a modern day example of the characters created by Horatio Alger.  In both cases, how children from any type of family is going to end up will depend on numerous factors, most importantly the lessons they are taught by their parents and others family members. Rich parents don't necessarily end up becoming that person who indulges their child's wants at every turn. Indeed, there are several contemporary examples of uber-rich parents who don't seem to be engaging in that kind of parenting at all, such as Warren Buffett and Bill Gates, both of whom have already made plans to leave the vast majority of their estates to charitable foundations rather than leaving it to their children. On the other side of the coin, there are countless examples of the parents in less well-to-do families who serve as bad role models for their children, as well as plenty of examples of parents who do. Contemporary examples of adults who have achieved much despite growing up in what were obviously not ideal circumstances are Bill Clinton and Clarence Thomas, both of whom grew up relatively poor and, in Clinton's case, with a birth father who was an alcoholic.
The point of this divergence from Kingston's attempt to back track on his original comments is that, while it is indeed important that children growing up learn things like "the value of a dollar" and the importance of hard work, is that these are values that can really only be taught by parents. Forcing a poor kid to push a broom around the cafeteria in order to be able to get his or her subsidized lunch isn't going to teach them anything other than the fact that they are different from everyone else. That's just as likely to create a sense or resentment and embarrassment as it is to teach any lessons at all. Indeed, rather than focusing on how we can get our schools to, in effect, become surrogate parents when it comes to teaching values, people like Kingston ought to be focusing on how we can improve education so that these kids will have a chance to get out of the cycle of poverty and create a better life for the children that they'll have someday. That will be of much more benefit to them than whether or not thery learned the finer points of busing a table when they were twelve years old.