GOP Platform Committee Rejects Endorsement Of Civil Unions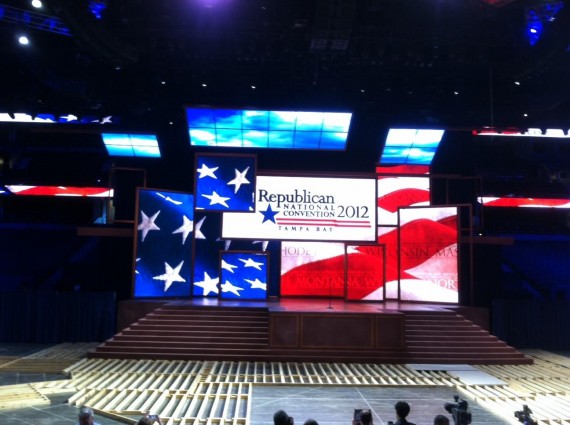 The effort to put a plank supporting civil unions for same-sex couples in the GOP platform has been soundly rejected:
TAMPA, Florida — The GOP platform committee overwhelmingly voted down an effort to include recognitions of civil unions in the party's manifesto.

The measure, offered by Rhode Island delegate Barbara Fenton and seconded by Connecticut's Themis Klarides, was rejected by the full committee in a voice vote, as a large number of members stoof up to oppose the potential plank.

Fenton argued that the country was founded on the the principle of the separation of church and state, and thus government should allow for civil unions as different faiths use their own definitions of marriage for their purposes.

"This would move us away from the benefits that marriage extends to a society," objected Tony Perkins, the president of the Family Research Council and a Louisiana delegate.
As Dave Weigel explains, the effort to get the amendment passed, while admirable, was doomed from the start:
A plank like this had been debated in subcommittees and shot down in flames. But a Ron Paul delegate from Rhode Island brought it back from the scrap heap, telling fellow delegates that "for people of my generation," gay rights were an obvious good. Her suggested text, which would have put the GOP on record for separating marriage from religion, is posted above.

But like I said: Doomed. Family Research Council President Tony Perkins took the microphone to explain that "government extends benefits to marriage because marriage benefits society." His fellow Republicans surely knew that.

"We recognize nature, we recognize history," he said. "This would move the party away immensely from the position this party has held."
This comes at a time when polls are showing that only one-third of Americans support the idea that same-sex couples are not entitled to any legal recognition whatsoever.
And yet, the GOP continues to have its head in the sand. Indeed, during the debate on this Amendment, an adviser to Mitt Romney compared homosexuality to drug use:
During a Tuesday morning meeting of the Republican National National Convention Platform, Kansas Attorney General Kris Kobach expressed his opposition to a platform amendment that would have allowed for "civil unions" by likening homosexuality to drug use and polygamy.

A Nevada RNC delegate argued in favor of the amendment on behalf of a young conservative group, stating that "the freedom to marry is in line with our core belief in limited government and individual freedom. To quote former Vice President Dick Cheney,'Freedom means freedom for everyone.'"

She continued on to warn that the exclusion of pro-gay marriage views from the Republican Party platform could alienate younger conservatives who might be tempted to leave the party: "They are Republicans, and they should not be condemned for their desire to have civil unions. And as had been said in many pages here about a union being the best environment in which to raise children, a couple union, these people also deserve to raise children as a couple."

Kobach, an advisor to Mitt Romney on immigration policy, took to the mic to rebuke the woman's claims:

"I oppose this amendment, I think the wording is too broad. Especially the last sentence: 'As long as there are no infringements on the rights of others, It is not the role of government to judge.' Well, our government routinely judges situations where you might regard people completely affecting themselves like, for example, the use of controlled substances, like, for example, polygamy that is voluntarily entered into. We condemn those activities even though they're not hurting other people, at least directly."

And right there Kobach explained, in a nutshell, the mainstream Republican worldview that has alienated libertarians for many years.
Indeed. The GOP is going to come to regret this someday, and that day is fast approaching.