Greg Hardy is a Bad Human Being and a Good Football Player
My favorite sports team employs a thug.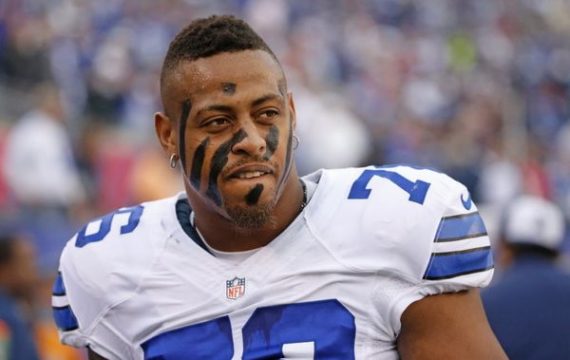 Greg Hardy hits people for a living. He starred as a pass rusher, who was quite good at applying violence to opposing quarterbacks, for the University of Mississippi. He was drafted in the 6th round of the 2010 NFL draft by the Carolina Panthers and wildly exceeded expectations, making the Pro Bowl and second-team All-Pro in 2013.
Alas, Hardy also likes to hit women.
In the 2014 offseason, as summarized by Wikipedia, "Hardy was arrested for assault and communicating threats, after he was alleged to have assaulted an ex-girlfriend by grabbing her, throwing her into furniture, strangling her, and threatening to kill her. On July 15, a judge found him guilty of assaulting a female and communicating threats, and sentenced to him 18 months probation, suspending a 60-day jail sentence. When Hardy appealed the decision – requesting a jury trial – the victim failed to appear in court to testify. As a result, the prosecutor's office dropped the charges, citing their inability to locate the victim, and 'reliable information' that the two parties had reached a civil settlement."
Reading between the lines, Hardy paid off his victim. But, according to North Carolina law, Hardy was never convicted. Despite the language of "appeal," the jury trial would have been de novo; the previous "conviction" by the judge never officially happened.
Nonetheless, in an offseason where Ray Rice, Ray McDonald and Adrian Peterson all generated massive negative publicity for incidences of domestic violence (Rice and McDonald against women, Peterson against his 4-year-old son) Hardy was put on a paid suspension by the NFL for the final 15 games of the 2014 season.
Hardy became a free agent and, on March 18 of this year, Hardy signed a one-year, $11.3 million contract with the Dallas Cowboys, who I have rooted for just shy of four decades.
Wikipedia picks it up from there:
On April 22, 2015, NFL Commissioner Roger Goodell suspended Hardy for 10 games, after the league's 2 month long investigation found that there was "sufficient credible evidence" that Hardy had engaged in conduct which "violated NFL policies in multiple respects and with aggravating circumstances." The league's investigation had concluded that Hardy used physical force in at least four instances, including placing his hands around the victim's neck with enough pressure to leave visible marks, and that his actions were "a significant act of violence in violation of the Personal Conduct Policy."

On July 10, 2015, an arbiter reduced Hardy's suspension from 10 games to four games.
The arbiter was correct in doing so. While the NFL's findings were credible, four games was the maximum penalty allowed under the collective bargaining agreement. The League's attempt to impose harsh penalties for actions that predated the huge public backlash stemming from the Rice incident, in particular, was understandable but had been rebuked multiple times by the courts. Four games is an absurdly low penalty, especially in contrast with penalties allowed by much less egregious infractions under the CBA, but it was in fact all the League was allowed to impose.
This past Thursday, the domestic violence charges were officially expunged from Hardy's record. Whether coincidentally or not, the following day Deadspin released police photographs showing the bruises on the woman Hardy battered, renewing public outrage over the incident.
Predictably, calls are now coming for the Cowboys to fire Hardy. They won't be heeded.  Nor should they.
There's no new news here. As with the release of the video showing Rice hitting his then-fiance (now wife), these photos merely depict what we already knew. This is what domestic violence looks like.
Hardy is a thug. He's also a great football player. Sadly, the two go together with some frequency. A lot of really horrible human beings have plied their trade hitting quarterbacks, in particular. At least one of them currently makes his living as a quarterback. We just happen to have indisputable visual evidence in Hardy's case.
Like it or not—and I don't—Hardy is a free man.  In the eyes of the law, he did not commit a crime. He's already served the maximum penalty the NFL can impose.
Just because teams were free to sign Hardy doesn't mean they had to. After all, no one signed Rice. But Rice is a running back, a position that has been devalued by NFL teams in recent years, whose best years were behind him before the incident. Hardy is a pass rusher, behind quarterback the most valuable position in the game, in his prime. If the Cowboys hadn't signed him, any of the other 31 teams would have.
In a perfect world, universities would populate their rosters with true student-athletes and professional rosters would be filled with well-rounded individuals who are worthy role models for our youth. Sadly, coaches and general managers who followed that virtuous path would quickly find themselves unemployed while the competition eagerly scooped up the Greg Hardys, Ben Roethlisbergers, Ray Rices, and Kobe Bryants. Ultimately, we judge our sports teams by their performance on the field, not the content of their character.