Harriet Tubman On The Twenty Dollar Bill?
If a new campaign succeeds, Harriet Tubman could replace Andrew Jackson on the $20 bill.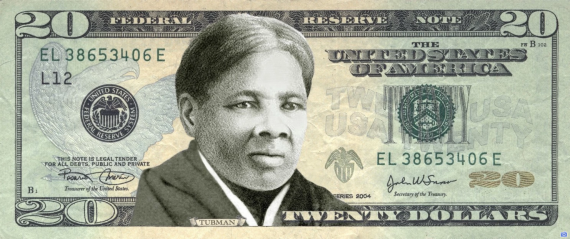 For some time now, there has been a quiet campaign to change the Twenty Dollar Bill by removing former President Andrew Jackson and replacing him, well, with someone else. Given Jackson's history as a hunter of American Indians in Florida, and the fact that he was responsible as President for forcing the Cherokee out of Georgia along the Trail of Tears to Oklahoma, it's hard to make a compelling case for honoring him at this point, to be honest. Additionally, there's the fact that the United States hasn't changed the faces on its currency in quite some time. In any case, there's a campaign afoot to replace Jackson with a woman in time for the 100th Anniversary of the ratification of the 19th Amendment in 2020 and, after a survey, they have a winner:
A group that wants to kick Andrew Jackson off the $20 bill and replace him with a woman has, after months of collecting votes, chosen a successor: Harriet Tubman.

Tubman, an abolitionist who is remembered most for her role as a conductor in the "Underground Railroad," was one of four finalists for the nod from a group of campaigners calling themselves "Women on 20s." The campaign started earlier this year and has since inspired bills in the House and the Senate.

The other three finalists were former first lady and human rights activist Eleanor Roosevelt; civil rights figure Rosa Parks; and Wilma Mankiller, the first female chief of the Cherokee Nation. Now that voters participating in the campaign have chosen Tubman, Women on 20s will bring a petition with the people's choice to the White House.

"Our paper bills are like pocket monuments to great figures in our history," Women on 20s Executive Director Susan Ades Stone said in an e-mailed statement. "Our work won't be done until we're holding a Harriet $20 bill in our hands in time for the centennial of women's suffrage in 2020."

In all, the group said, it has collected more than 600,000 votes for its campaign.

In Tuesday's White House press briefing, Press Secretary Josh Earnest said that Tubman was a "wonderful choice" for the bill, but stopped short of saying whether the President backs putting Tubman on the $20.

If the government agrees that it's time to replace Andrew Jackson on the bill, its choice might not end up being Tubman. But the idea of putting a woman on America's paper currency has attracted some notable support.

"Last week, a young girl wrote to me to ask why aren't there any women on our currency," President Obama said in a July speech in Kansas City, before the launch of the Women on 20s voting campaign. "And then she gave me a long list of possible women to put on our dollar bills and quarters and stuff — which I thought was a pretty good idea."
I don't have any real objection to changing the historical figures depicted on American currency from time to time and, indeed, it has been a very long time since we have made any kind of a change like that to the bills that are in common circulation.  I also have no particular affinity for Andrew Jackson given the history of his Presidency and the other circumstances of his life, and I'm not even sure how he ended up on the Twenty Dollar Bill as opposed to any other number of American historical figures. Jackson wasn't part of the founding era like Washington, Hamilton, Jefferson, or Franklin, and he didn't play a crucial role in the Civil War like Lincoln or Grant. He's most famously remembered, of course, for leading American forces in the Battle of New Orleans in the War of 1812, a battle which the United States won although it's mostly remembered at this point for being a battle that was actually fought after the war was officially over. Prior to that, during the time in served in Florida, Jackson was mostly known for what we would now consider atrocities against Native Americans and, during his Presidency the nation saw the passage of the passage of the Indian Removal Act and, as noted, the forced removal of tribes such as the Cherokee from vast swaths of the southern United States. So, the arguments in favor of removing him from the $20 bill seem to me to be quite strong.
If Jackson is to be replaced by a woman, Tubman would seem to me to be a particularly appropriate choice, especially given the fact that Jackson was a slaveholder and Tubman was the woman who worked to help slaves escape to freedom in the states north of the Mason-Dixon Line, and Canada, in the years before the Civil War. The interesting thing about this debate, though, is that it seems to me that we're probably not very far from the point where paper currency becomes nearly extinct — I know that I rarely use any bill larger than a $20 bill on a regular basis at this point, and even then not very often — so this could very well be the last person who ever appears on a new piece of paper currency.