Trump Administration Still Won't Commit To Putting Harriet Tubman On The $20 Bill
The plan to put Harriet Tubman on the $20 bill appears to be running up against President Trump's bizarre affinity for Andrew Jackson.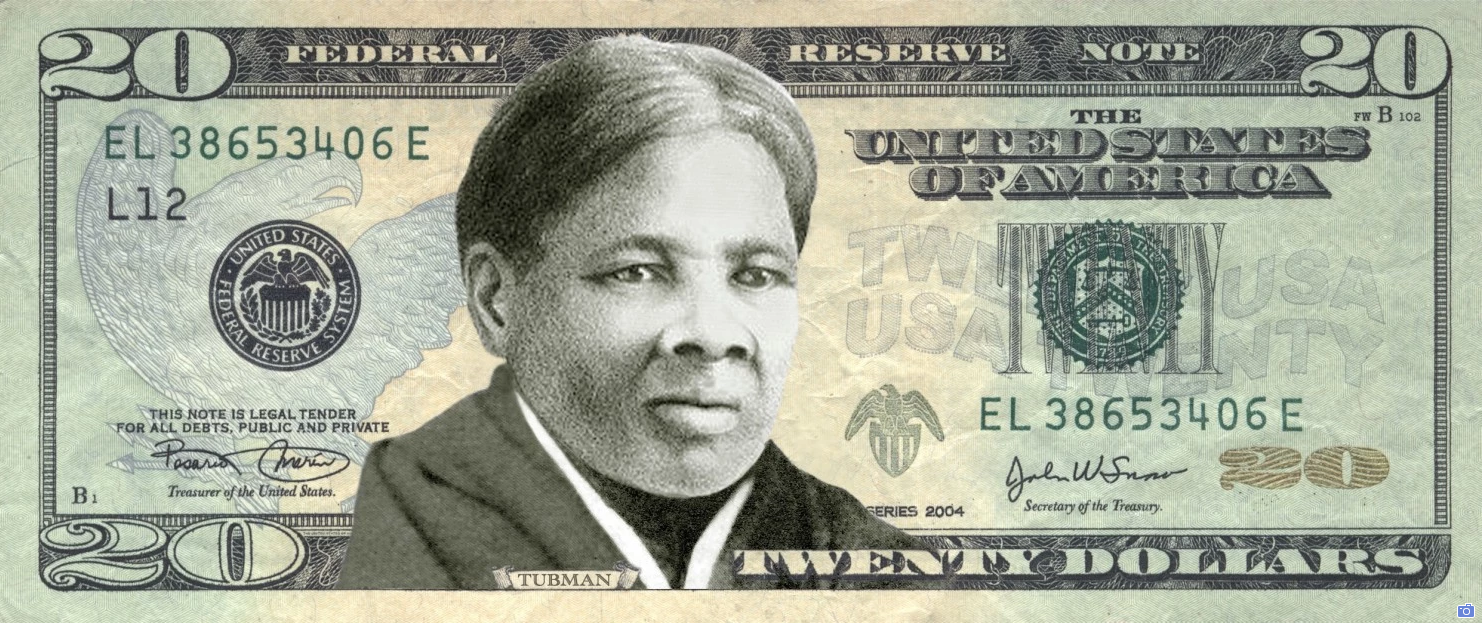 In the closing years of the Obama Administration was considering redesigning American currency by placing a woman on the $10 bill in place of Alexander Hamilton, the first Secretary of the who had also served as a delegate to the 1787 Constitutional Convention and an aide to George Washington during the American Revolution. Thanks largely to the popularity of the Broadway musical Hamilton, though, the plan to replace Hamilton was scrapped and it was announced that the abolitionist Harriet Tubman, an escaped slave who later helped to found the Underground Railroad that led escaped slaves to freedom in the 19th Century and later served as a Union agent in the South during the Civil War, would replace former Andrew Jackson on the $20 bill. After the Trump Administration took power, though Treasury Secretary Steve Mnuchin seemed to throw cold water on that idea, although it wasn't clear if the idea was being abandoned entirely. Now, roughly a year later, the Administration still won't commit to the idea of putting Tubman on the $20 bill, or replacing Jackson at all:
WASHINGTON — President Trump has tried to undo as many Obama-era policies as possible during his first 500 days in office, but his administration has remained curiously circumspect when it comes to one of his predecessor's initiatives: putting Harriet Tubman on the $20 bill.

In a letter to Congress that was released on Tuesday, the Treasury Department praised Tubman, a former slave and abolitionist who is a civil rights hero, but made no commitment as to whether she would one day be the new face of the $20.

In 2016, former Secretary Jacob J. Lew announced that the currency was being redrawn, adding Tubman to the front and moving President Andrew Jackson to the back. The new designs were expected to be unveiled in 2020.

The letter, which was in response to a formal inquiry from Senator Jeanne Shaheen, Democrat of New Hampshire, said Tubman's "courage and persistence" were emblematic of America's ideals and values.

But it did not say if she was still part of the redesign.

"The redesign of the next currency series is still in the early stages, and neither the final designs nor all features have been finalized for the new notes," wrote Drew Maloney, the Treasury's assistant secretary for legislative affairs. "For this reason, the department is unable to provide additional information regarding the potential designs at this time."
The initial hope was to get a woman on American currency in time for the 100th anniversary of the ratification of the 19th Amendment, which guaranteed women the right to vote. Realistically speaking, that was probably not an option given the time that it takes for the redesign process to be finalized and put into production. Nonetheless, it does seem as though delaying the decision or scrapping it entirely is the wrong way to go. For one thing, there hasn't been a woman on American currency since the 19th Century. With the centennial of the ratification of the Amendment that finally met the demands of the suffragette movement that started not soon after the end of the Civil War approaching, it would seem to be long overdue for an American woman to appear on American currency again.
Additionally, replacing Jackson with Tubman would be a measure of justice. Unlike Hamilton, whose place on the $10 bill is apparently secure for now, there is very little about Andrew Jackson that is admirable. In addition to being a slave owner, Jackson was also responsible for the death of thousands of Native Americans who were forcibly removed from their ancestral lands and sent on a forced migration to what is now Oklahoma on what came to be known as the "Trail of Tears." While he was President, Jackson defied Supreme Court orders, including orders directly related his policies toward Native Americans. Additionally, Jackson's position on the Second Bank of the United States was the primary factor behind the Panic of 1837, which sent the United States into one of the most prolonged economic downturns in its history that in many respects was worse than the Great Depression.  Tubman, on the other hand, stood against pretty much everything that Jackson stood for, and was a genuine hero to anyone who respects what America really stands for. If any woman deserves to be honored in this manner, she does, and it would be especially appropriate for her to replace someone like Jackson.
Perhaps the biggest reason for the fact that the Administration is apparently balking on the idea of replacing Jackson on the $20 bill, though, lies in the fact that the President seems to have some kind of weird affinity for him:
Andrew Jackson was a slaveholder, a populist and an emotionally volatile man who fought in as many as 100 duels during his lifetime.

Naturally, Donald Trump has great admiration for him.

In fact, Trump—despite his gaping and well-demonstrated ignorance of American history—has developed an unusual fixation with the seventh president. In January, Trump described Jackson as "an amazing figure in American history—very unique [in] so many ways" and hung a portrait of the early president in the Oval Office. And on Monday, during an interview with Salena Zito, a host on SiriusXM, Trump made some of his most mystifying historical proclamations to date: He claimed that Jackson might have been able to stop the Civil War. (Jackson died in 1845, a decade and a half before the war broke out.)

Here are the widely circulated comments, which would not likely pass muster in a fourth-grade classroom:

Here's Trump's full answer on "swashbuckler" Andrew Jackson and the Civil War: "Why could that one not have been worked out?" pic.twitter.com/Zb8OQaDqyq

— Edward-Isaac Dovere (@IsaacDovere) May 1, 2017

While these remarks are not at all historically sound, Trump's ongoing fixation with Jackson is telling. There are substantial parallels between the two men. Jackson, who served as president from 1829 until 1837, was a populist. In fact, Smithsonian's Harry Watson has noted, "it was the presidential campaigns of Andrew Jackson that made the populist style a major force in national politics."

(…)

Why does Trump like to compare himself to Jackson? Maybe because so many of his allies made a point of positioning Trump as a successor of Jackson, usually as a way of beefing up his populist credentials.

"Like Jackson's populism, we're going to build an entirely new political movement," White House chief strategist Stephen Bannon said in an interview shortly after Trump's victory. Newt Gingrich invoked Jackson's name way back in August, touting Trump's psychological capabilities by saying that he's "at least as reliable as Andrew Jackson." And here's Rudy Giuliani on election night: "This is like Andrew Jackson's victory. This is the people beating the establishment." (Trump surrogates don't tend to mention the ethnic cleansing stuff.)

Though he boasts constantly of his wealth (and favors a tax plan that would mostly aid the wealthy), Trump clearly likes to be thought of as a champion of the "forgotten man"—and comparing himself to Jackson gives him a historical antecedent that he probably finds flattering. It legitimizes his presidency. Jackson is on the $20 bill. Despite the more despicable aspects of his legacy, he remains reasonably popular among historians. (Though his popularity is sliding, and some are blaming Trump for that.)

The temperamental similarities between the two men are significant, though less commonly remarked upon. Andrew Jackson was known to be vengeful, violent and obsessed with his honor. He fought in dozens of duels and once killed a man who called him "a worthless scoundrel." (During one of these duels he was shot in the chest, yet carried on and killed his rival.) He was quoted as saying he had two regrets from his presidency: "that I have not shot Henry Clay or hanged John C. Calhoun." Trump is similarly unstable and obsessed with his enemies, though he generally prefers insulting people on Twitter to fighting duels. Maybe if Twitter was around in 1830 Jackson could have just done that instead of shooting people who pissed him off.00
That article was written last year and it's fair to say that, in the intervening time, Trump has clearly operated in the spirit of Jacksonian populism, usually in the worst possible way. Like his campaign, Trump has portrayed himself as a champion of the "common man" notwithstanding the fact that his Cabinet is full of elites from the worlds of banking, business, and Wall Street. On the campaign trail, though, Trump has presented himself as the same kind of populist that Jackson was, and he's engaged in the same kind of battles with Congress, the media, and the Courts that Jackson did. The only difference between the two seems to be that Trump at least appears to recognize that he has to comply with Court orders no matter how much he disagrees with them, but one could argue that his continued efforts to undermine the Russia investigation are akin to Jackson's defiance of the Supreme Court. Additionally, his open contempt for the media mimics the attitude that Jackson took toward his own critics of the day, right down to the name calling and the accusations of disloyalty. Indeed, it's fair to say that Trump is the most Jacksonian President we've had since Jackson himself, and that's not a good thing. In any case, given the fact that we've got a President who not only admires Jackson but openly emulates him, the odds that he'll allow his hero to be removed from the $20 bill are pretty slim.