Trump Administration Scrapping Plan To Put Harriet Tubman On $20 Bill?
Donald Trump's Treasury Secretary won't commit to putting Harriet Tubman on the $20 bill.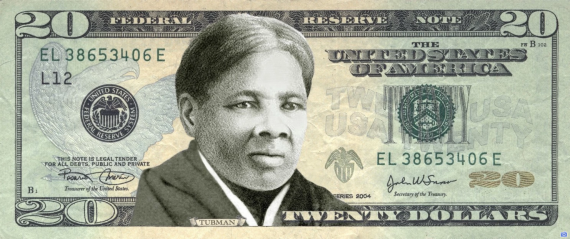 Three years ago, reports began to circulate that the Obama Treasury Department was considering redesigning American currency by placing a woman on the $10 bill in place of Alexander Hamilton, the First Treasury Secretary who had also served as a delegate to the 1787 Constitutional Convention and an aide to George Washington during the American Revolution. Thanks in no small part to the popularity of the Broadway musical Hamilton, the plan to replace Hamilton was scrapped and it was announced that the abolitionist and founder of the Underground Railroad that led escaped slaves to freedom in the 19th Century would replace former Andrew Jackson on the $20 bill. Now, Treasury Secretary Steve Mnuchin is throwing cold water on that idea, although it's unclear if it is being abandoned entirely:
WASHINGTON — The Trump administration signaled on Thursday that the black abolitionist Harriet Tubman may not replace President Andrew Jackson on the $20 bill after all.

Treasury Secretary Steven Mnuchin declined to endorse the plan for a 2020 redesign of the $20 bill that was announced by the Obama administration last year.

"People have been on the bills for a long period of time," Mr. Mnuchin told CNBC. "This is something we'll consider. Right now we've got a lot more important issues to focus on."

President Trump, who has described himself as a "big fan" of the populist rabble-rousing president from Tennessee, made clear as a candidate that he didn't like the proposal to replace Jackson.

"I would love to leave Andrew Jackson and see if we can maybe come up with another denomination," he said in April 2016, after the decision was announced.

At the time, Mr. Trump mentioned the $2 bill for Tubman. It circulates in the smallest volume of any bill, about seven times less than the $20. "I think it would be more appropriate," he said.

Mr. Trump has not addressed the issue since becoming president, but he traveled to Tennessee in March to celebrate Jackson's 250th birthday. His visit included laying a wreath at the former president's tomb at The Hermitage, the plantation where Jackson kept more than 100 slaves. Mr. Trump described Jackson's presidency as a model for his own, portraying Jackson as a populist hero who had fought against government corruption.

"That sounds very familiar," Mr. Trump said in brief remarks from the plantation's portico. "Wait till you see what's going to be happening pretty soon, folks."

Mr. Trump also put a portrait of Jackson in the Oval Office.

The Obama administration initially announced that it wanted to put a woman on the $10 bill, but a public outcry against the replacement of Alexander Hamilton, the incumbent frontman, prompted a change in plans. In April 2016, then-Treasury Secretary Jacob J. Lew announced that Jackson would move to the back of the $20 bill. He also said that images of women would be added to the back of the $5 and $10 bills.

Mr. Lew said final designs would be unveiled in 2020, with production starting later in the decade. The government regularly redesigns paper currency to frustrate counterfeiters, but the people honored on the bills have remained the same for nearly a century. Other nations, notably Britain, regularly rotate honorees, though Queen Elizabeth II remains on all the bills.

Mr. Lew was aware when he made the decision to redesign the currency that its fate would rest with Mr. Obama's successor. But he said then that he doubted it would be reversed.

"I don't think somebody's going to probably want to do that — to take the image of Harriet Tubman off of our money? To take the image of the suffragists off?" he said.

Treasury had earlier removed its "Modern Money" website that the Obama administration created to highlight its plans for the redesigned bills.
Apparently, no final decision has been made on this issue and the process that former Treasury Secretary Lew announced last year was still in its early stages, so canceling the planned changes probably wouldn't cost the government anything at all. At the same time, though, it seems like an inappropriate decision to me. There hasn't been a woman on American currency since the 19th Century, and it's been nearly a century since American currency was redesigned to the form that we're familiar with today. As a result, there was a push by women's groups to get a woman on at least one denomination by 2020 to make the 100th anniversary of the ratification of the 19th Amendment to the Constitution, which guaranteed women the right to vote nationwide. If Mnuchin delays the plan the was announced last year, it would likely delay any change to the point where that 2020 goal would not be met.
As it stands, of course, replacing Jackson with Tubman would be not only appropriate, but in some sense a measure of justice. Unlike Hamilton, whose place on the $10 bill is apparently secure, there is very little about Andrew Jackson that is admirable. In addition to being a slaveholder, Jackson was also responsible for the deaths of thousands of Native Americans forced from their ancestral lands on a forced migration to what is now Oklahoma on the appropriately name "Trail of Tears." He defied Supreme Court orders, including orders directly related to his treatment of Native Americans while President. Additionally, Jackson's position on the Second Bank of the United States was a large reason behind the Panic of 1837, which sent the nation into one of the most prolonged economic downturns in its history that in many respects was worse than the Great Depression.  Tubman, on the other hand, stood against pretty much everything that Jackson stood for, and was a genuine hero to anyone who respects what America really stands for. If any woman deserves to be honored in this manner, she does, and it would be especially appropriate for her to replace someone like Jackson.
Unfortunately, we've got a President who seems to admire Jackson for some reason, and that may be enough to keep him on the $20 bill even though he doesn't really belong there.
Update: From The Onion: Trump Administration Announces New $20 Bill Design Honoring Harriet Tubman's Owners