Harvard Researchers: Take Obese Kids Away From Their Parents
Should the state be able to take your kid away if he gets too fat?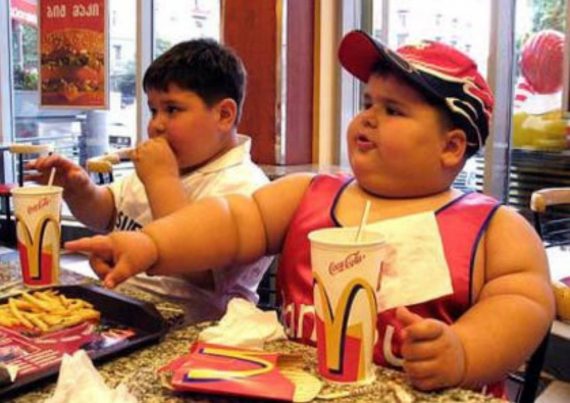 A group of Harvard University researchers are proposing that child welfare agencies be authorized to take severely obese children away from their parents:
As the Western world gets fatter and fatter, the solutions to slimming it down get ever more draconian. In Britain yesterday, the government issued guidelines saying "children under the age of 5, including babies who can't walk yet, should exercise every day." Today, in the States, a pair of Harvard scholars writing in the Journal of the American Medical Association advocate stripping away the custody rights of parents of super obese children. They're for real!

"Despite the discomfort posed by state intervention, it may sometimes be necessary to protect a child," said Lindsey Murtagh, a lawyer and researcher at Harvard's School of Public Health. The study's co-author, David Ludwig, says taking away peoples' children "ideally will support not just the child but the whole family, with the goal of reuniting child and family as soon as possible."
Dr. Ludwig in particular seems incredibly confident that letting the state intervene in the parent-child relationship in this manner, even to the point of terminating a parent's rights, would be the right thing to do:
State intervention "ideally will support not just the child but the whole family, with the goal of reuniting child and family as soon as possible. That may require instruction on parenting," said Ludwig, who wrote the article with Lindsey Murtagh, a lawyer and a researcher at Harvard's School of Public Health.

"Despite the discomfort posed by state intervention, it may sometimes be necessary to protect a child," Murtagh said.

(…)

Ludwig said he starting thinking about the issue after a 90-pound 3-year-old girl came to his obesity clinic several years ago. Her parents had physical disabilities, little money and difficulty controlling her weight. Last year, at age 12, she weighed 400 pounds and had developed diabetes, cholesterol problems, high blood pressure and sleep apnea.

"Out of medical concern, the state placed this girl in foster care, where she simply received three balanced meals a day and a snack or two and moderate physical activity," he said. After a year, she lost 130 pounds. Though she is still obese, her diabetes and apnea disappeared; she remains in foster care, he said.
Of course, the case that gave Ludwig this idea is unique in some respects. The parents physical disabilities and their financial situation are not situations that arise in every case, and arguably may have contributed to the eating habits that led to the girl being obese. Trying to apply this lesson to every case, though, strikes me as being an incredible overreach and, more important, an unwarranted intrusion on the personal liberties of parents and children.
For one thing, as bio-ethicist Dr. Arthur Caplan notes, this proposal goes far beyond the current state of the law when it comes to the circumstances under which children can be removed from their parents custody:
Our laws give enormous authority to parents and rightly so. The only basis for compelling medical treatment against a parent's wishes are if a child is at imminent risk of death — meaning days or hours — and a proven cure exists for what threatens to kill them. Obesity does not pass these requirements.

The risk of death from obesity is real, but it is way down the road for kids. There is no proven cure for obesity. The ability to treat a child with diet or a lifestyle change who does not want to be "treated" by strangers is a long shot at best. The number of kids involved — an estimated 2 million children with body-mass index above the 99th percentile — would quickly swamp already overwhelmed social service departments. And, no matter what you do with overweight children, sooner or later they are going back home where their often overweight parents will still be.
If childhood obesity, in and of itself, is sufficient justification to terminate parental rights, then what limits would there be to the state's power in this regard? Certainly they would far more wide ranging than they are now, and parents who make choices for their children that are presently protected by the law would suddenly find themselves subject to the fear of having their children taken away from them for not engaging in "approved" parenting. Certainly there's a place in the law for child welfare agencies that step in and act when children are being abused, or when they are being denied life-saving medical treatment. Parents have significant authority in raising their children but they don't have the right to abuse or endanger them in this manner. However, expanding things as far as Dr. Ludwig would like to would involve a massive expansion of state power over the family, and it would swamp an already overburdened child welfare system.
Finally, even if it were true that these eperts were right on some level, the fact that their recommendations would inevitably be abused is one of the main reasons it shouldn't be adopted:
The medical community is an increasingly popularvector for social agendas and state control of the individual. Norms about government control start narrow in theory — like "in the most extreme cases, some morbidly obese children facing imminent serious health consequences might be taken from their parents' homes if those parents refuse to address the health problems." In practice, though, the norms get broadened and twisted to justify social, political, and religious agendas, to increase government fiefdoms, and to wage cultural wars. The norms are implemented not by the knowledgeable professionals who envisioned them, but by bureaucrats of mixed capacity and motives under regrettable conditions. The result, amongst actual people, is inevitable: norms permitting limited state intervention into the lives of citizens are capriciously and maliciously applied, usually in a disproportionate fashion against the unpopular or the powerless. Moreover, when the state trains and equips to exercise power upon some justification, it tends to see that justification whether or not it exists. In our society, the natural and probable result of normalizing state custodial interference of extremely obese kids is not sparing application; the natural and probable result is abuse and misapplication.
Obviously, there are far too many children out there spending way too much time sitting in front of the television while eating fattening snacks and drinking sugary sodas. Stressed and busy parents often find it easier to just take the brood to McDonalds or order a pizza instead of making a healthy meal at home. In some cases, genetics and medical conditions make weight gain, which isn't unusual in children, a more severe and harder to control problem. None of these are issues that can be solved by a bureaucrat who intervenes into the family situation and takes away a child because their BMI is too high. In the meantime, the risks to individual liberty, parental authority, and family autonomy that a proposal like this creates far outweigh the problems created by obesity. You can find ways to lose weight, getting your freedom back is much harder.