Heather Armstrong, 1975-2023
The mommy blogger known as "Dooce" has taken her own life.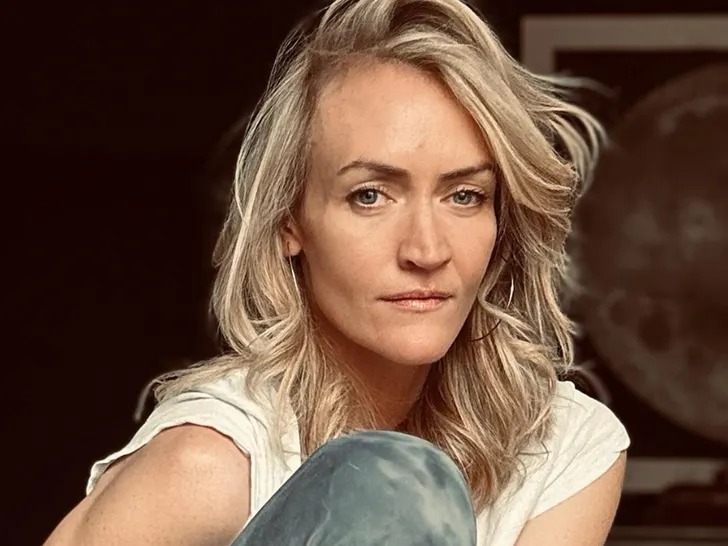 Associated Press, "Mommy blogger Heather Armstrong, known as Dooce to fans, dead at 47"
The pioneering mommy blogger Heather Armstrong, who laid bare her struggles as a parent and her battles with depression and alcoholism on her site Dooce.com and on social media, has died at 47.

Armstrong's boyfriend, Pete Ashdown, told The Associated Press that he found her Tuesday night at their Salt Lake City home.

She had two children with her former husband and business partner, Jon Armstrong, began Dooce in 2001 and built it into a lucrative career. She was one of the first and most popular mommy bloggers, writing frankly about her children, relationships and other challenges at a time that personal blogs were on the rise.

She parlayed her successes with the blog, on Instagram and elsewhere into book deals, putting out a memoir in 2009, "It Sucked and then I Cried: How I Had a Baby, a Breakdown and a Much Needed Margarita."

That year, Armstrong appeared on "The Oprah Winfrey Show" and was on the Forbes list of the most influential women in media.

In 2012, the Armstrongs announced they were separating. They divorced later that year. She began dating Ashdown, a former U.S. Senate candidate, nearly six years ago. They lived together with Armstrong's children, 19-year-old Leta and 13-year-old Marlo. He has three children from a previous marriage who spent time in their home as well.
New York Times, "Heather Armstrong, 'Queen of the Mommy Bloggers,' Is Dead at 47"
Heather Armstrong, the breakout star behind the website Dooce, who was hailed as the queen of the so-called mommy bloggers for giving millions of readers intimate daily glimpses of her odyssey through parenthood and marriage, as well as her harrowing struggles with depression, died on Tuesday at her home in Salt Lake City. She was 47.

[…]

Ms. Armstrong, who was born Heather Brooke Hamilton, was a lapsed Mormon raised in Bartlett, Tenn., a suburb of Memphis, and later based in Salt Lake City. She rose to prominence at the dawn of the personal blog craze of the early 2000s; her baptism in the field came after she graduated from Brigham Young University in 1997 and moved to Los Angeles, where she taught herself HTML code and took a job at a tech company.

She started Dooce in 2001, christening it, according to one version of the story, with the nickname she had earned after committing a typo writing the word "dude" in an AOL Instant Messenger chat with friends.

Early on, she mined her experiences as a tech drone for material — firing off tart salvos about the absurdities of start-up culture in the swelling dot-com bubble, publishing, say, bro-ish pronouncements overheard at a company Christmas party. ("Ruben, dude, you can't stand on the table. Or on the bar.")

A year later, her blog candor got her fired, an experience that inspired a popular internet phrase, "Dooced," referring to people who find themselves scanning job listings after posting ill-advised comments online. The term even found its way onto "Jeopardy!"

She felt guilty about the experience. "I cried in my exit interview," she recalled. "My boss, who served as the subject of some of my more vicious posts, sat across the table from me unable to look me in the face, she was so hurt. I had never felt like such a horrible human being, even though in my mind I thought that I was just being creative and funny."

But that career setback opened up vast opportunities for fortune and fame. In an era when countless people, women in particular, were starting personal blogs — often just for the pleasure of friends and family — Ms. Armstrong glimpsed commercial possibilities.

As the blogging boom approached its zenith in 2009, Ms. Armstrong was a blog powerhouse, appearing on "The Oprah Winfrey Show" and attracting some 8.5 million readers a month, according to a 2019 article in Vox, while tapping a gusher of income off banner ads, sponsored posts, books, speaking fees and other sources. The news media christened her "the queen of the mommy bloggers."

Along the way, the six-bedroom home on a cul-de-sac in Salt Lake City that she shared with her husband and business partner at the time, Jon Armstrong, and her two children functioned as a fishbowl for her cultishly devoted readers.

As noted in a 2011 profile by Lisa Belkin in The New York Times Magazine, Ms. Armstrong was the lone blogger featured that year on the Forbes list of the most influential women in media; she was ranked No. 26, one slot behind Tina Brown of The Daily Beast. The article quoted a sales representative for Federated Media, the company that sold ads on her site, who called Ms. Armstrong "one of our most successful bloggers," adding, "Our most successful bloggers can gross $1 million."

As Ms. Armstrong said in the Vox interview, "I looked at myself as someone who happened to be able to talk about parenthood in a way many women wanted to be able to but were afraid to."
I started blogging two years after Armstrong and was well aware of her, but wasn't by any means a regular reader. I only mentioned her twice, as best I can tell, in May 2003 and July 2008. The political blogosphere and the mommy blogs didn't intersect much.
Armstrong's blogging remained prolific through early last November and then abruptly stopped, with only a single post on April 6 after that. It was characteristically candid about her struggles but comes across as optimistic.
My condolences to her children and all who cared about her.