Lance Armstrong: Cheater, Liar
Lance Armstrong finally confessed something pretty much everyone assumed was true.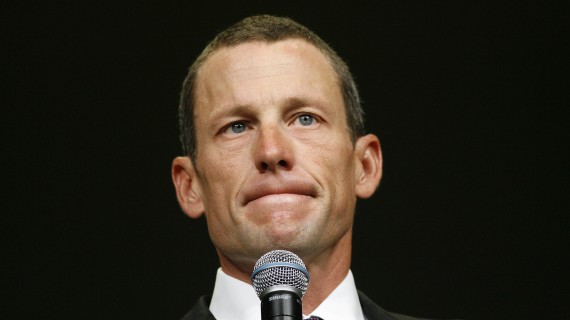 We won't see the interview until later this week, but Lance Armstrong has apparently admitted to Oprah Winfrey something most everyone has assumed was true for a while now:
In an interview with Oprah Winfrey that is scheduled for broadcast on her network on Thursday, Lance Armstrong confessed that he used performance-enhancing drugs during his cycling career, according to two people briefed on the interview, which was recorded Monday in Austin, Tex.

It is unclear, though, how forthcoming Armstrong was about his doping program, which the United States Anti-Doping Agency has said was part of the most sophisticated, organized and professional doping scheme in the history of sports. Armstrong, when reached by e-mail Monday, said he could not discuss the interview.

Acknowledging his doping past has cleared the way for Armstrong to take the next step in trying to mitigate his lifetime ban from Olympic sports. He is planning to testify against several powerful people in the sport of cycling who knew about his doping and possibly facilitated it, said several people with knowledge of the situation.

Armstrong, 41, is planning to testify against officials from the International Cycling Union, the worldwide governing body of cycling, about their involvement with doping in cycling, but he will not testify against other riders, according to the people familiar with his plans.

He is also in discussions with the United States Department of Justice to possibly testify in a federal whistle-blower case. That case involves the cycling team sponsored by the United States Postal Service, and Armstrong would testify against several of the team's owners, including the investment banker Thom Weisel, and other officials, one person close to the situation said. That person did not want his name published because the case is still open.

Floyd Landis, one of Armstrong's former teammates, filed the whistle-blower case in 2010 against Armstrong and other principals of the Postal Service team on which he and Armstrong competed together for several years. Landis claimed the team defrauded the government because its riders used performance-enhancing drugs in violation of its sponsorship contract.

Now Armstrong and possibly his longtime agent, Bill Stapleton, are seeking to repay several millions of dollars of the more than $30 million the Postal Service spent sponsoring the team, as part of their cooperation as witnesses in the case, said the person with knowledge of the matter. (CBS News first reported Armstrong was in talks to return money to the Postal Service.) The Department of Justice is considering whether to join the case as a plaintiff and is close to making that decision, the person said.

Armstrong, who for more than a decade vehemently denied doping, would be willing to testify against the cycling union officials and his former team's officials because he badly wants to compete in triathlons and running events again. Last fall, he was barred from many of those events because they are sanctioned by organizations that follow the World Anti-Doping Code, the rules under which he is serving his lifetime ban. Armstrong said that lifetime ban was unfair.

He met with United States Anti-Doping Agency officials, including Travis Tygart, the agency's chief executive, last month to discuss what he needed to do to mitigate his ban. Several people with knowledge of the discussions said Tygart would be willing to reduce Armstrong's punishment if Armstrong would testify against the people who helped him dope. That would possibly include Pat McQuaid, the president of the cycling union, and Hein Verbruggen, who was the cycling union's president from 1991 to 2005, a time when doping in the sport was rampant. Verbruggen, who is close with the International Olympic Committee president, Jacques Rogge, is also the cycling union's honorary president and an honorary member of the I.O.C.
Depending on the extent of his admissions, Armstrong may also be subjecting himself to years of civil litigation from sponsors and others who paid him prize money based on his Tour de France and other victories. As for criminal liability, I'd suspect that there would be serious statute of limitations problems with any offense he could be charged with here in the United States, and I'm not sure whether there might be any foreign criminal liability here. Additionally, Armstrong could face problems related to a liable suit he settled with a British tabloid that had accused him of doping several years ago as well as from the various associates and others around him who he targeted over the years as the denials about doping became more and more implausible.
As for Armstrong himself, there really isn't much to say. For an extended period of time he willfully and knowingly violated the rules of the sport he was participating in, lied about it, accepted money for victories he didn't fairly earn, and destroyed the careers of those who tried to tell the truth about what was going on in the sport of cycling. He clearly wasn't the only competitive cyclist that was engaged in these types of activities, but he was the most prominent and his behavior damages not only him but the entire sport he participated in. The fact that he's only coming clean now so he can get a reprieve and begin competing in triathlons again suggests that, as far as Armstrong is concerned, this is still all about him.