Henry Kissinger at 100
A rare man and a rare milestone.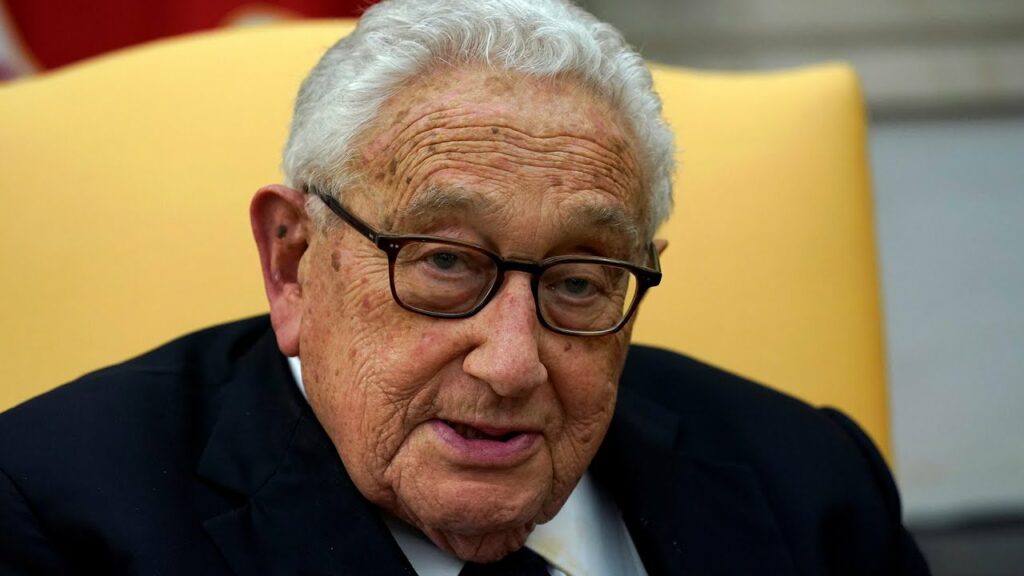 The most important, and certainly the most visible, American statesman of the second half of the 20th Century was born a century ago tomorrow. Tons of encomia and criticisms are pouring forth for the occasion, none of which I'm likely to post.
I was, however, amused by his son David's WaPo op-ed, "My father, Henry Kissinger, is turning 100. This is his guide to longevity."
On Saturday, my father, Henry Kissinger, celebrates his 100th birthday. This might have an air of inevitability for anyone familiar with his force of character and love of historical symbolism. Not only has he outlived most of his peers, eminent detractors and students, but he has also remained indefatigably active throughout his 90s.

Even the pandemic did not slow him down: Since 2020, he has completed two books and begun work on a third. He returned from the Bilderberg Conference in Lisbon earlier this week just in time to embark on a series of centennial celebrations that will take him from New York to London and finally to his hometown of Fürth, Germany.

My father's longevity is especially miraculous when one considers the health regimen he has followed throughout his adult life, which includes a diet heavy on bratwurst and Wiener schnitzel, a career of relentlessly stressful decision-making, and a love of sports purely as a spectator, never a participant.

How then to account for his enduring mental and physical vitality? He has an unquenchable curiosity that keeps him dynamically engaged with the world. His mind is a heat-seeking weapon that identifies and grapples with the existential challenges of the day. In the 1950s, the issue was the rise of nuclear weapons and their threat to humanity. About five years ago, as a promising young man of 95, my father became obsessed with the philosophical and practical implications of artificial intelligence.

As the Thanksgiving turkey was passed around in recent years, he would ruminate about the repercussions of this new technology, in ways that occasionally reminded his grandchildren of storylines in the Terminator films. While immersing himself in the technical aspects of AI with the intensity of an MIT grad student, he infused the debate over its uses with his singular philosophical and historical insight.

The other secret to my father's endurance is his sense of mission. Although he has been caricatured as a cold realist, he is anything but dispassionate. He believes deeply in such arcane concepts as patriotism, loyalty and bipartisanship. It pains him to see the nastiness in today's public discourse and the seeming collapse of the art of diplomacy.
There's a lot more in that vein but you get the idea.
Leaving aside Henry Kissinger's closeness to Richard Nixon, who certainly contributed to the nastiness in American politics, there's not much to disagree with here. Whatever one thinks of the justness of Kissinger's foreign policy positions, he's an incredibly energetic, curious, and prolific man even by the standards of Secretaries of State.
Further, there's an ever-increasing body of research showing that these habits contribute to not only longevity but mental health. While medical science hasn't yet figured out how to stave off dementia, there's strong evidence that regularly exercising the mind is helpful.
But here's the thing: Henry Kissinger will make it to 100 with his mind intact largely through factors outside his control. Most obviously, his genetics would seem to predispose him to longevity. From the "Early life and education" section of his Wiki:
Kissinger was born Heinz Alfred Kissinger on May 27, 1923, in Fürth, Bavaria, Germany, the son of homemaker Paula (née Stern; 1901–1998, from Leutershausen), and Louis Kissinger (1887–1982), a schoolteacher. He had a younger brother, businessman Walter (1924–2021)
His father lived to 95. His mother lived to 97. His only sibling lived to 96. One senses a pattern.
Absent an accident, shooting, or other unfortunate event, he was probably going to live well into his 90s.
And, no, we're not going to turn a lighthearted discussion of his longevity into diatribes over the Indochina war.