Herman Cain Is As Delusional As Ever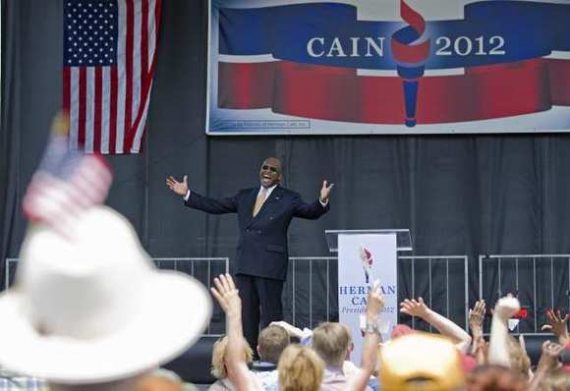 He claims he'd be leading in the polls if he were the GOP nominee:
The Herminator put on a show Thursday at the University of Florida

Former Republican presidential contender Herman Cain gave a rousing speech before a crowd of more than 300 at UF as part of his "College Truth Tour." A rock band opened the event and Cain closed his speech by singing "Believe in Yourself" from the movie "The Wiz."

Cain, the former CEO of Godfather's Pizza, hit the highlights of his upbringing and business career before giving his prescription for improving the economy. He focused on the tax code, energy and the national debt, while repeatedly bashing the mainstream media.

"Stupid people are ruining America, and we've got to take it back," he said.

Cain told members of the media after the speech that Republican presidential nominee Mitt Romney's recent "47 percent" comment was a "non-story" being blown out of proportion by the media. But Cain said he would have been doing better if he was the nominee, saying that he'd probably have a "substantial lead" on President Barack Obama at this point.

"The reason is quite simple: I have some depth to my ideas," he said.
Herman, your ideas involved repeating the number 9 three times. There was no depth.