Hillary Clinton Fires A Shot Across Biden's Bow Over Bin Laden Raid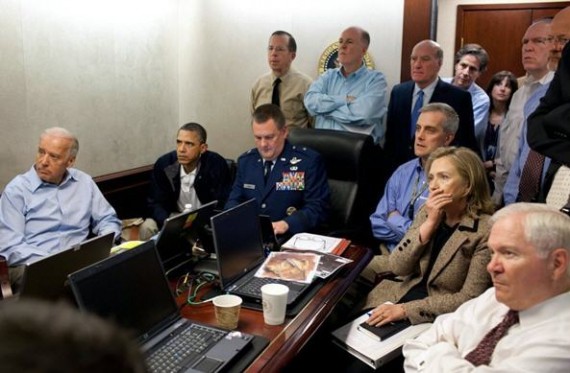 Now that she's out of Foggy Bottom and getting back into politics, Hillary Clinton is starting to reveal more and more about her intentions for 2016 such as recently when she's taken the opportunity make not of the fact that she and potential rival Vice-President Joe Biden disagreed about the raid against Osama bin Laden's compound:
Former U.S. secretary of state Hillary Clinton was in town today. A few Secret Squirrels, and some not so secret, agreed to be our sources, given that her speech to the National Association of Convenience Stores was encapsulated by a cone of silence. Convention officials banned all video and sound recording, social media, and naturally, journalists.

No ears reported any mention of whatever 2016 ambitions Clinton might have. But state Rep. Tom Taylor, R-Dunwoody, said the former first lady dropped a huge hint. "I know she's running for president now, because toward the end, she was asked about the Osama bin Laden raid. She took 25 minutes to answer," Taylor said. "Without turning the knife too deeply, she put it to [Vice President Joe] Biden."

Time and time again, Taylor said, Clinton mentioned the vice president's opposition to the raid, while characterizing herself and Leon Panetta, then director of the Central Intelligence Agency, as the action's most fierce advocates.
This comes from a report out of Atlanta, but as Politico notes, it's not the first time that Clinton has brought this issue up:
Clinton struck a similar theme at another recent speech before the Long Island Association, according to an attendee.

She was asked about bin Laden at that event as well, and in her telling, the attendee said, "She and the CIA director were for the attack, and Biden and the secretary of defense were against the attack."
It's a small matter, perhaps, but in some ways it is reminiscient of how Clinton herself was on the receiving end of a similar distinction n 2008 when then Senator Obama pointed out her support for the Iraq War when it initially came up for a vote in Congress, as well as at various times when supplemental funding bills were voted upon. Assuming Clinton and Biden both run, I wouldn't be surprised to see this theme come up again.