Hillary Clinton More Popular Than Barack Obama!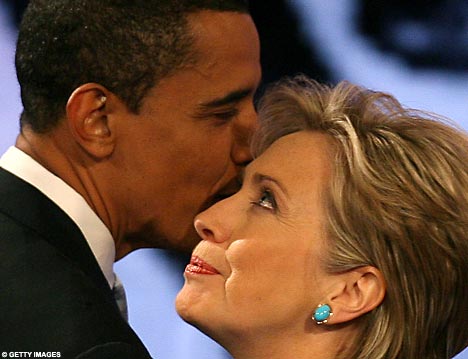 It is apparently a very slow news day.  How else does one explain Dana Milbank's long column explaining that Hillary Clinton is more popular than her boss?
By any measure — favorability ratings or job approval — Americans by a sizable margin have warmer views of the secretary of state than they do of the president. This is of little use to Clinton beyond bragging rights, but among Hillary '08 fans there is some satisfaction that the woman Obama once cut down as "likable enough" is now more liked than he is. Depending on the measure and the poll, she leads him by roughly 10 to 25 percentage points.

To understand why, look no further than their calendars for Monday. The president was in Alabama and Mississippi, trying again to change the public perception that his administration has been weak in its response to the oil spill. The secretary of state was in Washington receiving plaudits for being a "passionate leader" and for taking a "resolute and genuine" stand against human trafficking and slavery.
Okay . . . so it's easier to be popular by taking popular stands than being the chief executive during multiple crises?   Really?
Previous secretaries of state Colin Powell and Condoleezza Rice were both more popular than their boss, President George W. Bush. But such a trend is not universal: Warren Christopher didn't have ratings as high as his boss, President Bill Clinton.
Probably because Christopher was the most low-profile Secretary of State in my memory?   I was studying or teaching about foreign policy during Christopher's tenure and can't offhand recall much about him.   There was a lot going on during his four years, but he did most of his work behind the scenes.