Hillary Clinton To Enter Presidential Race This Weekend
To the surprise of few, Hillary Clinton is running for President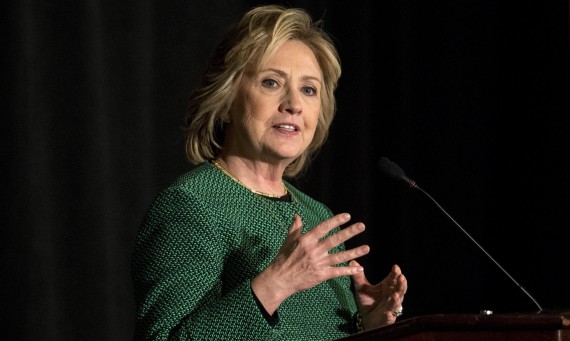 In what probably ranks as the least surprising political news in decades, Hillary Clinton is expected to announce her Presidential campaign this weekend, but it will be a far more low-key announcement than we've seen from other candidates:
Hillary Clinton will reportedly announce her 2016 White House run as soon as this Sunday.

She is expected to launch her campaign on social media, according to reports, before stopping over in the early-voting states of Iowa and New Hampshire

Clinton would be the first Democrat to declare for the 2016 presidential election, following the entrance of Republican contenders Rand Paul on Tuesday and Ted Cruz on March 23. Former Virginia Sen. Jim Webb and former Rhode Island Gov. Lincoln Chafee have launched exploratory committees for the Democratic nomination as well.

As previously reported by POLITICO last Friday, Clinton's campaign headquarters will be in Brooklyn Heights, New York. A lease was signed for the building, where the operation will take up two floors.

The New York Daily News first reported Clinton's potential announcement Thursday night.
Unlike Republicans Ted Cruz and Rand Paul, who are already in the race, and Marco Rubio, who is expected to announce on Monday, Clinton's decision to not launch her campaign via a high impact rally in front of an adoring crowd has garnered some notice from pundits this morning, but the choice is one that reflects both her status in the race as well as what clearly seem to be her own preferences as a candidate. Unlike these other candidates, Clinton does not necessarily need the press attention that would come with that kind of a campaign launch given the fact that she's been a fixture in American politics for some two decades now. Furthermore, to an even greater extent than in 2008, Clinton's standing in the polling for the Democratic nomination is so strong that many have observed it almost feels as though she's an incumbent running for re-election rather than just another candidate running for an open Presidential seat. Given these facts, and given that there are currently no other Democrats in the race, and no prospective Democrats that seem to be capable of posing a serious challenge to her over the coming year, a "soft" launch followed by on the ground campaigning in early primary states isn't necessarily a bad idea. It's also worth noting that Clinton launched her 2007 campaign in much the same manner, via a video posted on what became her campaign's website in January 2007. Many observers have suggested that this seems to reflect her own preference for smaller interactions with voters rather than the traditional big campaign rallies.
In any case, as I said, Clinton entering the race is probably the worst kept secret in American politics in quite some time. It's been something that she's clearly been building toward ever since leaving the State Department in January 2013, and is likely something that was figuring into her political plans long before that. As things stand right now, Clinton is the prohibitive favorite for the Democratic nomination, with current polling showing her with an average of 59.8% of the vote, and a 40 point lead over her closest polling rival, who happens to be a Senator from Massachusetts who won't be running for President to begin with. Absent a series of political mistakes on her part even worse than anything we saw in 2008, when she ran a campaign that did have some errors but nonetheless came very close to winning the Democratic nominations, or some other unforeseeable occurrence, it is incredibly unlikely that anyone other than Hillary Clinton will be the Democratic nominee for President in 2016. On the general election side, Clinton continues to maintain a lead over the respective Republican candidates, although that lead has tightened somewhat in many states over the past couple months. However, it is still far too early to say that those General Election polls have any actual predictive value. If 2016 is like the four Presidential elections that preceded it, though, and there's no reason to believe that it won't, then it's safe to say that it will likely end up being a closely fought election in which the Democrats will continue to maintain an advantage in the Electoral College. It's still possible for a Republican to win in 2016, of course, but if it happens it's likely to be by a very narrow margin. Because of that, at least at the moment, Clinton's path to the White House must be looking pretty good to her at the moment