Hillary Clinton Wins Final Democratic Primary, Meets With Bernie Sanders
Hillary Clinton easily won the final contest of the 2016 primary season, and the Clinton-Sanders reconciliation dance began.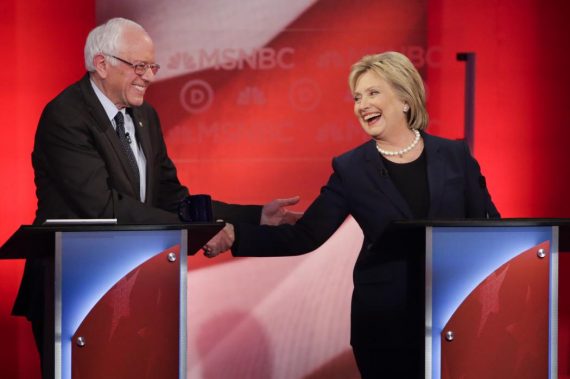 Not surprisingly, Hillary Clinton easily won the Democratic Primary in the District of Columbia yesterday, but the big news of the evening was her meeting with rival Bernie Sanders as the two begin the delicate dance that will eventually lead to Sanders formally endorsing Clinton for President:
Hillary Clinton, the presumptive Democratic presidential nominee, met behind closed doors for more than 90 minutes Tuesday night with her primary rival Bernie Sanders, who signaled earlier in the day that he was not ready to endorse her.

The meeting — which both campaigns characterized as "positive" in statements issued afterward — came on the heels of the final Democratic primary in the District. Clinton easily defeated Sanders. With all precincts reporting, she led the senator from Vermont by more than 3½ to 1.

Clinton's campaign said the meeting with Sanders focused on "a variety of progressive issues where they share common goals" and said the two "agreed to continue working on their shared agenda."

Shortly before 10:30 p.m., both Clinton and Sanders left the meeting at the Capital Hilton, not far from the White House, without speaking to reporters.

The meeting took place just a few hours after a news conference in Washington at which Sanders declined to endorse Clinton and said that he would continue to push for a "fundamental transformation" of the Democratic Party up until its convention next month in Philadelphia.

"The American people are hurting, and they are hurting badly," Sanders said outside his Washington campaign office near Capitol Hill. "They want real change, not the same old, same old."

In his news conference, Sanders ticked off several policy priorities and political changes he would like to see, including new leadership at the Democratic National Committee, which he said has not focused enough on bringing new voters into the party.

Both campaigns indicated that several of the policy issues important to Sanders came up in Tuesday night's meeting.

Though Sanders has not officially bowed out of the race, his focus in recent days has shifted from pursuing a long-shot strategy to wrest the nomination from Clinton to finding ways to advance the agenda he has championed.

Sanders has made clear that he wants to leverage his unexpectedly strong showing in the primaries to advance his priorities in the Democratic platform and in the party's future legislative agenda. Sanders has staked out positions to the left of Clinton on a series of issues, including his stances on providing universal health care, raising the minimum wage to $15 an hour and offering tuition-free college.
The New York Times has more:
With little affection or trust between them, Hillary Clinton and Senator Bernie Sanders met privately on Tuesday night to size each other up as they started exploring what kind of alliance they might build for the general election battle against Donald J. Trump.

Neither Democrat entered the meeting on sure footing, and both were a little tense, advisers in each camp said beforehand.

Mrs. Clinton, who became the presumptive Democratic presidential nominee last week, wanted to know what it would take to earn Mr. Sanders's endorsement and whether he would seek policy concessions or political promises, her advisers said. Mr. Sanders wanted to gauge the depth of Mrs. Clinton's commitment to progressive goals like a higher minimum wage and lower financial burdens on college students, and to making the Democratic nomination process more open in the future.

The chemistry between the two candidates was strained, in part, because Mrs. Clinton and Mr. Sanders had not had any real chances to air grievances or blow off steam with each other away from the television cameras during their 14-month fight for the nomination.

Mrs. Clinton had a few such moments with Barack Obama in 2008 before they sat down for their own post-nomination tête-à-tête, which made it a little easier for them to come together, unite the Democratic Party and win that November.

In a sign that they are still adjusting to each other, Mrs. Clinton and Mr. Sanders were joined in their meeting by Jane Sanders, Mr. Sanders's wife; Jeff Weaver, his campaign manager; John D. Podesta, Mrs. Clinton's campaign chairman; and Robby Mook, her campaign manager.

Two advisers to Mr. Sanders described him as concerned that Mrs. Clinton might say all the right things now but embrace more politically moderate positions later if she thinks it necessary to win states like Florida, Ohio and Virginia.

The advisers, who spoke on the condition of anonymity because the campaign had not authorized them to speak, said Mr. Sanders felt no pressure to endorse Mrs. Clinton quickly. He wants her to take steps to win his confidence in the five and a half weeks before the Democratic convention, where his voters and delegates expect him to speak and Clinton advisers hope he will give a full-throated speech backing her.

Mr. Sanders has leverage: He accrued about 12 million votes and 1,877 delegates, and in a New York Times/CBS News poll last month, 28 percent of his supporters said they would not vote for Mrs. Clinton if she was the Democratic nominee. Mrs. Clinton picked up nearly 16 million votes and 2,784 delegates.

Whether Mr. Sanders endorses her enthusiastically and campaigns for her, or recognizes her as the nominee but otherwise withholds his blessing, is a significant concern for some Clinton advisers. Others in her campaign think that Democrats will ultimately unite because the possibility of a Trump victory is too great to ignore.

Setting the stage for their meeting, Mr. Sanders used a news conference here Tuesday afternoon to call for replacing the leaders of the Democratic National Committee, eliminating the role of superdelegates in the party's nomination process, and allowing independents and last-minute registrants to vote in all Democratic primaries. His campaign has long viewed the head of the committee, Representative Debbie Wasserman Schultz of Florida, as a Clinton ally who orchestrated the debate schedule and made other decisions to benefit Mrs. Clinton.

"I think the time is now — in fact, the time is long overdue — for a fundamental transformation of the Democratic Party," Mr. Sanders said at the news conference. "We need a party which is prepared to stand up for the disappearing middle class, for the 47 million people in this country who are living in poverty, and take on the greed of the powerful special interests that are doing so much harm to this country."
In the end, Clinton finishes the 2016 race with an advantage over Sanders in pledged delegates of 2,219 to 1,832, a margin of 387 delegates that expands significantly once you include the 630 Superdelegates up for grabs this year in the Democratic Party. Clinton's overwhelming advantage among that group gives her 2,800 delegates already, more than enough to clinch the nomination on the first ballot, while Sanders has 1,881 delegates, in the end nearly 1,000 delegates short of what he would have needed to win the nomination. Clinton also ended the four month primary season with an advantage of more than 3.7 million popular votes over Sanders. In the end, then, the race between Clinton wasn't as close as some of the events of the past four months might have led people to believe. Sure, Sanders arguably did much better against a candidate whose victory seemed foreordained long before she entered the race, and Clinton didn't help herself with the mistakes she made at various points during the race, but in the end Clinton achieved the victory she was expected to achieve and that's really all that matters. Sanders put up a good fight, but the final numbers show that the 2016 race was nothing like the 2008 race between Clinton and President Obama, when the end of the race saw Obama end the race with a 333 delegate advantage over Clinton, including Superdelegates, and Clinton appeared by some accounts to actually have received more popular votes over the course of the campaign than the  eventual nominee. As I've said before, were it not for the Democratic Party's requirement that all states award their delegates proportionally, Clinton would have clinched the nomination far earlier than she did and the race would not appear to have been even as close as it does now.
As for the reconciliation with Sanders, it will come eventually. Sanders may be an outsider in Washington, but he's smart enough to know that he's not going to be able have any influence either at the Democratic National Convention or beyond if he doesn't get on board with the Clinton campaign, enthusiastically endorse her, and do whatever he can to rally his supporters behind Hillary Clinton, even if it is only in the name of ensuring that Donald Trump is defeated in November. Sure, Sanders will try to extract a price for all of that, and the fact that he did as well as he did, and persisted in drawing large crowds and attracting younger voters even after it was apparent that he was not going to win the nomination means that he can't simply be ignored or dismissed, but in the end Sanders needs Clinton to achieve his goals as much as Clinton needs Sanders to shore up her support among the voters that were attracted to his campaign.
In many ways, the current situation isn't all that much unlike the one that existed at the end of the Obama-Clinton race eight years ago. Back then, Obama needed Clinton's help to unify a party that had been divided by the most hotly contested primary fight since Ted Kennedy took on President Jimmy Carter twenty-eight years earlier, but Clinton also needed Obama to some extent since it was obvious that it would be hard for her to launch a comeback bid in 2012 (if Obama had lost the 2008 election to John McCain) or 2016 if there was a perception that she had undermined Obama's campaign or withheld support in a way that damaged him in the general election. Indeed it took Clinton several days after the last primary to formally endorse Obama, after which the two appeared at a unity rally in New Hampshire. One suspects that we'll see something similar from Sanders, although given how he has approached this race it may take him more than a few days to come around to formally endorsing Clinton. In any case, that endorsement will come eventually precisely because it is in the interest of both parties.