Hitchens on 'Topic of Cancer'
Christopher Hitchens takes us through this initial weeks with cancer with brutal introspection and wry humor.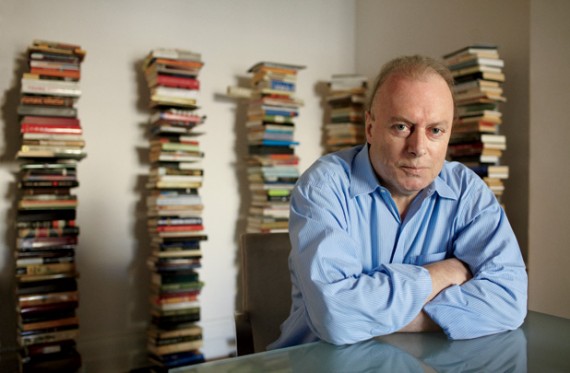 Christopher Hitchens takes us through this initial weeks with cancer with brutal introspection and wry humor.
The word "metastasized" was the one in the report that first caught my eye, and ear. The alien had colonized a bit of my lung as well as quite a bit of my lymph node. And its original base of operations was located—had been located for quite some time—in my esophagus. My father had died, and very swiftly, too, of cancer of the esophagus. He was 79. I am 61. In whatever kind of a "race" life may be, I have very abruptly become a finalist.

[…]

I have been taunting the Reaper into taking a free scythe in my direction and have now succumbed to something so predictable and banal that it bores even me. Rage would be beside the point for the same reason. Instead, I am badly oppressed by a gnawing sense of waste. I had real plans for my next decade and felt I'd worked hard enough to earn it. Will I really not live to see my children married? To watch the World Trade Center rise again? To read—if not indeed write—the obituaries of elderly villains like Henry Kissinger and Joseph Ratzinger? But I understand this sort of non-thinking for what it is: sentimentality and self-pity. Of course my book hit the best-seller list on the day that I received the grimmest of news bulletins, and for that matter the last flight I took as a healthy-feeling person (to a fine, big audience at the Chicago Book Fair) was the one that made me a million-miler on United Airlines, with a lifetime of free upgrades to look forward to. But irony is my business and I just can't see any ironies here: would it be less poignant to get cancer on the day that my memoirs were remaindered as a box-office turkey, or that I was bounced from a coach-class flight and left on the tarmac? To the dumb question "Why me?" the cosmos barely bothers to return the reply: Why not?

[…]

I was fairly reconciled to the loss of my hair, which began to come out in the shower in the first two weeks of treatment, and which I saved in a plastic bag so that it could help fill a floating dam in the Gulf of Mexico. But I wasn't quite prepared for the way that my razorblade would suddenly go slipping pointlessly down my face, meeting no stubble. Or for the way that my newly smooth upper lip would begin to look as if it had undergone electrolysis, causing me to look a bit too much like somebody's maiden auntie. (The chest hair that was once the toast of two continents hasn't yet wilted, but so much of it was shaved off for various hospital incisions that it's a rather patchy affair.) I feel upsettingly de-natured. If Penélope Cruz were one of my nurses, I wouldn't even notice. In the war against Thanatos, if we must term it a war, the immediate loss of Eros is a huge initial sacrifice.

These are my first raw reactions to being stricken. I am quietly resolved to resist bodily as best I can, even if only passively, and to seek the most advanced advice. My heart and blood pressure and many other registers are now strong again: indeed, it occurs to me that if I didn't have such a stout constitution I might have led a much healthier life thus far. Against me is the blind, emotionless alien, cheered on by some who have long wished me ill. But on the side of my continued life is a group of brilliant and selfless physicians plus an astonishing number of prayer groups. On both of these I hope to write next time if—as my father invariably said—I am spared.
We can only hope he is.