Hosni Mubarak Pleases Nobody, And Probably Fans The Flames Of Protest
Egyptian President Hosni Mubarak's speech to the nation tonight seems destined to make the situation worse.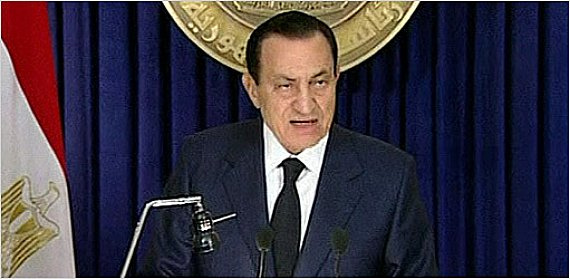 President Hosni Mubarak announced he wouldn't seek re-election in September in a speech that seems to have pleased nobody:
CAIRO — President Hosni Mubarak announced that he would not run for another term in elections scheduled for the fall, appearing on state television to promise an orderly transition but saying he would serve out his term. In comments translated by CNN, he swore that he would never leave Egypt but would "die on its soil."

Television cameras showed the vast crowds gathered in Tahrir Square in central Cairo roaring, but not necessarily in approval. The protesters have made the president's immediate and unconditional resignation a bedrock demand of their movement, and it did not appear that the concession mollified them. Reports said that thousands of protesters in Cairo's Tahrir Square chanted "Leave! Leave!" after the speech.

Mr. Mubarak's announcement came after President Obama urged him not to run, effectively withdrawing America's support for its closest Arab ally, according to American diplomats in Cairo and Washington.

The message was delivered by Frank G. Wisner, a seasoned envoy with deep ties to Egypt, the American diplomats said. Mr. Wisner's message, they said, was not a blunt demand for Mr. Mubarak to step aside now, but rather firm counsel that he should make way for a reform process that would culminate in free and fair elections in September to elect a new Egyptian leader.

This back channel message, authorized directly by Mr. Obama, appeared to tip the administration beyond the delicate balancing act it has performed in the last week — resisting calls for Mr. Mubarak to step down, even as it has called for an "orderly transition" to a more politically open Egypt.

It was not clear whether the administration favored Mr. Mubarak's turning over the reins to a transitional government, composed of leaders of the opposition movement and perhaps under the leadership of Mohamed ElBaradei, or to a caretaker government led by members of the existing government, including the newly appointed vice president, Omar Suleiman.

The decision to nudge Mr. Mubarak in the direction of leaving is a critical step for the United States in defining its dealings not just with its most critical ally in the Arab world, but also with the rising swell of popular anger on the streets of Cairo and in countries like Jordan, Yemen, Algeria and Tunisia.
The reaction from the street was immediate, and emphatic:
It will not carry much weight with protesters: they resumed their "Leave, Mubarak!" chant shortly after his speech, and added a few new slogans, like "we won't leave tomorrow, we won't leave Thursday …"

Indeed, none of the protesters interviewed earlier today said they would accept Mubarak finishing his term in office.

"He needs to leave now," Hassan Moussa said in Tahrir Square hours before Mubarak's announcement.

"We won't accept him leaving in September, or handing power to [newly-installed vice president] Omar Suleiman. He needs to leave now."

So the protests continue to feel like a waiting game – as if Mubarak is hoping to simply outlast the crowds amassed downtown.

"When the people of a nation decide something, then it will happen," said Abdullah Said Ahmed, a student from Al-Azhar University.

"The United States chooses its leaders. We're going to choose ours. Our patience can do anything."

"I'll stay here until I die or until the system changes," said Saber Shanan.
12:15am Al Jazeera correspondent in the midst of Tahrir Square in Cairo, says that protesters are furious after Mubarak's "audacious" speech. He adds that the protesters are insisting that the army remove Mubarak from power.

Where is the Egyptian army? Where is the Egyptian army?
If Mubarak thought this speech would placate the crowd, it's already apparent that he was wrong.