House Oversight Committee May Delay Contempt Finding Against Holder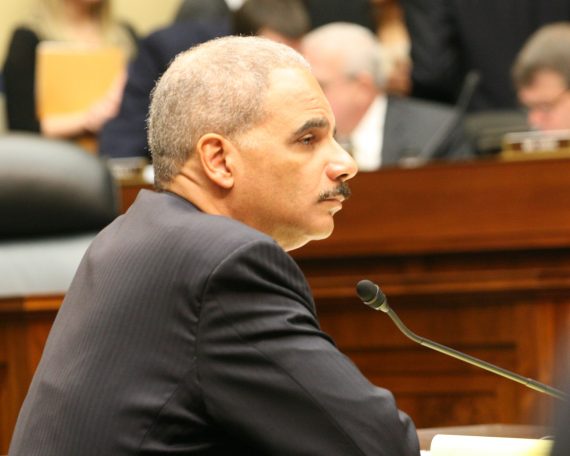 It would appear that the House Oversight Committee and Attorney General Eric Holder are in the process of resolving at least part of the dispute between them regarding document producing in the Fast & Furious investigation:
Rep. Darrell Issa offered Friday to postpone a contempt vote against Attorney General Eric Holder in exchange for specific documents about the Fast and Furious gun-walking operation.

In a two-page letter to Holder, the Oversight Committee chairman wrote that his staff met with the Justice Department on Thursday to figure out which documents would be released.

"While I do have substantial concerns that these documents may not be sufficient to allow the Committee to complete its investigation, delivery of these documents to the Committee before the scheduled consideration of contempt [on Wednesday] would be sufficient to justify the postponement of the proceeding," wrote Issa.

"I am prepared to announce this delay once the Department produces these documents," he added.

Issa also said that he and Sen. Chuck Grassley, chair of the Senate Judiciary Committee, would be willing to meet with Holder as soon as Tuesday to discuss the Fast and Furious investigation.

The Justice Department did not immediately agree to Issa's terms, but a spokesperson said that the DOJ "look[s] forward to a productive session" next week.

"We are pleased that Chairman Issa has agreed to our request to meet next week and we look forward to a productive session. It is in the best interest of all parties to bring this matter to a final resolution by avoiding a confrontation that involves contempt and we believe that the provision of documents must be part of an agreement that brings this matter to a close. We trust that Chairman Issa shares our interest in doing so and will work with us in a productive and good faith manner to achieve that end," Justice Department spokesperson Tracy Schmaler told POLITICO.
There remains much to be worked out, of course, but this would seem to indicate that the parties are at least talking and on the road to a resolution. As I noted before, this is usually the manner in which these kinds of disputes between Congress and the Executive Branch are resolved, it's just interesting to see that the old ways still  seem to work in a Washington that has become increasingly hyperpartisan.