House Oversight Committee To Vote On Holder Contempt Citation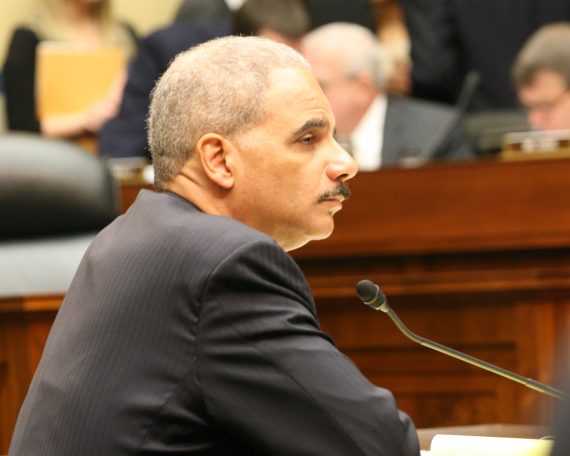 The long simmering dispute between Attorney General Eric Holder and the House Committee investigating how the BATF's "Fast and Furious" operation allowed guns to end up in the hands of Mexican drug lords (I previously wrote about Fast & Furious here, here, and here) is about to reach a full boil:
The House Oversight and Government Reform Committee is scheduled to to vote next week to hold Attorney General Eric H. Holder Jr. in contempt of Congress for refusing to provide information tied to an ongoing investigation into the Justice Department's "Fast and Furious" gunwalking investigation.

In a statement, Committee Chairman Darrell Issa (R-Calif.) said Holder "has failed to meet his legal obligations" by failing to provide documents and other information requested in a congressional subpoena issued last October as part of his committee's investigation into the scandal.

"If the Attorney General decides to produce these subpoenaed documents, I am confident we can reach agreement on other materials and render the process of contempt unnecessary," Issa said.

The move was first reported by CBS News, which noted that the contempt vote would be just the fourth time in the past three decades that Congress has launched contempt action against an Executive Branch official.
The Justice Department has apparently handed over some 7600 pages of documents to the Committee, but Members have insisted all along that the department is withholding relevant documents responsive to committee subpoenas. and the matter came to a head last week during an especially contentious hearing that Holder attended as witness:
Republican lawmakers clashed with Attorney General Eric H. Holder Jr. on Thursday over Justice Department efforts to block voter-ID laws in several Southern states during this election year.

Lawmakers on the House Judiciary Committee also grilled Holder over the botched "Fast and Furious" operation, in which federal agents in Arizona allowed suspected arms traffickers to buy more than 2,000 guns in order to track them to a Mexican drug cartel.

Rep. Darrell Issa (R-Calif.) slammed onto the dais court-sealed wiretap applications in the case, which he said he had received from whistleblowers. He claimed that they showed that senior Justice Department officials learned about the operation earlier than they had acknowledged.

"Have you and your attorneys produced internally the materials responsive to the subpoenas?" Issa asked.

"We believe that we have responded to the subpoenas," Holder replied.

"No, Mr. Attorney General, you're not a good witness!" Issa shouted. "A good witness answers the question asked."

One by one, Republicans hammered Holder, and Democratic members of Congress came to his defense. The attorney general, who has appeared before Congress eight times in the past year, pushed back several times. When Rep. Jason Chaffetz (R-Utah) insisted that an e-mail written by a deputy assistant attorney general referred to the "gun walking" tactics used in Fast and Furious, Holder maintained it did not.

"I have superior knowledge," Holder shot back.
This wouldn't be the first time that a Congressional Committee has taken steps to pursue contempt charges against a cabinet official. However, in all the previous cases the dispute between Congress and the Executive Branch ended up getting resolved prior to the contempt trigger being pulled. Given how contentious the relationship between Holder and the House has become over this investigation, and the Justice Department's reluctance to turn over all the documents requested, though, one wonders if that will happen this time. If the Committee does vote to cite Holder for contempt, then the matter goes on to the full House. If the House approves, then the matter would be referred to the U.S. Attorney for the District of Columbia. A criminal contempt charge under Federal Law carries with it a minimum of 1 month and a maximum of one year in jail, and a fine between $100 and $1,000.
The vote itself is scheduled for June 20th, and it seems likely to be one that will be completely down party lines, which is unfortunate given that refusal to comply with a Congressional subpoena strikes me as something that Committee members should be concerned about regardless of party affiliation.