House Republicans Back Indefinite Detention On U.S. Soil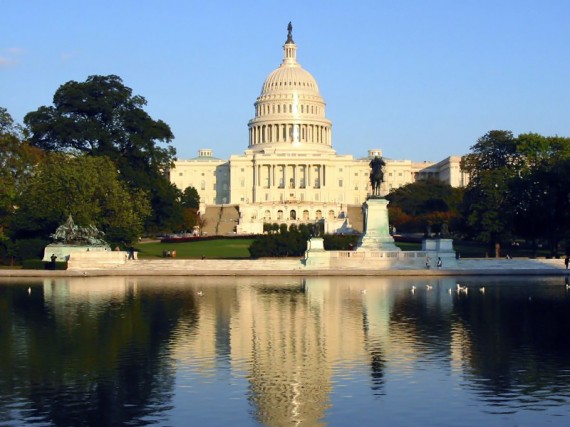 House Republicans yesterday rejected an effort to limit the authority of the President, military, and law enforcement to indefinitely detain terror suspects captured on United States soil:
In two votes Friday morning, the House backed the president's powers to indefinitely detain terror suspects captured on U.S. soil.

Lawmakers rejected an amendment that would have barred military detention for terror suspects captured in the United States on a 182-231 vote, beating back the proposal from a coalition of liberal Democrats and libertarian-leaning Republicans led by Reps. Adam Smith (D-Wash.) and Justin Amash (R-Mich.).

Instead, the House passed, by a vote of 243-173, an amendment to the National Defense Authorization Act (NDAA) sponsored by Reps. Louie Gohmert (R-Texas), Jeff Landry (R-La.) and Scott Rigell (R-Va.) that affirmed U.S. citizens would not be denied habeas corpus rights.

Smith and Amash had hoped to attract enough support from libertarian-leaning Republicans to pass their measure, but only 19 Republicans voted for it, while 19 Democrats voted against.

The detainee fight is shaping up to be one of the biggest for this year's $643 billion defense authorization bill. The issue nearly derailed passage of last year's version.

Smith's amendment would have changed last year's defense authorization legislation and the 2001 Authorization for Use of Military Force (AUMF) so that terror suspects captured on U.S. soil would be handled by civilian courts, not the military.

Smith argued that indefinite detention gave the president an "extraordinary" amount of power, and said the federal courts have successfully prosecuted hundreds of terrorists since the Sept. 11 attacks.

Smith and his allies said Gohmert's amendment was redundant, since it affirms what is already true — that American citizens have habeas corpus rights.

Gohmert's amendment was "offered as a smokescreen," Smith said.

"It doesn't protect any rights whatsoever," he said.

But supporters of indefinite detention suggested that the Smith-Amash amendment would incentivize terrorists to come to the United States, because they would receive more rights on U.S. soil than outside the country.

Gohmert suggested at one point that terrorists "supported" Smith's amendment.

"We cannot look to guarantee those who seek to harm the U.S. the constitutional rights granted to Americans," said Rep. Allen West (R-Fla.). "If we extend that to them, this war on terror, now it's a criminal action."

Like the detainee issue last year, the debate in the wee hours of Friday morning saw the two sides often talking past one another.

Both sides have claimed the Constitution and the courts are on their side, but legal experts say the federal courts have yet to take a firm position about terror suspects on U.S. soil being detained indefinitely.
Adam Serwer comments:
This time around, the line is absolutely clear. Smith and Amash proposed that the government actually has to prove you're guilty of a crime before depriving you of your liberty, something that the founding fathers found significant enough to write into the Constitution. Their opponents want the government to have the power to lock up American citizens without ever convicting them of anything, just because it says someone is a terrorist. Their proposal went down by a vote of 182-231, with only a handful of Republicans joining Amash in support.

As Smith pointed out during yesterday's floor debate, the Fifth Amendment says no "person" shall be deprived of liberty without due process of law. It doesn't say "citizen," and the text of the Constitution uses both words enough that it's clear the framers understood the difference. "Your beef is with James Madison," Smith told Thornberry on Thursday. So keep in mind, when Republicans like Rooney say that Smith and Amash want to "coddle terrorists," they're not necessarily talking about some heavily armed Al Qaeda fighter in Kandahar. They're potentially talking about you.

(…)

If nothing else however, it's illuminating to watch "small-government" Republicans—who have spent the last three years lamenting the loss of freedom caused by a higher marginal tax rate or the regulation of derivatives—defend the most arbitrary big government power imaginable.
Indeed. The fact that Amash was only one of 19 Republicans to vote against this monstrosity is quite telling, isn't it?