House Science Committee Has Investigated Aliens More Than It Has Investigated Climate Change
Not much science from the Congressional Committees devoted to science.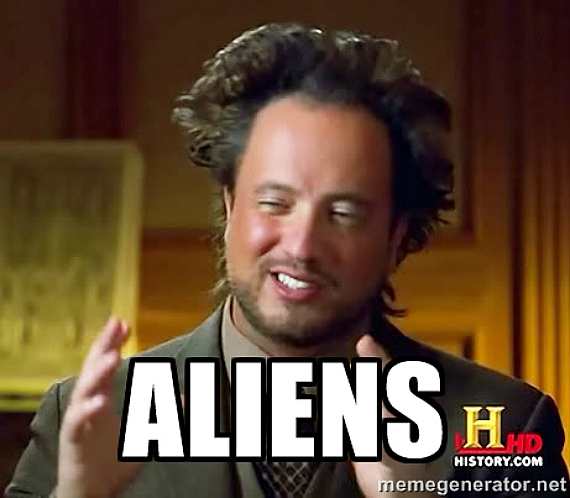 The House Science Committee has some very odd priorities:
Congress is fascinated by the search for intelligent life on other planets. Apparently, they've given up the search at home.

In this session of Congress, House committees tasked with covering U.S. energy and science have held a total of seven hearings to discuss climate change. By contrast, the two chambers have held a combined 19 hearings about space exploration in that same time period.

The House Science, Space, and Technology Committee—led by Rep. Lamar Smith, R-Texas, since 2013—has held 15 hearings on space exploration alone, at least three of which have involved the search for extraterrestrial life. By comparison, Smith's committee has held just two hearings devoted to climate change.

The Democrat-controlled Senate doesn't have a much better record. The Senate Environment and Public Works Committee has held three hearings this session on climate change, while the Senate Energy and Natural Resources Committee has not had a hearing devoted to the topic since 2012. The Senate Commerce Science and Space Subcommittee has had one hearing about climate change and four about space.

On the House side, the House Energy and Commerce Committee hosted one solitary hearing about climate change, and the House Natural Resources Committee has not had a hearing on climate change in the 113th Congress.

In a House Science Committee hearing Wednesday, Seth Shostak, an American astronomer, defended the notion that the search for alien life is worthwhile. He pointed out that NASA's Kepler mission has found there are trillion of planets in our galaxy, including many planets that could hypothetically support life.

"It's very easy to make fun of this," Shostak said. "On the other hand, it would have been very easy to make fun of Ferdinand Magellan's idea to sail around the earth, or Captain Cook to map the South Pacific."

And make fun of it the committee members did. Rep. Bill Johnson, R-Ohio, joked that extraterrestrial societies may be actively avoiding contact with earthlings. "Maybe they've got their caller ID turned on or something," Johnson said.

Rep. Chris Collins, R-New York, joined the fun. "I'm going to ask what everyone in the room wants to ask. Have you watched Ancient Aliens, and what do you think of that series?" he asked. "I think I've been on that program," Shostak replied.

But committee Chairman Lamar Smith took the issue very seriously, pressing the panelists on how likely it is that there's intelligent life on other planets. He was pleased with their response: nearly 100 percent.

While Smith may support the search for extraterrestrial life, he's much less sympathetic about the cause of climate change on this planet. Last year, Smith wrote a column in The Washington Post casting doubt on the idea that global warming is caused by human energy use.

"Climate change is an issue that needs to be discussed thoughtfully and objectively," Smith wrote. "Contrary to the claims of those who want to strictly regulate carbon dioxide emissions and increase the cost of energy for all Americans, there is a great amount of uncertainty associated with climate science."
There's not necessarily anything wrong with the relevant House Committee holding hearings regarding the Kepler program and other aspects of NASA's search for planetary bodies outside the Solar System which could ultimately lead to signs of life somewhere other than Earth. It's a worthwhile scientific endeavor and, along with other aspects of the unmanned exploratory projects that have continued notwithstanding the end of the Shuttle program, one of the most cost effective and successful parts of NASA's entire legacy. As the body responsible for appropriating money for these projects, Congress should hold hearings to evaluate the effectiveness of the programs for which NASA is requesting additional funding. Indeed, I'd suggest that the jokes that some members of the Committee decided to share during one of these hearings were just a little inappropriate. Little green men aside, there's serious and important science going on here and Congress should treat it with respect.
At the same time, though, one would think that committees devoted to science would hold hearings about one of the most debated and potentially important areas of science we are currently facing. However one feels about the science of climate change, and most conservatives have made their feelings on that issue very well known, it strikes me that the potential problems that the United States and the rest of the world could be facing in the coming decades are something that Congress ought to concern itself with enough to at least hold a couple hearings a year on, if not more. Whether it's rising sea leaves, drought, increasingly stronger storms at various times of the year, or any of the other number of consequences that climate scientists have pointed to as being in our future, are these things not important enough to merit Congressional attention? If conservatives believe that the "consensus" science is flawed in some way, then they can bring in qualified scientists to present evidence to rebut the prevailing theories, assuming that they can find such people. To take no action at all, though? That's quite simply a dereliction of duty.
Democrats don't get off the hook here either, of course. They control the Senate and, as noted above, they have not exactly made it an effort to publicize this issue either. I make no claims to be an expert on the science of climate change, but it strikes me that someday we're going to regret not paying more attention to issues like this when we could have. Of course, that's true of many, many things that we or our descendants will ultimately end up paying the price for someday.