How Conservatives Have Moved The Goalposts On Same-Sex Marriage
When it comes to same-sex marriage, the right is fighting a losing battle.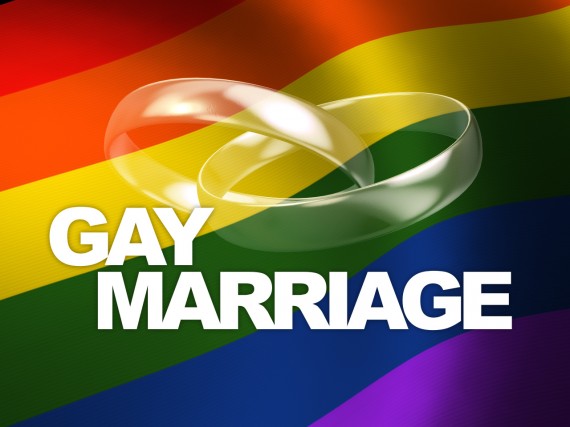 Commenting on Chris Christie's decision to veto New Jersey's same -sex marriage bill in favor of a referendum and the news that there will likely be a referendum to overturn the imminent legalization of gay marriage in Maryland, Andrew Sullivan makes an excellent point about how conservatives have manged to move the goalposts on same-sex marriage even as they continue to lose ground:
[W]hen we first started this push for marriage equality 23 years ago or so, we were told this was an interesting if obviously nuts idea. But the opposition was adamant about one thing: the courts had nothing whatever to do with ensuring minority rights, if that minority were gay. Going the court route was undemocratic. I remember being lectured on this by the Congressional Committee in the DOMA hearings in 1996.

And I saw their point at the time when public opinion was so hostile. I was always more leery of the court strategy than my friend and ally in the fledgling movement, Evan Wolfson, at the time. I didn't want a Roe-style over-reach. I thought that public education and state legislative debate was the right way forward. If in the end, the courts reacted to a shift in public opinion, and we won the constitutional and legal arguments, great. But I thought state legislatures were the main way to go.

So we did. And guess what? They moved the goalposts on us. When we actually began to win in state legislatures, such as California (twice!), or New Hampshire, or now Maryland and New Jersey and Washington State, that process became suddenly unacceptable – and undemocratic! – as well. Even on an issue many hold to be a core civil right, we were told the courts were irrelevant and now that the legislatures were irrelevant. This was particularly odd coming from conservatives who at one point in time were strong believers in restraints on majority tyranny.
Sullivan is right on point here. The infamous Defense of Marriage Act was prompted, after all, by fears that a 1993 Hawaii Supreme Court decision was about to open the door to same-sex marriage nationwide. Some ten years later, a decision by the Massachusetts Supreme Judicial Court led to that state becoming the first state to legalize same-sex marriage. In 2008, the Connecticut Supreme Court did the same thing in a ruling that said the the state's civil union law did not provide equal rights to homosexuals.  And, in 2009, the Iowa Supreme Court followed suit with a decision that ultimately resulted in several members of the Iowa Supreme Court being voted out of office in 2010.  Each time this happened, the rhetoric we heard from the right resonated around the idea of an unelected judiciary imposing same-sex marriage on an unwilling public.  In fact, when the California Supreme Court followed in the steps of Massachusetts and Connecticut in 2008, the forces arrayed against marriage equality responding by pushing a ballot initiative that reversed the decision by defining marriage under state law as being only between a man and a woman.
The argument wasn't an unfair one, in some respects. Public attitudes about homosexuality in general, and same-sex marriage in particular, have only recently started to turn around to the point where it's realistic to say that the idea enjoys some level of general public acceptance. Additionally, a judicial ruling that expands the definition of marriage to include members of the same sex is, in several respects, fundamentally different from a ruling that strikes down laws that forbid men and women of different races from marrying. The court rulings that did this were, without question, radical and groundbreaking and it's at least somewhat understandable that the public would react negatively to a State Supreme Court decision that decided, seemingly out of the blue, that said that marriage now included same-sex couples. It is a massive cultural change to say the very least, and one could argue that the Hawaii and Massachusetts Supreme Court decisions played a role in energizing the opposition to same-sex marriage because of the manner in which they moved ahead of public sentiment on an issue that many people were still uncomfortable about.
But it didn't end there.
Every state that has legalized same-sex marriage since the Iowa Supreme Court decision in 2009 — New Hampshire, Vermont, New York, and Washington — has done so via normal representative democratic processes. Yes, in each case the votes in the respective state legislatures have been close, but they had majority support nonetheless. More importantly, in each state, there was at least some support from Republican legislators, and in each state the measure passed both houses of the legislature and a Governor. One would think that would have satisfied the complaints of those who objected to same-sex marriage being imposed by the judiciary, but it hasn't:
It now appears to be the position of the conservative intelligensia that legislative actions are also undemocratic, and that – with no precedent or even consistent rationale – the only path to civil rights is through public referendum. Anything else is cheating, I guess – although you'll not hear that logic applied to literally anything else, unless you're talking to Mike Gravel.
This is essentially the position that Chris Christie has, disappointingly, taken, and the position that the opponents of same-sex marriage in Maryland are taking. There are also nascent efforts to undo progress on marriage equality via referendum in states like Iowa and New Hampshire, although it doesn't appear that measures in either of those states have  much chances of success. There's absolutely no logic to the position. If a measure has passed the state legislature, which itself was elected by the people, then why the insistence on a popular referendum? Given the traditional conservative anathema to populism, it's a very odd position to take.
However, it does reveal how the opponents of marriage equality have attempted to shift their argument each time they lose ground. When the Courts started ruling against them,they decried judicial tyranny. Now that the legislatures, the democratically elected representatives of the people, are legalizing same sex marriage, they are making the argument that only direct democracy via referendum can be the acceptable manner in which same-sex marriage is legalized. Does anyone doubt that, when the day comes that the opponents of same-sex marriage start losing referendums — which may well happen in both New Jersey and Maryland when the time comes — that they'll then shift their argument to the courts and argue that the law is somehow unconstitutional? Given the manner in which they've manged to shift the terms of debate as they continue to lose ground, I have no doubt that this is exactly what they'd do.
After all, when you're in a losing battle all you can do maintain a rearguard defense.