How FDR's Death Changed The Nature Of The Vice-Presidency
Seventy years ago, Harry Truman became President in the final months of a war. He wasn't prepared for it, but most Vice-President's after him have been.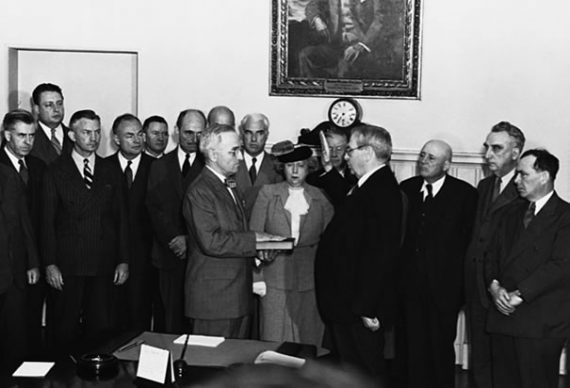 Just over a week ago, we marked the 70th anniversary of the death of Franklin Roosevelt, an event that thrust Harry Truman, a former Missouri Senator who had not even been Vice-President for three months, into the Presidency just as the Second World War was reaching its final moments in both Europe and the Pacific. As anyone familiar with the history knows, Truman entered office woefully unprepared for the task that had been given to him due to FDR's untimely death. Since taking office, he had only met with Roosevelt eight times, and rarely one on one. He wasn't part of the President's inner circle when it came to either domestic policy or the conduct of the war, and didn't know anything about details as crucial as the existence of the Manhattan Project or the details of Roosevelt's discussions with Churchill and Stalin at Yalta the month before beyond what Roosevelt had shared in his address to Congress after returning from Europe. Despite all of this, Truman managed to successfully guide the nation through the final months of the war and the early years of the Cold War, but even his own diary entries both before and after April 12, 1945 reflect his frustration at having been kept out of the loop by the President and his advisers. Given the fact that it was known a year earlier that Roosevelt's health was failing, information which caused Democratic Party insiders to force Henry Wallace out of the Vice-Presidency in favor of Truman at the convention, it seems fairly clear that this decision to keep Truman in the dark was quite irresponsible and, potentially dangerous.
In a short piece in The New Yorker, Jeffrey Frank recites much of this history and notes that, because of what happened in April 1945, the nature of the Vice-Presidency and how President's treat their Vice-Presidents changed significantly:
What did change after 1945, though, was the job of the Vice-President, with the idea that they needed useful work and needed to know what the President was up to. A lot of credit for that goes to Dwight D. Eisenhower, the Republican elected in 1952, who had been appalled at Truman's unpreparedness and rightly blamed F.D.R. Eisenhower, a former four-pack-a-day smoker, was determined to assure a smooth succession if he were to die in office. While he was not particularly fond of Nixon, his Vice-President, he saw to his training. In the fall of 1953, he sent Nixon and his wife on a sixty-eight-day trip through Asia, followed by other foreign assignments, some more successful than others.

That model, up to and including Joe Biden, endures. But if Vice-Presidents are no longer likely to be at sea, as Truman was seventy years ago, there is still no assurance that our next President will know very much about the job. There is no School for Presidents. There is no General Eisenhower to send people like Governor Scott Walker on real ventures that are not potentially embarrassing "trade missions."
The modern Vice-Presidency, then, is largely a creation of Eisenhower's reaction to what had happened in the wake of Roosevelt's death, something he no doubt had at least some inside information on given the fact that he was the Supreme Allied Commander in Europe at the time. As far as the Constitution is concerned, of course, there's nothing about this that is actually required. Outside of breaking ties in the Senate and some largely ceremonial posts that have been assigned to the Vice-President by statute, Vice-Presidents only have whatever power and duties that the President is willing to grant them, and they are only as well-informed about ongoing intelligence and military operations as the President wishes them to be.  Theoretically at least, there would be nothing stopping a future President from completely cutting his or her Vice-President off from any official duties and keeping them out of the loop regarding intelligence and military affairs. Given the nature of the world we live in today, and the fact that the possibility always exists that a President could die in office, be incapacitated, or be forced to leave office, that's perhaps an even more dangerous possibility than it was in April of 1945.
Outside of Constitutional reforms, there isn't really any way to prevent the situation I note above where a President essentially freezes their Vice-President out of the day-to-day operation of the government. Any Congressional legislation on the matter would likely be vetoed and poses serious Separation Of Powers issues that could lead to it being declared unconstitutional by the courts. In that sense then, the moment when a Presidential nominee chooses their running mate is one that's worth paying attention to, not only because it gives us a guide as to the candidate's judgment but also because it gives voters an opportunity to examine at least from a distance the relationship between the running mates. At the very least, voters should insist that their President keep the Vice-President in the loop regardless of what the Constitutional and legal requirements are. For the most part, Harry Truman adjusted to his new role well seven decades ago, but the fact that he was woefully unprepared for it, due to no fault of his own for the most part, was rather outrageous and we should demand that such a situation never repeat itself.