How Misinformation Spreads
What a too-good-too-be-true story shows us about the modern news business.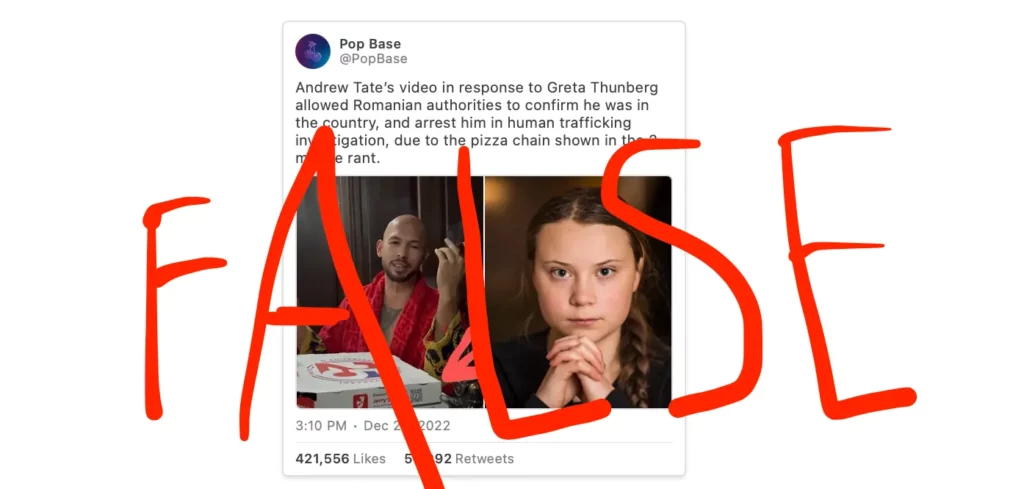 In the closing days of 2022, there was an amazing case of instant karma. The former kickboxer, alleged sex abuser and human trafficker, alt-right celebrity, and alpha-male inspiration for a lot of sad people Andrew Tate decided, out of nowhere, to go after Greta Thunberg on Twitter. It was an exchange that did not go well for him.
The saying goes that if you come at the King (or in this case Queen) you better not miss. Thunberg immediately proved this saying true with her response:
yes, please do enlighten me. email me at sm*************@ge******.com

https://twitter.com/GretaThunberg/status/1608056944501178368?cxt=HHwWgIC-ua3R-9AsAAAA
This "clap back" (as I am told the kids call it these days) immediately set Twitter on fire. It took Tate about 24 hours to respond, posting a 2-minute video of himself, in a smoking jacket and with a stack of pizza boxes in the foreground, basically saying "I'm not a loser, you're the loser."
People who care about being alpha males declared victory and this is where the entire thing should have ended. Instead, this is where the story takes a turn to the weird.
Less than 24 hours after posting his response to Thunberg, Tate and his brother, were arrested by authorities in Romania, where they were staying, on charges of sex trafficking. How did Romanian officials track down Tate (who they apparently had been planning to arrest for a while)? According to news organizations on Twitter, it was because of the feud with Thunberg:
This story quickly spread and was covered by a LOT of news outlets including the Daily Beast and the New York Post. It was the perfect story, a literal case of Instant Karma. Even Thunberg herself got in on the action, pushing the knife in a little deeper by tweeting:
(note to self: never feud on Twitter with Thunberg)
The only problem… like most too-good-to-be-true stories, it wasn't true. The first person I read who pointed this out was independent journalist Ben Dreyfuss. In fact, Dreyfuss went so far as to post a really wonderful, publicly available substack post detailing the entire affair-de-pizza-box. I highly recommend reading it in its entirety. For the tl;dr types, here's the key part:
No Romanian journalist reported that the cops found him because of a pizza box in a reply to Greta Thunberg.

But there are lots of stories in the US and Britain claiming that. Why? Well, they're all basically citing each other. But if you dig through the citations you eventually come to the Daily Star which cites an American Twitter account.

"According to Alejandra Caraballo, a writer and clinical instructor posting on Twitter: "Romanian authorities needed proof that Andrew Tate was in the country so they reportedly used his social media posts."

Its source is a Romanian newspaper article that I linked to above.

It does not say that at all. At least not in the Google Translated English version.

What it says is:

Sources close to the investigation stated, for Gândul , that shortly after the completion of the computer expertise, the authorities waited for the right moment to catch the Tate brothers, who were always out of the country.

After seeing, including on social networks, that they were together in Romania, the DIICOT prosecutors mobilized the special troops of the Gendarmerie and descended, by force, on their villa in Pipera, but also on other addresses.

Unless Google is missing some Romanian language nuance, this sentence does not say that the police were tipped off by a social media post to his whereabouts, let alone that it was by his video with Greta Thunberg. It says they confirmed it in multiple ways at least some of which involved social media.

This makes sense if you think about it for five seconds. Andrew Tate owns a house in Romania. (It was searched earlier this year as part of a related investigation into sex trafficking.) Like other countries in the world, I imagine the Romanian police know how to check credit card purchases and flight records and train passenger manifests and they probably knew when Tate was in Romania.
Dreyfuss goes on from there to unpack things further and ultimately turn this into an excellent media critique:
I am prone to defending journalists when they fuck up because I'm a journalist, or at least I was, and I know how easy it is to fuck up. And I guess I still have some sympathy here because these writers were on a deadline and moving fast, but it doesn't take a lot of work to see that this Greta angle, which is tantalizingly clicky, is bullshit. It took me 8 minutes or so on my iPad.

And like thousands of people online who read about this today, my initial instinct wasn't to dig into it. It was to take the Daily Beast's word for it. Only prompted by a follower with a conspiracy theory did I think to look further.

And that's how misinformation spreads.

It's not all nefarious. It's not all disinformation.
I am very much on Team Dreyfuss here. First of all, tweets like the one from Pop Base and stories like the NY Post one, are still available and are telling the disproven story. But, more importantly, from a "news business" perspective, this entire story highlights the issue of shrinking newsrooms and the loss of investigative reporting I was writing about here last month.
In my posts on George Santos, both the initial and the follow-up one, I argued that one of the reasons that it took so long to reveal his lies was that they were not reported on by the right paper. While a local weekly newspaper had discovered irregularities in Santos's backstory, no one from other news organizations was apparently reading them. As a result, things went unnoticed until the New York Times report, and then everyone jumped on the investigation.
The Tate/Thunberg story was one that media folks were following and covering due to the original exchange. So the moment that news of Tate's arrest hit, outlets were there to keep the story going, looking for any scrap of information. And due to their interdependence on each other's reporting, the moment one outlet decided to run with Alejandra Caraballo's tweet, the rest followed suit.
As Dreyfuss said, this wasn't for nefarious reasons or a desire to mislead. And still, the results of the various structural constraints on newsrooms (not to mention the speed of the media they are using to circulate reportage) led to the spread of misinformation.
And that remains a big issue we are going to continue to live with–leading to critical stories being missed (in the case of Santos) or misinformation being spread (in the case of Tate).