How Obama Became a Hawk
The president has come a long way from his days as a "liberal law professor who campaigned against the Iraq war."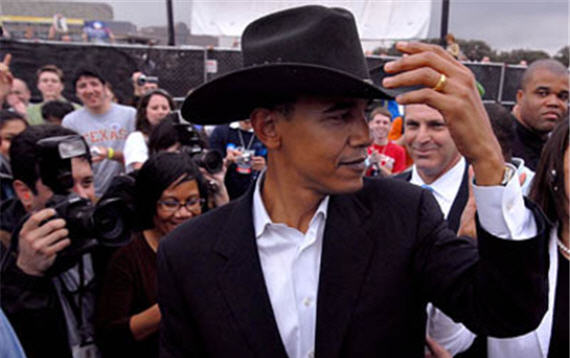 In a Guardian piece titled "Drone wars and state secrecy – how Barack Obama became a hardliner," Paul Harris argues that the president has come a long way from his days as a "liberal law professor who campaigned against the Iraq war."
[T]he "kill list" and rapidly expanded drone programme are just two of many aspects of Obama's national security policy that seem at odds with the expectations of many supporters in 2008. Having come to office on a powerful message of breaking with Bush, Obama has in fact built on his predecessor's national security tactics.

Obama has presided over a massive expansion of secret surveillance of American citizens by the National Security Agency. He has launched a ferocious and unprecedented crackdown on whistleblowers. He has made more government documents classified than any previous president. He has broken his promise to close down the controversial Guantánamo Bay prison and pressed on with prosecutions via secretive military tribunals, rather than civilian courts. He has preserved CIA renditions. He has tried to grab broad new powers on what defines a terrorist or a terrorist supporter and what can be done with them, often without recourse to legal process.

The sheer scope and breadth of Obama's national security policy has stunned even fervent Bush supporters and members of the Washington DC establishment. In last week's New York Times article that detailed the "kill list", Bush's last CIA director, Michael Hayden, said Obama should open the process to more public scrutiny. "Democracies do not make war on the basis of legal memos locked in a [Department of Justice] safe," he told the newspaper.

Even more pertinently, Aaron David Miller, a long-term Middle East policy adviser to both Republican and Democratic administrations, delivered a damning verdict in a recent issue of Foreign Policy magazine. He wrote bluntly: "Barack Obama has become George W Bush on steroids."

Many disillusioned supporters would agree. Jesselyn Radack was a justice department ethics adviser under Bush who became a whistleblower over violations of the legal rights of "American Taliban" John Walker Lindh. Now Radack works for the Government Accountability Project, defending fellow whistleblowers. She campaigned for Obama, donated money and voted for him. Now she has watched his administration – which promised transparency and whistleblower protection – crack down on national security whistleblowers.

It has used the Espionage Act – an obscure first world war anti-spy law – six times. That is more such uses in three years than all previous presidents combined. Cases include John Kiriakou, a CIA agent who leaked details of waterboarding, and Thomas Drake, who revealed the inflated costs of an NSA data collection project that had been contracted out. "We did not see this coming. Obama has led the most brutal crackdown on whistleblowers ever," Radack said.

Yet the development fits in with a growing level of secrecy in government under Obama. Last week a report by the Information Security Oversight Office revealed 2011 had seen US officials create more than 92m classified documents: the most ever and 16m more than the year before. Officials insist much of the growth is due to simple administrative procedure, but anti-secrecy activists are not convinced. Some estimates put the number of documents wrongly classified as secret at 90%.

"We are seeing the reversal of the proper flow of information between the government and the governed. It is probably the fundamental civil liberties issue of our time," said Elizabeth Goitein, a national security expert at the Brennan Centre for Justice. "The national security establishment is getting bigger and bigger."
Now, some of this is misleading or otherwise unfair. Obama didn't campaign as a dove; indeed, he called for escalating the war in Afghanistan and was lampooned by Hillary Clinton and John McCain alike for his pledge to take it into Pakistan. Congressional balking at transferring its prisoners to domestic facilities made closing Gitmo next to impossible. The Supreme Court gave its approval to military tribunals; the controversial alternative was no due process whatsoever. And the "simple administrative procedure" explanation for the ridiculous overclassification problem strikes me as more than plausible.
In that context, I don't think "George Bush on steroids" is fair. More accurate is the description I gave six months into Obama's administration: "Bush's Third Term." That is, we're seeing the national evolution of Bush policy rather than a radical escalation.
Indeed, my reaction upon seeing the headline was that the obvious answer to the question "how Barack Obama became a hardliner" was "he became president." It's simply easier to be faithful to principles of civil liberties, due process, information transparency, and the like from the comfort of a university lectern, a blogger's keyboard, the campaign trail, or even the Senate Foreign Relations Committee than as the commander-in-chief. No one else feels the weight of responsibility for all the bad things that might happen in the same way. Nor does anyone else get a daily–if not hourly–deluge of information about those bad things in quite the same detail.
Further, it's no accident that it's in the realm of military and national security policy that presidents tend to press the limits of their power. It's the arena in which they have the most freedom of action. Making major progress on domestic issues is difficult by institutional design–requiring majority if not supermajority approval in both Houses of Congress–and next to impossible in the poisonous atmosphere of the past quarter century. Conversely, in foreign policy, the president can often simply issue orders. And Congress and the public tends to go along with almost anything if done in the name of "the national security."