How People Use Siri
Most of us with iPhone 4's use Siri, the voice-activated digital assistant--but for a very limited range of tasks.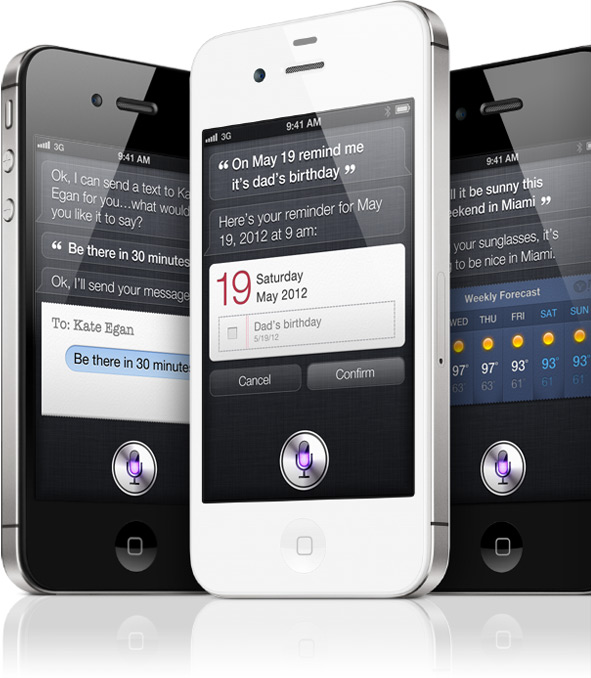 Most of us with iPhone 4's use Siri, the voice-activated digital assistant–but for a very limited range of tasks.
WSJ ("Apple's Siri Gains Traction-For Some Things"):
New research set to be released this week found that 87% of those who own Apple's iPhone 4S use at least one feature of its Siri virtual assistant monthly.

But most usage is across a relatively limited set of functions, according to consulting group Parks Associates, which surveyed 482 owners of the iPhone 4S, the only device to carry the service.

Apple introduced Siri last fall with the 4S and has been advertising it as a big differentiator for the hit device. The technology can perform a variety of tasks from searching for information to sending an email to scheduling meetings by voice. Unlike other types of voice-activated services, Siri can understand the way humans speak normally. Commanding it to "wake me up at 9 a.m." can set the iPhone's alarm, for instance.

But users aren't proving adventurous with their usage. Making phone calls and sending text-messages are the most popular activities, according to the report, a sign that Siri usage is mirroring how people use their phones more generally. Roughly a third of 4S owners use Siri to place phone calls, send text messages, or look up information daily or almost daily.

Many other Siri services are getting little pickup, however. They include playing music and scheduling meetings. Thirty-two and 35% of 4S users, respectively, said they had never used Siri to perform those actions. Those categories also had some of the lowest percentage of users that did either daily or almost daily.

Email usage is pretty split, with 30% saying they have never used Siri to send an email while 26% say they use it to send email daily or almost daily.

The pattern comes as users continue to complain that Siri struggles to understand accents and needs dead quiet to work.
While Siri is a remarkable technological advance, it's just not very good. I use it to do very mundane things–initiate phone calls, check the weather, set timers, and add calendar entries. And it's not all that great at doing any of those except the weather.
It's virtually useless outdoors if there's any wind or background noise. And, quite often, it's frustratingly slow because the system simply isn't built to handle the bandwidth of so many users.
Aside from very mundane tasks, it's just awful. Even creating very short calendar entries, it often gets confused. And rather than pretending that it's a human being that needs to be engaged in a conversation, I use very direct language. ("Weather," for example, versus "Do I need an umbrella?") So, I'll say, "Create calendar entry. Meeting with Fred at 3:30 pm." Most of the time, it's incompetent to perform that task.
Additionally, it has annoying quirks. I'll tell it to set an alarm for some point later in the day. It'll successfully echo that command back to me. And then it won't set the alarm because it wanted me to take some action to confirm that I in fact wanted it to set the alarm I told it to set. Granted, that's easy enough to adapt to–but still annoying when your alarm fails to execute.
Now, again, it's worth putting all this into perspective. This is a major leap forward in technology and the next version is likely to be much, much better. But it's not shocking that a barely functional voice assistant hasn't sparked radical changes in behavior.
via Liz Heron