How to Spot Bogus "The Jihadists are Hooking up with Latin American Drug Cartel" Stories
Since 9/11 there has been a steady trickle of stories about jihadists hooking up with Latin American drug cartels and the like. Here is a guide of story points that can help you identify when such a story is almost certainly bogus.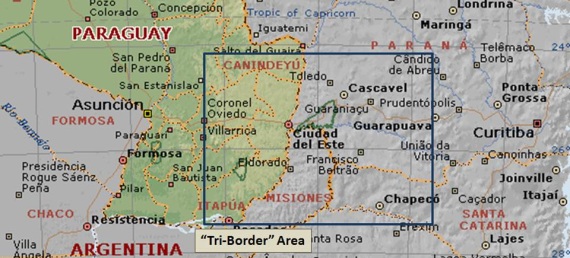 Both the comment section to my post about Arizona crime stats and the problematic story about alleged Hezbollah links to Tijuana drug traffickers have inspired the following handy-dandy guide to spot bogus tales of how Islamic terrorist groups are hooking up with Latin American drug cartels.
It is worth noting that there have been, since 9/11, a number of stories/speculative pieces about the potential usage by Middle Eastern terrorists of Latin America as a place to plan and launch attacks on the United States.  These stories (like the Hezbollah one above) tend to be taken very seriously in some quarters (see, for example, here, here and here and there are plenty more examples if one wishes to look).
The thing is:  there has been zero credible evidence of any Middle Eastern/jihadist/whatever you want to think of groups establishing any kind of serious ties in the region, let alone a base of terrorist operations in a way that would threaten the US.
If one has been paying attention to these stories over time (and I have), one will notice a few key elements that are all red flags that indicate that the stories are almost certainly bogus.
1.  No legitimate or known source/very thin sourcing. These stories are always very thinly sourced (at best) and usually instead of referring to an actual report, refer to a report of a report (the news equivalent of "my friend heard from a guy…").
For example, in the "Hezbollah in Tijuana" story, the source is an unnamed, unlinked Kuwaiti newspaper.  This, alone, should be enough to tip one off that the story is bogus.  If the Mexican government had, in fact, broken up a ring of Middle Eastern terrorists working with a Mexican drug cartel, one can rest assured that some news outlet a bit closer to the event than Kuwait would have found out about it.
2.  It mentions the Tri-Border Area. One of the great bugaboos in these stories is the famed (if not infamous!) "Tri-Border Area" (the TBA) where Argentina, Brazil, and Paraguay come together.  There have long been legitimate reports of drug trafficking, money laundering and other organized crime there.  There are also some Lebanese immigrants in the region and some evidence, dating back roughly a decade, of Hezbollah fund-raising in that community.  It is worth remembering that Hezbollah often solicits funds. and not just for violent purposes (although yes, money being fungible, charitable contributions for Hezbollah's social programs means more money for guns, too).
Now, there are clear illegalities taking place in this area, especially in Paraguay where the state is especially weak.  However, despite over ten years of hand-wringing about the region's potential for being a hotbed of radical Islam in the Western Hemisphere, there has yet to be any serious evidence to back the claim.
Yes, it sounds rather ominous (and even has an acronym!) but again, long-term concern has never translated into serious evidence of a threat and usually these stories simply refer back to a previous story that mentioned the TBA which, in turn, references back to an even older story, which notes how people have been concerned about the TBA for some time.
BTW, issues about the TBA stories themselves aside, the geostrategic usefulness of this area as a place to launch attacks on the US is pretty small.  After all, it is a rather long way away and getting from the TBA to the US isn't exactly a snap.
3.  It Mentions Alleged Hezbollah Bombings in Argentina. The only real examples of events linking the region to the Middle East are the 1992 bombing of the Israeli embassy in Buenos Aires and the 1994 bombing of a Jewish center (also in Argentina).  These bombings have been linked to Hezbollah, although I am not sure that definitive proof of said link was ever established.
Now, serious as those events were, I would hasten to point out two data points:  1992 and 1994, also known at 18 and 16 years ago, respectively.  One need not be an expert in international terrorism or a highly trained social scientist to recognize that those events were a long time ago.  Further, these were not new, broadly cast terror attack, but rather extensions of the conflict with Israel.
Still, the main point remains:  it is highly problematic to use incidences that are near two decades in age as evidence of the imminent danger of a drug cartel+jihadist nexus.
At any rate, keep this guide in mind, as I think you will find that these stories typically have one or more of the above-mentioned problems.