Huckabee Attacks Republican "Elitists" For Not Backing Tea Party
Mike Huckabee is the latest Republican to tack up the banner against the so-called "elites."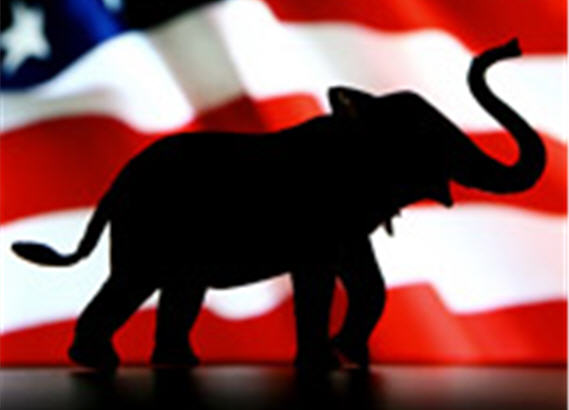 Former Arkansas Governor and 2008 Presidential candidate Mike Huckabee is blaming GOP "elitists" for not more fervently backing Tea Party candidates like Christine O'Donnell:
Former Arkansas Gov. Mike Huckabee today broadened the assault on the Republican Party establishment — and former Bush adviser Karl Rove in particular — levied recently by Sarah Palin and Rush Limbaugh, blasting the "elitism" and "country club attitude exhibited by Rove and others who dismissed Delaware Senate nominee Christine O'Donnell.

"I was very disappointed in some, particularly Karl and others, who were so dismissive of Christine O'Donnell," Huckabee told Aaron Klein on the latter's WABC radio show Sunday.

"Unfortunately, there is an elitism within the Republican establishment," Huckabee told Klein. "And it's one of the reasons the Republicans have not been able to solidify not only the tea party movement but solidify conservatives across America."

"It's about, again, to be blunt, the kind of country club attitude that we're not sure there are certain people we really want as members of the club and we're not going to vote them in. And we don't mind showing up to events to put up signs and making phone calls and going door to door making those pesky little trips that we don't like to do, but we really don't want them dining with us in the main dining room," he said.
Of course, Huckabee also found a way to bring himself and his own ill-fated run for the Presidency into the conversation:
"I've been on the receiving end of some of that when I ran for president. A lot of the establishment types were very contemptuous toward me and treated me like some backwater," Huckabee said. "And that's one of the things that happens when you didn't go to the right school and you're not a regular [attendee] at the proper cocktail parties on the D.C. social circuit."
Huckabee is obviously trying to hitch is own star to the populist, anti "elitist" meme that seems to be taking hold among Republicans as the party moves closer to apparent victory next week, and the Tea Party moves from being a grassroots movement to the grassroots base of the GOP.  He's rather late to the game, actually, because this populism has been a standard part of Sarah Palin's stump speeches for a year now, and even Rush Limbaugh (who probably comes closer to being an elitist among the three) has recently been attacking Karl Rove of all people for his perceived criticism of the Tea Party movement and his assessment last month that Republicans had given away a winnable seat by nominating O'Donnell.
As Paul Mirengoff notes over at Power Line, though, the criticism of O'Donnell in 2010 and Huckabee in 2008 has little to do with "elitism":
The problem that some in the Republican establishment (and some of outside it) have with O'Donnell begins with the fact that she has very little chance of being elected, and her nomination seems destined to cost the Republicans a pick-up in the Senate in a year when majority status is a possibility. The problem extends to concerns about O'Donnell's flakiness and seeming inability responsibly to handle her own financial affairs, among other things.

As to Huckabee's 2008 presidential run, reservations did not center on his social status and educational background. Rather, they focused on his time as governor, during which he was hardly a paragon of small government, low tax conservatism or of sound judgment. During the campaign, moreover, Huckabee displayed disturbing Carteresque tendencies when it came to foreign policy.
As Paul notes, this isn't serious criticism by Huckabee, it's his effort to make himself relevant in a Republican Party that he hasn't really played much of an active role in since the 2008 campaign ended, preferring instead to cultivate his role as the host of a Saturday night show on Fox News Channel. The evangelical and socially conservative voters that flocked to him in 2008 are going to have many other choices in 2012, and if Sarah Palin does indeed decide to run it's hard to see how Huckabee manages to stay in the top tier of candidates for very long.
More broadly, though, it's quite obvious that Republicans have decided that this attack on so-called elitism works. You can hear it all the time anymore, from talk radio to the stump speechs, and even, as James Joyner noted this morning, in Op-Ed pieces by conservative intellectuals like Charles Murray. It's an ironic attack considering the fact that the people making the "elitism" charge are themselves elitist in some sense or another (a fact which is also true when Democrats level the elitism charge, by the way), but they obviously think that it's going to work for them.
As substance though, it's totally meaningless. Attacking someone who, say, points out the flaws of a Christine O'Donnell or Sharron Angle as an "elitist" doesn't really answer the charges themselves, it merely tries to deflect them by attacking the person making them. It's a pure ad hominem attack, and it's cheap and stupid. Of course, cheap and stupid seems to be the key to political success this year, so it's not surprising that politicians are walking down that road.