Hungary's Media Laws and Europe's Growing Pains
Hungarian Prime Minister Viktor Orbán was greeted with protests from some EU parliamentarians when he addressed them as its rotating president of the European Council.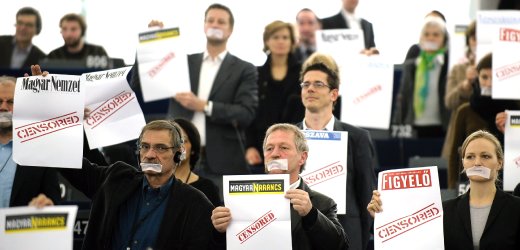 In a New Atlanticist piece titled "Hungary's Media Law Draws EU Protests," I point to an interesting controversy across the Pond that has gotten little to no attention here:
Hungarian Prime Minister Viktor Orbán recently assumed the rotating presidency of the European Council.  He's under siege for his government's draconian new "media laws" which allow state censorship in the guise of fairness.
The bottom line, as I see it:
Presumably, this is the price for rapid expansion.  Either the EU can limit its membership to fully modern states who have long internalized the principles of democratic governance or it can offer membership to emerging countries in hopes of enticing them down the right path.

In choosing the latter, Europe has doubtless hastened the pace of reform in Poland, Latvia, and other states formerly under the Communist thumb.  But that means accepting growing pains among members of the club.
Much more at the link.
Photo credit: DPA/Spiegel.