Ukraine Is A Test For Europe. Does It Have The Will To Even Make The Effort To Pass?
What the West does in response to Russia's actions in Ukraine is largely up to Europe, not the United States.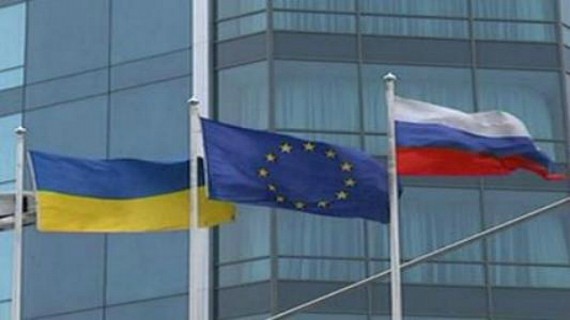 With the downing of Malaysia Airlines Flight 17 more than a week behind us, and signs increasing that Russians are escalating their involvement in the conflict in eastern Ukraine, Europe finds itself with a choice to make:
BRUSSELS — As it pushed efforts to coalesce around tougher sanctions against Russia, the European Union on Thursday was preparing to draw up lists of oligarchs close to President Vladimir V. Putin, working out how it could limit Russian access to European financial markets and studying the risk that Russia would respond by limiting Europe's energy supplies.

But hanging over the talks was a bigger question: Can the 28-member bloc reconcile competing national interests, directly confront a conflict on its own borders and prove that it has a meaningful and united role to play in foreign policy?

More than any other recent crisis, the Russian incursion into Ukraine and all that has followed, including the downing last week of a Malaysia Airlines passenger jet over territory in eastern Ukraine controlled by pro-Russia separatists, has highlighted the glacial pace of decision making within the European Union. And it has given impatient critics, in the United States and elsewhere, additional reason to complain that the union is unwilling to take strong stands even when confronted with a clear case for action.

The European bureaucracy ground forward a bit on Thursday, as ambassadors from the member nations met to draw up a list of Russian individuals, companies and entities to be named on Friday as targets of a new round of sanctions. The entities were likely to include the self-declared republics of Donetsk and Luhansk in eastern Ukraine, and the individuals would probably include additional members of the Security Council of Russia, according to E.U. officials.

The ambassadors were also discussing ways of identifying targets of potential sanctions among oligarchs who are members of Mr. Putin's inner circle, but officials said those names still needed to be agreed on, a step that could be taken next week.

At the same time, officials from the policy-making European Commission sent the bloc's member governments a road map for even broader sanctions, eagerly awaited by the Obama administration, that could target entire sectors of the Russian economy — like restricting Europeans from doing business with Russian-controlled banks, limiting sales of technologies and materials needed for its crucial energy industry and restricting the sale of equipment that could have military uses. Such sweeping measures would be available as a response from Europe if Moscow blocks independent inquiries into the downing of the Malaysian plane and fails to prevent arms supplies across its border with Ukraine.

The outcome of the effort to marshal a more muscular response is still unclear. With the 28 members having often-divergent economic and diplomatic interests — and most likely willing to pay different prices for collective action — even agreement on the ground rules for the sector-wide sanctions could require a further summit meeting of European leaders in Brussels next week.

"The great difficulty for the E.U. acting collectively against Russia is a triple lockout," Mujtaba Rahman, the director for Europe of the Eurasia Group, a political risk consulting firm, said in a telephone interview. "The Germans don't want to jeopardize their energy interests, the French don't want to risk their military sales, and the British don't want to go too hard on Russian financial interests."
This dynamic has been at play ever since the Ukraine crisis began, of course, and it is one of the reasons, although certainly not the only reason, why the sanctions that have been imposed against Russia have been rather minimal to date and have only been imposed gradually. Part of the reason for that gradualism, of course, is that escalation isn't necessarily the best response in this situation, but the fact that Europe in general, and Germany, France, and the U.K. in particular, potentially has a lot to lose from tough sanctions against Russia is a major factor behind the West's slow response to Russia's movements since the Sochi Olympics, beginning with the annexation of Crimea which was essentially accomplished with little more than words of complaint from the West. In many respects, Europe's unwillingness to get tough with Russia has arguably been a major factor in shaping events over the past several months because it seems to send the signal to Vladimir Putin that he can continue to push the envelope in eastern Ukraine without suffering any real consequences for his actions. To the extent that the European Union is a player on the world stage, it seems to be failing miserably at the moment.
Fareed Zakaria seems to agree, calling Europe "the world's great no-show":
The Ukraine crisis has shone a spotlight on one of the glaring gaps in the world: the lack of a strategic and purposeful Europe. The United States can and should lead on the response to this conflict, but nothing can really happen without Europe. The European Union is by far Russia's largest trading partner — it buys much of Russia's energy, is the major investor in Russian companies and is the largest destination for Russian capital. Some of President Obama's critics want him to scold Vladimir Putin. But ultimately, it is European actions that the Russian president will worry about.

Consider how Europe has dealt with Ukraine. For years, it could not really decide whether it wanted to encourage Ukrainian membership in the union, so it sent mixed signals to Kiev, which had the initial effect of disappointing pro-European Ukrainians, angering Russians and confusing everyone else.

(…)

If Europe was trying to move Ukraine into its camp, it should have been more generous to Kiev and negotiated seriously with Moscow to assuage its concerns. Instead, Europe seemed to act almost unaware of the strategic consequences of its actions. Then when Russia began a campaign to destabilize Ukraine — which persists to this day — Europe remained a step behind, internally conflicted and unwilling to assert itself clearly and quickly. Those same qualities have been on display following the downing of Malaysia Airlines Flight 17.
In many respects, then, one could argue that the current crisis in Ukraine is a result of Europe failing to act in a coherent manner with regard to its relationship with both Ukraine and Russia. As I noted yesterday, there ought to be at least some recognition of the fact that Ukraine as an independent nation is a relatively new concept in European history, and that the Russian nationalism in the east isn't just propaganda. Instead of dealing with matters with that in mind, though, European bureaucrats seem to have spent the last 20 years stumbling through their relationship both with Ukraine and with Russia as far s the Ukrainian issue is concerned. For a region that often seems to be dismissive of American foreign policy naivite, the manner in which European bureaucrats have handled the Ukrainian issue at times since 1991 seems to be downright stupid.
Zakaria goes on to note that Europe still has a chance to have an impact here:
[Europe] could demand that Russia pressure the separatists to cooperate fully with the investigation of Flight 17 and allow the Ukrainian government — which Moscow recognizes — to take control of its own territory in eastern Ukraine. It could put forward a list of specific sanctions that would be implemented were those conditions not met within, say, two weeks.

In addition, Europe should announce longer-term plans on two fronts, first to gain greater energy independence from Russian oil and gas. European nations must also reverse a two-decade downward spiral in defense spending that has made the E.U. a paper tiger in geopolitical terms. Germany, for example, spends about 1.5 percent of its gross domestic product on defense, among the lowest rates in Europe and well below the 2 percent that is the target for all NATO members. It's hard for a country's voice to be heard and feared when it speaks softly and carries a twig.

The problem is now being described as European cowardice and appeasement. It is better explained by an absence of coherence among the European Union's 28 very different countries, a lack of strategic direction and a parochial inward orientation that looks for the world's problems to go away. The result is a great global vacuum, with terrible consequences.
That last point, of course, is a big part of the problems that pervade Europe in general, and something that we've seen in its responses to other crises such as the financial crises in Greece, Spain, and elsewhere just a couple years ago. While it purports to be a united entity, the European Union bares far more of a resemblance to what the United States was like under the Articles of Confederation, or even before it during the Revolutionary War; a loose confederation of states with some mutual interests but whose individual interests often outweigh any desire to act toward a common good. Indeed, it seems apparent that the European Union of 2014 has even less in common than the Thirteen Colonies of North America did during the 1770s and 1780s. Given that, the fact that they cannot agree on a united policy when it comes to Ukraine or any other issue isn't entirely surprising.
Getting beyond that issue, though, it strikes me that this conflict in Ukraine presents Europe, to the extent it even makes sense to speak of Europe as a collective entity right now,  with a choice to make.
Primarily, Europe must decide whether or not it actually wants to be taken as a serious player on the world stage. By all of the ways in which we measure a major nation — population, size, economic output, share of international trade in goods and financial instruments, for example — Europe ranks right up there with the United States, Russia, and China as a major international player. When it comes to influencing world politics, though, Europe is largely a non-entity on its own. There is no European foreign policy, for example, and when there is a crisis somewhere in the world nobody really stops to wonder what the Europeans might think about it, or what they could do to help to resolve it. Indeed, as this crisis, and the Balkan crisis in the 1990s have shown, Europe hasn't even proven itself to be particularly adept at dealing with international crises that occur within Europe.  Granted, much of the reason that there is no united European foreign policy goes to the structure of the European Union itself and the fact that its members have their own interests that they act upon. However, that really goes to the core of the problem. You aren't going to be treated seriously on the world stage if you don't act in unity.
Even if it is able to act with some degree of unity, though, Europe then has to decide what to do with regard to Ukraine specifically, and its relationship with Russia in general. Since the end of the Cold War, Russia has gone from being a military adversary that treated Eastern Europe like an empire and threatened to overrun the west to a new business frontier for Europe. As Zakaria notes above, it has become a military customer for France, the chief energy supplier for Germany and several other nations, and the source of significant revenues from financial transactions for Britain. Even The Netherlands, the home of the vast majority of the victims of Flight 17, has a significant trading relationship with Moscow thanks in no small part to the energy interests of Royal Dutch Shell. Theoretically, these nations could impose significant costs on the Russian economy if they imposed the kind of sanctions that some are calling for, but those sanctions would also impose costs at home. Vladimir Putin quite obviously knows this, and his actions are in no doubt partly motivated by the gamble that Europe will not risk its economic  relationship with Russia over Ukraine.  If he is proven correct in that assessment, then it wouldn't be incorrect for him to assume that the economic leverage that Europe is letting Russia have over it would not prevent him from being even more provocative, whether it is in Ukraine or elsewhere.
A century ago, Europe found itself dragged into a completely insane and unnecessary war thanks to the assassination of the heir to the throne of a dying empire and a cascading series of alliances that probably never needed to exist. Today, Europe finds itself faced with a conflict on its east instigated by a nation that, but for its natural resources, would be a dying power. Whether it chooses to become beholden to the leader of that nation or not is entirely a European choice.