Hurricanes And The News Media
Why do natural disasters cause the news media to act so stupidly?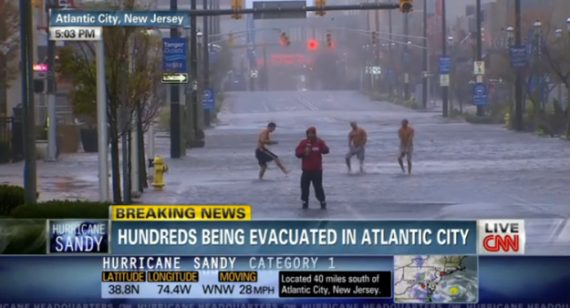 With the approach of Hurricane Sandy essentially shutting the entire Metropolitan D.C. area down today, I've spent the better part of my day working from home while having cable news on in the background. It really doesn't matter what channel I have on, because they've all been the same. At least three times every hour they will switch to some poor correspondent who has drawn the short straw and gotten the unenviable assignment of standing outside and showing us that, yes indeed, Hurricanes are storms that produce a lot of wind, a lot of rain, and huge waves that pound against the shore. This time around, those with the assignment from hell are finding themselves in Asbury Park and Atlantic City, New Jersey, Rehoboth Beach, Delaware, and Ocean City, Maryland.
It really doesn't matter which correspondent they switch to, or which network you're watching, because the scenes are always the same. There's your "brave" correspondent standing out in water that goes at least up their knees (while the camera guy is a safe distance away, of course) with the wind blowing them to and fro and basically telling us that, well, Hurricanes are storms that have a lot of rain, wind, and seawater. The epitome of the ridiculousness of this coverage today has been CNN's Ali Velishi, who is mostly a financial correspondent but somehow found himself sent down to Atlantic City to stand in the middle of an intersection where the water kept rising higher and higher and the wind became stronger. At the top of the 6pm hour, he was reporting about how a mandatory curfew had gone into effect while himself violating said curfew. Each time I saw one of these cutaways, I just had to ask myself what the hell are they thinking? In all honestly, how is some guy who happened to draw the short straw in the newsroom standing out in the middle of the most violent storm to hit the East Coast in decades "news"? How does it help to inform viewers at all?
I get why television news divisions do this sort of thing, of course. I've seen it since I was a kid growing up in New Jersey and the poor sap local weather guy was forced to stand outside in the middle of the massive blizzards that the tri-state area got in 1977 and 1978. It's all about the ratings. Apparently, they think that they can draw eyeballs by putting  the lives of at least three people (reporter, cameraman, and producer) in jeopardy just so we can see some cool pictures and, of course, laugh at the poor reporter who will inevitably get knocked over by a wave or a gust of wind. Now, I am admittedly not your typical television viewer, but personally I don't get it. If I'm in an area where there's a storm as serious as Sandy threatening what I want isn't stupid stunts from reporters, but real information about what the dangers are that I might face and what resources I can access in the event of an emergency.
Wouldn't that be a better use of the non-stop television coverage that events like these typically generate?