Hyatt Turns Heat Lamps on Strikers
Workers picketing a Chicago Hyatt hotel yesterday got an unpleasant surprise: Heat lamps.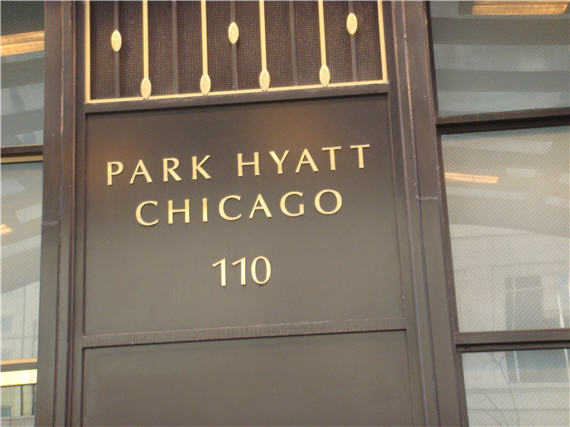 Workers picketing a Chicago Hyatt hotel yesterday got an unpleasant surprise: Heat lamps.
Mike Klonsky ("Pritzker turns heat lamps on striking Hyatt workers"):
It was already approaching 100° at 8 a.m. when I arrived at the Park Hyatt where, after 22 months of stalled negotiations, hotel workers were staging a one-day picket to protest the hotel chain's intolerable treatment of their housekeeping staff.

In case you didn't know, Hyatt is owned by the Pritzker family. Heiress Penny Sue Pritzker chairs Obama's national campaign finance committee. She is also big player in Democratic Party politics as well as in the world of anti-union, corporate school reform and was recently appointed by Mayor Rahm Emanuel to a seat on the Chicago school board.

Pritzker's response to the Park Hyatt strikers was to turn on the hotel's powerful heating lamps to try and bake the workers into submission on this brutally hot day. But this seemingly inhuman and probably illegal response seemed to have had just the opposite effect. Picketers began chanting, "Hyatt can't take the heat, but we can!" The lamps were left on until word got out and media began to show up.
CBS Chicago ("Workers: Heat Lamps Shined On Hyatt Hotel Picket Line"):
Union workers say someone turned on the heat lamps in blazing hot broad daylight Thursday, as they walked a picket line in front of the Park Hyatt Hotel.

As WBBM Newsradio 780's Mike Krauser reports, workers at Hyatt Hotels in nine cities are walking picket lines Thursday, trying to pressure the hotel into coming to an agreement on a new contract.

The Park Hyatt at 800 N. Michigan Ave. was among the hotels where picketing was held, and at some point Thursday morning, someone turned on the outdoor heat lamps that are usually used in winter.

Combined with the outdoor air temperature, Linda Long says it was hotter than the Hyatt kitchen she's worked in for eleven years. "They put the heat lamps on us, like we were nothing," Long said. "If the heat didn't kill us, the heat lamps would."

The heat lamps were turned off when the press showed up.
Progressive bloggers covering the story are focusing on the Pritzker angle. AmericaBlog's Gaius Publius:
So here's the chain:

Obama->finance chair->hotel heiress->unions->strike

Look at the endpoints. See a problem waiting to happen?
FireDogLake diarist Teddy Partridge: "This is how Barack Obama's rich friends treat workers seeking humane conditions in the workplace. It's no wonder he wants to cut your Social Security, Medicare, and Medicaid. . . . That will probably earn Penny Sue Pritzker a standing ovation at Obama's next campaign finance committee meeting."
While it's amusing and somewhat comforting to be reminded that irrationality runs rampant on the other side of the aisle, too, it's more than a little bit of a stretch to tie this incident to Pritzker, much less Obama. It's more likely a decision made by the local hotel manager–or even an irritated desk clerk tired on hearing the protests.
If these strikers are anything like those who operate in downtown DC, they get annoying quick. At least the Hyatt strikers were apparently actual Hyatt workers; in DC, they're temps hired at minimum wage and no benefits. But the modus operandi in DC is to block the sidewalks, use bullhorns and drums, and otherwise create a horrible racket that reverberates for blocks, disturbing those who have nothing whatsoever to do with the grievance in question. Turning on the heat lamps to make one's entranceway less hospitable to that sort of thing is just fighting fire with fire.
In this case at least, the workers have a legitimate beef with Hyatt, which apparently has spent the last couple of years shedding its full-time housekeeping staff and replacing them with outsourced contractors. It's likely a more efficient way to run a business but a lousy way to treat long-time workers. Not to mention create a race to the bottom in the economy.