Imam Rauf Spoke At Daniel Pearl Memorial
Park51 opponents are trying to depict Imam Feisal Abdul Rauf as an anti-American radical. Read his speech at Daniel Pearl's memorial service and judge for yourself.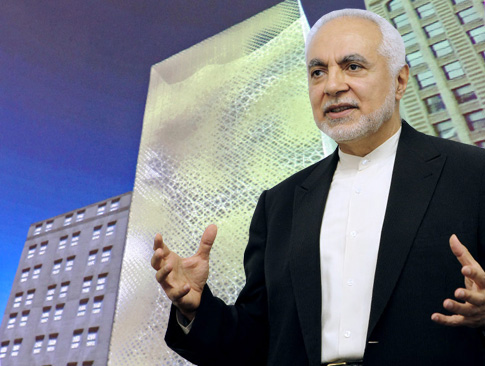 Over the past several weeks, as the Park51 Center continues to be in the news, I have read about several attempts to paint Imam Feisal Abdul Rauf as an anti-American radical (albeit one who voluntarily studies and lives in America and has worked for both the Bush and Obama State Departments) who supports terrorism (despite the fact that he has unequivocally condemned terrorism). Most of the "evidence" proffered to support such claims are acontextual statements, unsourced statements or (more popular) both. (Oh, and don't forget the "Whitey" tapes nobody has seen.)
I've no doubt that I disagree with Rauf on many counts, both religious (I'm not a Muslim) and political (I'm not much of a conservative). Still, actually reading or watching his talks (such as his wonderful TED talk on compassion) make it difficult to believe that the charges of Imam Rauf being a supporter of violent radicalism have any validity. This was demonstrated even further to me by Jeffrey Goldberg, who points out that Imam Rauf was invited to speak at Daniel Pearl's Memorial (which was specifically interfaith), and did so. You can read his full speech from the Memorial here, and it's rather remarkable. Of particular note is this portion:
We are here especially to seek your forgiveness and of your family for what has been done in the name of Islam.

But as you have asked of us, we are here to go further, and to affirm the value of this service today both for the shaping of shared convictions and for the action that we can accomplish together. Further, we intend to deepen our belief that effective public engagement around difficult issues facing our faith communities can include, and in fact, requires, our collective religious voices. From our own experience, we affirm that multiple religious voices praying together can serve our deepest common good.

Our conversations must continue where many end. Some of us may be suspicious of the religious voices and believe that these voices ought to be kept out of public discussion and policy. Others may fear that entering into constructive dialogue and common ground with the "other side" must be wrong, sinful or at best useless and naïve. We disagree.

We are here both as individuals and as representatives of our religious traditions. We must take advantage of this unusual breadth, a breadth not only of religion and geographical views of each other, but also of social vantage points. We have experienced the reality that there is a multiplicity of religious voices in the world, and have come to affirm, importantly, that common religious, moral and policy grounds can be found in an exchange among these voices.

Where once many of us may not have cared to speak, much less listened, to others, now we must. We shall find ourselves with good people, of deep faith, and we shall locate many important, shared values: justice, compassion, service, faithfulness, and love. Though many of us may have come skeptically, we have all come seeking to leave with hope and expectation of Your guidance, O Lord, and with a determination to encourage others to embark on this kind of fruitful exploration. For ourselves, and in different ways, we want to continue to convey the message not only among us, but also in the communities and arenas of service to which we shall be returning, that we are all created imago Dei, in the image of God.

We pray that you admit the soul of Daniel Pearl into Your acceptance.
I'd encourage you to read the whole thing.