Instead Of Working Hard, Congress Is Hardly Working
Congress isn't spending much time in Washington these days but that's only one of the reasons it isn't accomplishing very much.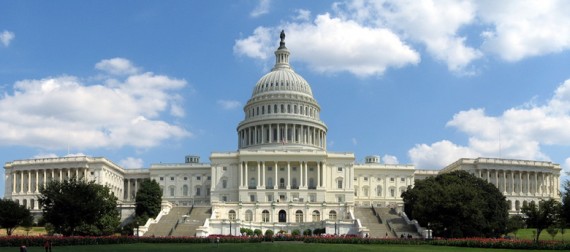 An analysis by CNN shows that Congress is spending far less time in Washington than it has in several years:
A CNN analysis shows Congress has spent less time on Capitol Hill so far this year than in any of the previous five years.

House members have been in Washington for 56% of all non-holiday weekdays — essentially, fewer than three days a week. Senators have walked into the Capitol for 61% of weekdays.

The weeks are not just shorter, but consistently so. The Senate did not have a single five-day work week in Washington for the first seven months of the year. The House had two.

CNN counted days that lawmakers were in Washington excluding "pro-forma" sessions, which are technically considered work days but last only a few minutes and are usually ignored by members.

The number of congressional work days now is significantly less than the high point of 2009. That's when the Senate met for 113 days before the August recess, which is 24 days more than the same period this year.

The House met for 19 more days in 2009 compared to this year.

At that time, Barack Obama was just beginning his presidency and Democrats led both chambers and pushed an aggressive agenda.

The time spent by members in Washington dropped sharply the following year and has decreased nearly every year since with each party controlling one house and partisanship defining the political climate.
One impact of the amount of time that Congress has actually been in session this year can be seen in the fact that only 15 bills have actually passed both Houses of Congress so far this year, far fewer than in previous years. More importantly, though, there has been next to no action on the most important legislation pending before Congress. The Fiscal Year 2014 budget, which must be passed by September 30th absent a Continuing Resolution, is basically languishing because the House and Senate have passed different versions of a budget and Tea Party Republicans in both chambers are blocking any attempt to create a Conference Committee, which is how things are normally handled when there are differences between legislation passed by the House and Senate. The Senate sent its Immigration Reform bill to the House more than a month ago, and its clear that the House is not going to be acting on it any time soon. The Farm Bill remains languishing in the House after having been defeated thanks in large part to significant defections from the Republican Caucus. And countless other pieces of legislation are barely even being considered.
Former Congressman Lee Hamilton is among those who lays at least part of the blame for the lack of Congressional productivity squarely on the fact that Congress isn't working as much as it used to:
"They don't spend enough time in Washington," he said, frustrated, "They don't get to know each other. When they do interact, they are often in confrontational settings. … Legislation is a very complex process. It takes a lot of time, a lot of give-and-take and you cannot force it."

Hamilton, a Democrat who served in the House from 1965 to 1999, now runs the Center on Congress at Indiana University.

He believes the shorter window in Washington squeezes out the heavy lifting of lawmaking and that a lawmaker's hours in the Capitol are filled with meet-and-greets, fundraisers and receptions instead of legislative work.

"It got to the point when I was there," Hamilton recalled, "that I had 15 appointments on Tuesdays. You can't get legislating done in that environment."
The counterargument to Hamilton, of course, would be to point out that we're at a point now where Congress really isn't accomplishing very much when it is in Washington so it's unclear what good spending more time in the Nation's Capital is actually going to do. Realistically, the reasons that Congress hasn't been very productive of late has more to do with the partisan forces dividing this country than it does with how much actual time a Member of Congress or a Senator is spending on the floor of their respective body or sitting in a Committee meeting. While it would be nice to think that forcing Congress to remain in session this month and work on the budget and the debt ceiling would lead to a deal, it's more likely that it would result in a month of partisan bickering followed by a a September in which we one again go down to the wire wondering if we'll actually see a budget this year or end up with yet another Continuing Resolution. More importantly, at least when Congress isn't in session we can rest assured that they aren't going to be doing anything dangerous or stupid. That alone is probably a good reason to be glad they're on vacation.