Interesting WMD Revelation In WikiLeaks Document Dump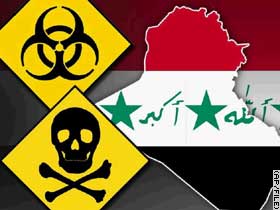 The WikiLeaks' newly-released Iraq war documents show "U.S. troops continued to find chemical weapons labs, encounter insurgent specialists in toxins, and uncover weapons of mass destruction." While there's no evidence here of a widespread, continuing WMD program, there is some disturbing new evidence:
The WMD diehards will likely find some comfort in these newly-WikiLeaked documents. Skeptics will note that these relatively small WMD stockpiles were hardly the kind of grave danger that the Bush administration presented in the run-up to the war.

But the more salient issue may be how insurgents and Islamic extremists (possibly with the help of Iran) attempted to use these lethal and exotic arms. As Spencer noted earlier, a January 2006 war log claims that "neuroparalytic" chemical weapons were smuggled in from Iran.
There's little here that will impact the never-ending debate about the various rationales provided for starting the Iraq War. But the further evidence of Iranian involvement, especially in support of chemical weapons use, is sure to inflame more than a few commentators.