Is a College Education Still Worth It?
Americans are losing confidence in the bargain.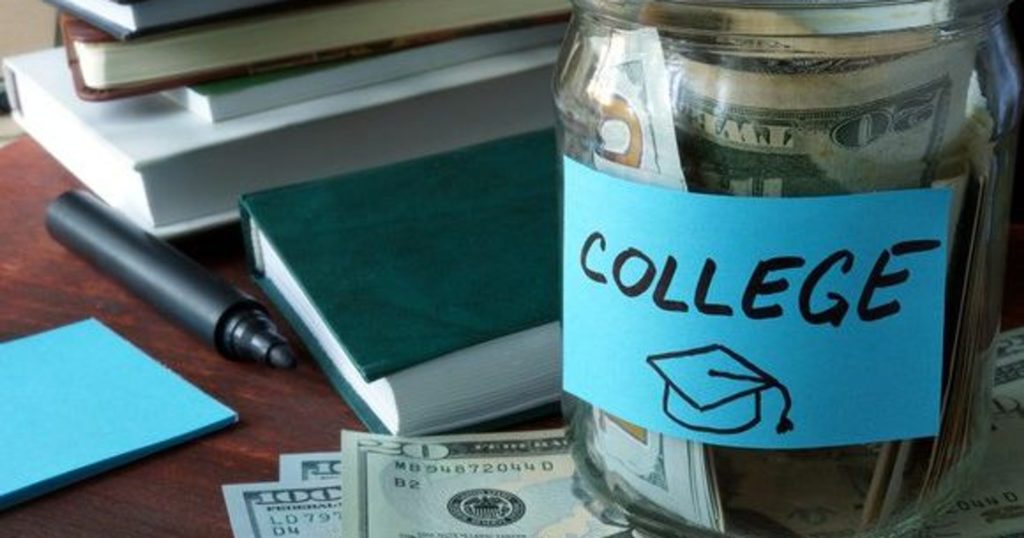 WSJ ("Americans Are Losing Faith in College Education, WSJ-NORC Poll Finds"):
A majority of Americans don't think a college degree is worth the cost, according to a new Wall Street Journal-NORC poll, a new low in confidence in what has long been a hallmark of the American dream.

The survey, conducted with NORC at the University of Chicago, a nonpartisan research organization, found that 56% of Americans think earning a four-year degree is a bad bet compared with 42% who retain faith in the credential.

Skepticism is strongest among people ages 18-34, and people with college degrees are among those whose opinions have soured the most, portending a profound shift for higher education in the years ahead.

In 2013, 53% of Americans were bullish on college, and 40% weren't. In 2017, 49% of Americans thought a four-year degree would lead to good jobs and higher earnings, compared with 47% who didn't.
Here's the accompanying graphic:
This trendline isn't surprising. Not only have we undergone a series of economic hits over the last fifteen years or so but the national focus on student loan debt has also created the inaccurate impression that most people who graduate college are saddled with a lifetime of debt.
Public skepticism toward higher education began to rise after the 2008 recession and compounded during the pandemic. Enrollment in U.S. colleges declined by about 15% over the last decade while the growth in alternative credentials, including apprenticeships, increased sharply.

In 2017, doubt over the value of a college degree was greatest among men, Republicans and people living in rural areas. That disaffection preceded a widening gender gap in higher education as hundreds of thousands of men left college during the pandemic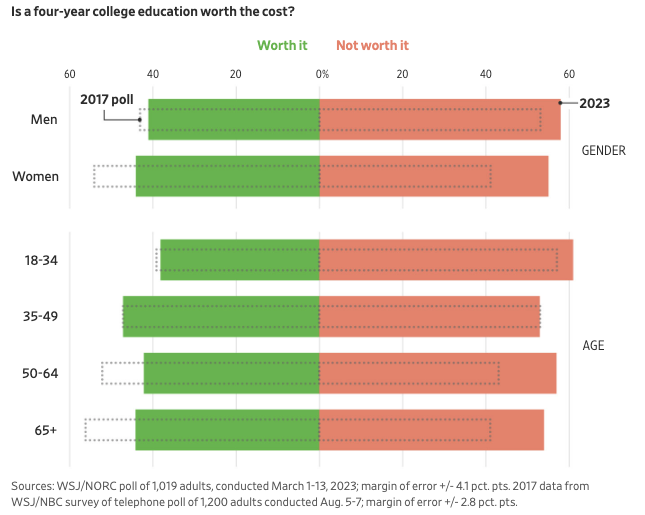 Again, not shocking. For at least two decades now, women have gone to college at higher rates than men. Partly, that's a matter of socialization: girls tend to do better in high school than boys for all manner of reasons and boys tend to get into trouble, including becoming incarcerated, at much higher rates. Moreover, young men are much more likely to be attracted to the trades, truck driving, or military service—all of which pay decent wages to those with a high school diploma and don't require forgoing four years of income.
This month's Journal poll found disaffection has spread to all age groups as well as residents of cities and suburbs. The last categories in which a slim majority held fast to their faith in the value of a college degree were Democrats, those with a college degree and those earning more than $100,000 a year.

But 42% of people with college degrees said in the most recent survey that it wasn't worth it, up more than 10 percentage points from the two polls last decade.

Women and older Americans are driving the decline in confidence. People over the age of 65 with faith in college declined to 44% from 56% in 2017. Confidence among women fell to 44% from 54%, according to the poll.
Again, my hunch for the 2017 vs 2023 changes is a function of national political and media narratives.
The rest of the report is a series of anecdotes, only one of which I find useful:
Paulo Eskitch, a 47-year-old violinist who lives in Tulsa, Okla., is less emphatic about whether his daughter, now 7 years old, should enroll in college when the time comes.

Mr. Eskitch has a master's degree in music and earns about $30,000 a year playing in several different orchestras. He said a degree has become necessary in his field but he sometimes wishes he had pursued welding as a career because he thinks he could have made more money.

That said, he anticipates supporting his daughter if she decides to pursue higher education because there aren't enough good alternatives.

"There are some fields you just can't enter unless you have a college degree," he said. "I'm not saying that's right but it's the way it is."
There has never been a time where violinists—let alone in Tulsa—made more money than welders. Nor a time when people so passionate about violin that they would pursue an MFA in the field would have rather been welders.
But Eskitch points to a problem with the whole premise of the poll. Yes, there are plenty of jobs that require a college degree that don't pay well, at least not on the long end of the tail. (I'm sure there are some very handsomely-compensated violinists out there. But most even very good ones wind up at a lesser orchestra or teaching middle school band.) Generally speaking, though, they're otherwise pretty decent jobs: they're indoors, in climate-controlled buildings; there's little heavy lifting or risk of debilitating injury; the hours are reasonable; there are benefits, etc. That's often not the case for even well-paid tradesmen.
It's also true, though, that there has always been a certain cargo cult quality to the "everyone must go to college" idea. The median income of college graduates was always inflated because many high-paying jobs required a college education. Physicians, attorneys, architects, accountants, engineers, professors, and the like have been required to have college degrees for well over a century now. And, with the proliferation of college graduates after World War II, it became an entry standard for all manner of office jobs that simply require intelligence.
Social trends also inflated the value of a college degree for decades. As unionization of unskilled and semiskilled labor faded—and manufacturing jobs got outsourced to robots or offshored to foreign countries—the number of decent jobs available to those with only a high school diploma began to shrink. It took decades for those trends to impact white-collar workers, too.
The American economy has increasingly hollowed out. There are a relative handful of fantastically high-paying jobs and all of the pressures are to ruthlessly eliminate those that don't bring the firm a very high return. At least for now, tradesmen are among the best positioned to survive because it's very hard to offshore plumbers, electricians, and the like.